検索
アパートの詳細& 料金の提案
予約する
ありがとうございます
VINCENT
3 BR, 2 BA 10 min walk from Old Town Square
3 ベッドルーム for 6 宿泊者 (最大 8)
Klimentska 40, Prague
管理者にお問い合わせください
Martinaにお電話ください
米国 +420 2 24 32 37 36
または 簡単なフォームに記入してください
Video
説明
Vincent is a calm and comfortable apartment in the heart of Prague. It is only a 10 minute walk from Old Town Square, with a view of the Vltava River. Vincent is cosy and provides enough comfort for 6-8 people, and is suitable for both business and pleasure stays.


VINCENT has 3 independent bedrooms, 2 bathrooms, a hall and a spacious kitchen with a big dining table and access to a small balcony. The kitchen is well-equipped with everything you need (coffee maker, microwave, toaster etc.) to make breakfast or dinner before and after a day in town. Vincent is a non-smoking apartment with the option of smoking on the balcony. If you want to get a better idea of the apartment layout, scroll down to view the floor plan.

VINCENT as all our other apartments, it features high-speed internet connection. A strong Wi-Fi router broadcasts it across the whole apartment. Thanks to its disposition and furniture, you can use one of the rooms as a meeting room, where you can welcome the business visits, organize appointments or organize business meetings and keep your privacy at the same time. For a fee, you can rent a projector, printer etc.


VINCENT is a perfect choice also for a bigger groups as its independent bedrooms and two bathroom guarantee enough privacy and comfort. Moreover, VINCENT is situated in the same building as our two other apartments, DALIA and SMETANA. Smetana is big enough for up to 7 guests and Dalia is big enough for 8 guests. This way you will avoid arranging meeting times and looking for friends and family in a crowd of tourists.


Vincent is located in Klimentska Street. This street is named after Saint Kliment's Church which used to be a parish church in the settlement of Porici. In the 13th under a Dominican order. Then in the 14th became a part of the Czechoslovakian Evangelical church. There used to be a road which lead from the ford of the Stvanice island to what we know as Dlouha Trida. Even though the houses along the road do not exist anymore, their former names are linked to the Vltava River, for century the church started looking more gothic and example " Rybarsky dum" "The Fisherman's House". The island Stvanice used to be and still is an important part of Prague. Nowadays the island is used mostly for recreation and sport activities, but in the past it was where all the Prague's executioners lived. Since their craft was thought of as unclean and sometimes unjust, they were forced to live outside of the city. Thanks to their profession, the executioners understood the human body very well and many Prague's residents came for their advice. One time, an executioner saved a dying boy's life. He stopped the evil prophecy and cured him.


Apartment use and noise: you commit to take care of the apartment and respect neighbours, particularly by respecting the interdiction of making noise between 22:00 (10 and 7 a.m. (which could result in 100 euros fine deducted from the damage deposit if neighbours complain about you and the police testify against you). Prague has many great places to party outside, and we wish you to enjoy it at best, the apartment is greatly located for that ;-)

PLUSES AND MINUSES:
+ Vincent is located in the very center of Prague, only 10 minutes of walk from the Old Town Square
+ There is a balcony in the apartment which can be a practical thing for smokers
+ A dishwasher is available in the apartment
+ There is a washing machine which can be really convenient for longer stays
+ Elevator in the building
+ The apartment has a fully equipped kitchen
+ High-speed wifi provided
+ Many nice cafés and restaurants in the neighbourhood
+ Secured parking within 5 minutes' walk from the apartment (optional - not included in price)

CHECK-IN: from 4:30 p.m.
CHECK-OUT: until 11:00 a.m.
バスルーム

2

表面

102 m2

寝場所の手配

6 Twin, 3 Sleeper
レビュー
管理者は に推薦されて
ミシェラン・ツアーガイド2010
ミシェラン: すべてのアパートはプラハ1区にあり...ハイクオリティサービス...非常に魅力的な料金
プラハガイド
プラハガイドのテキスト
このアパートのレビュー者
Great apartment

Glasgow United Kingdom, 27. June 2019

June, 2019日後に3日間滞在

Great apartment with lots space for large groups. Very clean and comfortable

It was a good and enjoyable stay

JJN Verstappen b. から ??? Netherlands, 09. October 2018

September, 2018日後に3日間滞在

We have visited and done a lot in the beautiful city of Prague. Also made a nice bike ride with a very nice guide (Dennis Levi) who knew a lot about the history of Prague. A nice clean city where the people were very relaxed. No hectic. We had a nice weekend.

Great Apartment for Families

Hollywood United States, 05. August 2018

July, 2018日後に3日間滞在

The apartment was conveniently located, was clean and is perfect for families. It has an in unit washer/dryer which really helped. The staff at Rentego were responsive and always helpful.

Enjoyable stay near old town in Prague

Ankit P. から ---- United States, 20. June 2018

May, 2018日後に3日間滞在

Nice and clean property. Prompt response and any issues are resolved quickly.

Rentego Vincent Prague

BROOKLYN United States, 16. May 2018

May, 2018日後に3日間滞在

Good location, clean, spacious.

Cómodo apartamento.

Rafael M. から Jaen Spain, 13. December 2017

December, 2017日後に3日間滞在

Se trata de un apartamento muy bien ubicado,puedes ir a pié al centro de la ciudad y consecuentemente a todas las tracciones turísticas,

Bad experience不好的入住体验

United States, 28. September 2017

September, 2017日後に5日間滞在

Need to go to another location to take the key, very inconvenient; toilet only one and quite narrow; heating is not open, too cold; voice communication is poor, our problem has not been resolved.需要到另一个地点取钥匙,非常不方便;厕所只有一个而且相当狭窄;暖气也没有打开,太冷了;语音沟通不畅,我们的问题没有得到解决;糟糕的入住。

Great Location; Great amenities. Loved it

United States, 20. September 2017

September, 2017日後に3日間滞在

Smooth and straightforward.

A confortable and bright apartment

falconara marittima Italy, 30. August 2017

August, 2017日後に5日間滞在

The house is far away from Stare Mesto's square about ten minutes and so it was very convenient.

convenient place

Ammar Al-Khafaji B. から Poland, 29. July 2017

July, 2017日後に2日間滞在

I have got excellent experience with RENTeGO

Nice apartment and great location

Roberto A. から Collegno Italy, 20. July 2017

July, 2017日後に5日間滞在

Building a bit old but clean and cozy apartment.
Great location (Praga1) , great restaurant at the same address (Vincanto) . wifi not so good but I think it's a temporary solution , I think the original router is dead and I've found a little lte modem. Beware, there are 2 bathrooms but only one toilet.

Séjour à Prague

Angouleme France, 02. June 2017

May, 2017日後に3日間滞在

Séjour à Prague

Perfect holiday

Italy, 14. March 2017

March, 2017日後に3日間滞在

A perfect house for a perfect stayng in Prague

Good and Comfortable

Telde Spain, 03. March 2017

February, 2017日後に3日間滞在

It was a nice place to stay. Comfortable and with a good price.

Great apartment in a convenient location

Justin Blevins b. から Oakmont United States, 01. October 2016

September, 2016日後に2日間滞在

We stayed at a Rent-e-Go apartment during our visit to Prague. Our original hotel messed up our reservations and we came across this apartment to cover our stay. I think it was a blessing in disguise. Our group of 7 was able to stay in the apartment together significantly cutting costs. The staff that checked us in was very friendly and promptly assisted with our last minute arrival. The apartment was nice and had many amenities we wouldnt have had in a hotel, such as a kitchen and laundry facilities. The location was great and we were able to walk most of the places we wanted to go. I would definitely recommend this apartment to anyone going to Prague. I would certainly stay there again!

Prague Old Town Stay

Bellbowrie Australia, 18. September 2016

September, 2016日後に4日間滞在

Great location. Easy to access all sites. Clean and spacious. Hassle free with all amenities and facilities in good working order. Would definitely stay in this place again.

Response from RENTeGO

27. 9月 2016

Thank you Helen, we are glad you enjoyed your stay in the apartment Vincent, hope to see you next time.

Visit to Prague

Roman L. から Tarragona Spain, 01. September 2016

August, 2016日後に4日間滞在

The property was well located and manteined. I will recommend this property to a friend.

Response from RENTeGO

14. 9月 2016

Thank you Roman, we will be happy to host you next time you're in Prague!

Rentego Vincent

Wroclaw Poland, 23. August 2016

August, 2016日後に3日間滞在

Smooth as silk

Response from RENTeGO

24. 8月 2016

Thank you Grzegorz :)

prague apt

Angeli U. から Cincinnati United States, 29. June 2016

June, 2016日後に5日間滞在

good location
construction from the next door attached building very loud most of the mornings
sofa beds okay for comfort but not great,
tiny bathroom for the number of people that could stay there



Response from RENTeGO

03. 8月 2016

Thank you Angeli! If you prefer more comfort, we would recommend you to book a bigger apartment or a combination of apartments in one building, such as Smetana or Klimt, located as well in Klimentská 40. Feel free to contact us for your next visit and we will help you to choose the right apartment for you :)

As before, a good esperience

ROSIERES AUX SALINES France, 07. June 2016

June, 2016日後に3日間滞在

It is my third stay in a rentego appartment.
Excellent !!

Response from RENTeGO

06. 7月 2016

Thanks a lot, we are happy to count you among our frequent visitors. See you next time :)

As nice as advertised

Catonsville United States, 04. June 2016

May, 2016日後に6日間滞在

We had a lovely stay. Apartment looked like the website, clean and in good repair. Ivan the rental supervisor stopped by with extra keys and dish soap within 30 minutes of our arrival, checking if all was OK. Kitchen had what we needed & shower, tub, and toilet in separate room really helped with 5 adult family members sharing the space. Located within 2 blocks of major transit stop made it good for attending my international conference. Definitely a good value and I highly recommend.

Response from RENTeGO

06. 7月 2016

We are happy you enjoyed your stay in the apartment Vincent, Carole. Ivan takes a really good care of all our apartments and we are truly grateful to him for it :)) Hope to see you next time!

PRAGUE December 2015

NIGOGHOSIAN K. から United States, 14. January 2016

December, 2015日後に2日間滞在

Good experience with the last minute booking, but I was interested in the unit shown in the web site with 4 bedrooms, 2 floors, etc. (IRIS) which was shown free but when I requested it was mentioned to me that was booked. Anyway, my experience was good overall.
I also indicated the RENTeGO to a Friend for the IRIS apartment, which they booked for after new year, and they were very, very satisfied (family Braun Rolf and Yara from Switzerland with some Brazilian friends). Anyway, I am doing a "marketing" for you free of charge !!!

It was perfect!

Palma de Mallorca Spain, 04. November 2015

October, 2015日後に3日間滞在

It was perfect. We are all very happy and the apartment was very clean. We'll stay there again with no doubt.

Response from RENTeGO

13. 11月 2015

Thank you so much, Victor! It has been a pleasure to host you, do not hesitate to contact us for your next stay in Prague :)

eric bruxelles

Eric D. から France, 12. October 2015

September, 2015日後に4日間滞在

Je suis enchanté par le service rendu par RENTeGO, l'appartement étais parfais, le service de transport entre l'aéroport et l'appartement efficace.
Ont peux facilement joindre dans sa langue une personne de contact pour tous renseignement ou assistance.


Prague at our Fingertips!

Americus United States, 25. September 2015

September, 2015日後に7日間滞在

My sisters and I had a fantastic part one of our sisters' trip to Eastern Europe. We were picked up from the airport by the most courteous of drivers, taken to the apartment with an elevator for luggage and people. The keyless apartment entry was very convenient. The rooms of the apartment are quite large and the views from the front of the apartment were straight from a fairy story! The kitchen was quite nice with full size fridge and gas oven. We ate dinner out at all the close by fantastic restaurants. There is an Indian restaurant, named " K The Two Brothers" who appears to know the secrets of the flavors of the Orient!!! It's best to make a reservation or eat very early. The location of the restaurant and apartment was close to transportation: bus, tram, and train. We used them all for touring and day trips out of the city. My sister walks with a cane and she was able to do most of the activities without difficulty.
The two things I would improve on if changes are made would be: more comfortable beds, and an additional toilet. While there are two rooms for bath and shower,there is only one WC. Older people who enjoy the elevator also would love to have that second WC. Thank you for providing such a nice place to feel at home.

Response from RENTeGO

26. 9月 2015

Thank you very much Phyllis! That's really awesome to hear that you had such a good time in Vincent. We would be happy to welcome you again in Prague and we would do our best to make your stay here even better :)

Good Service and location

Elsa T. から Milton Keynes United Kingdom, 14. September 2015

September, 2015日後に3日間滞在

We were a bit worried after seeing the previous reviews about the cleaning condition. The cleaning condition was fine when we checked in. Very convenient location with mini market and supermarkets close by.
Suggestions: To include a weight scale for baggage weighting and box tissues.
Well Done to the Rentego team including the car transfer service! Efficient communication and excellent service! Thank you for helping us to have a pleasant stay in Prague.

Response from RENTeGO

26. 9月 2015

Thanks a lot, Elsa! Feel free to contact us for your next stay in Prague.

Nice Apartment in City

Michael W. から United States, 20. August 2015

July, 2015日後に2日間滞在

It was a nice Apartment, only some minutes from the City.

Response from RENTeGO

21. 8月 2015

Thanks a lot, Michael :)

A Nice Apartment in Prague

Juliano B. から Odivelas Portugal, 07. August 2015

July, 2015日後に5日間滞在

Very nice apartment, just a few minutes walk from Old Town Square. One mini-market right at next door and another a little bigger just 2 minutes away made our breakfasts at apartment being perfect.
One of the sleeper-sofa was very dirty when we opened it, but everything else was in perfect condition.

Response from RENTeGO

18. 8月 2015

Dear Juliano, Thank you for staying with us :) Our cleaning team will check the furniture more carefully, thank you for your comment. Otherwise we are glad that you enjoyed your stay!
アパートの正確な住所
Klimentska 40
Prague
10 分 から徒歩 オールド タウン スクエア(旧市街広場)
チェックイン/アウト
チェックイン時刻
以降のチェックイン 4:30 PM (から荷物を置いておける可能性 1:00 PM)
チェックアウト時刻
までにチェックアウト 11:00 AM (まで荷物を置いておける可能性 11:00 AM)
簡単なチェックイン
コードロックまたは個人的なお迎えにより、お客様は直接 ...に行くことができます
チェックイン/アウトに関するさらなる情報
アメニティ
アメニティ
アメニティ
このアパートのアメニティのリスト
このアパートのアメニティのリスト
Attractions

churches, cinemas, festivals, live theater, museums, playground, restaurants, synagogues, zoo

Leisure activities

sight seeing

Local services and businesses

ATM/bank, groceries

Location

Downtown

Safety

Smoke detectors

Suitability

children welcome, non smoking only, pets considered, wheelchair inaccessible

アメニティ

Elevator, Internet, Iron & Board, Linens Provided, Living Room, Towels Provided, Washing Machine, baby cot and baby chair (option), balcony, hair dryer, heating, iron and ironing board, linens and towels provided, non-smoking, washing
アメニティ

shower, toilet, tub

エンターテイメント

Satellite / Cable, radio and CD player, television

キッチン

Dishes & Utensils, Kitchen, coffee maker, dishes and utensils, dishwasher, microwave, oven, refrigerator, stove, toaster

ビジネス

ATM nearby, Free Mobile Hotspot, free Internet (WIFI), writing desk

利便性

grocery nearby, medical services nearby, parking nearby, restaurants and bars nearby, shopping center nearby
間取図
間取図 この物件の大まかな間取図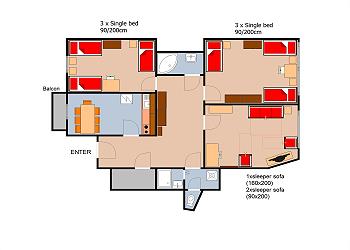 | | |
| --- | --- |
| Room | 部屋 |
| Hall | ホール |
| Kitchen | キッチン |
| Living-room | リビングルーム |
| Bathroom | バスルーム |
| Shower room | シャワールーム |
| Balcony | バルコニー |
| Terrace | テラス |
| Cloakroom | クロークルーム |
| Single Bed | シングルベッド |
| Double bed | ダブルベッド |
| Twin bed(s) | シングルベッド |
| Sleeper Sofa | スリーパーソファー |
| Mezzanine bed (usually a mattress on a wooden parquet) | 中二階のベッド(通常は木製の寄せ木細工上のマットレス) |
滞在期日に利用可能なアパートを見つける
-お客様が興味をお持ちかもしれない近くのアパート
Exact match:

KUNDERA matches Bedrooms (3.0), Neighborhood (Center - New Town), Service by (Service 100% Rentego) :-)

Exact match:

Dalia matches Bedrooms (3.0), Neighborhood (Center - New Town), Service by (Service 100% Rentego) :-)
ダウンロード
お客様が興味をお持ちかもしれない追加情報