検索
アパートの詳細& 料金の提案
予約する
ありがとうございます
SYNAGOGA
3BR 3 minutes walk from Old Town Square
3 ベッドルーム for 5 宿泊者 (最大 7)
U Stareho hrbitova 4, Prague
説明
Synagoga is a bright, spacious and quiet apartment, superbly located in the heart of the old Jewish quarter. It is modern and nicely furnished for 5-7 people.


Synagoga has a well equipped kitchen that provides everything needed to prepare breakfast or other basic meals, practical especially if you want to save money. As every other apartment, there is a high speed internet connection for those who wish to work or stay in touch with friends. Synagoga is a non-smoking apartment. If you want a better idea of what it looks like, scroll down to view the floor plan.¨


Apartment Synagoga is located 30 meters from the famous Parizska Street, fashion and luxury brands lovers can enjoy most of the world's fashion shops (Luis Vuitton, Fendi, Prada, Hermès, Dior, Cartier ...). Please note that the apartment is located on the 4th floor without an elevator, which is compensated with a view of the Old Jewish Cemetery and the roof of the former ghetto. It is also an excellent starting point for exploring Prague. The apartment is literally a few steps away from Old Town Square and close to all the sights and cultural attractions. You can also enjoy spending an evening at one of the nearby restaurants or bars, which are all only a few minutes away.
Right from the apartment window, there is a beautiful view of one of the most important preserved Jewish cemeteries in the world.


Most Jewish cemeteries have been built outside of an inhabited area. Prague's Old Jewish Cemetery is an exception, because it has become a part of the Jewish Quarter over the years. It is the youngest of three Prague Jewish cemeteries, but others do not exist anymore.
According to historical data, there are 12 levels of graves underground and there are approximately 12,000 dead resting in the cemetery. Unfortunately, the cemetery had to withdraw from expanding because of Prague's traffic in the area now known as 17.Listopadu Street. The oldest tombstone dates back to the first half of the 15th century, but most attention is given to the grave of Rabbi Low, where visitors may lay little stones with their wishes. During the time of Rabbi Low a plague broke out in the Jewish ghetto, only small children died because of it. The legend says that every night little children danced in the cemetery, they could not find peace until a mother who had murdered her baby was punished. Today, the cemetery has no children dancing at night, so you can have a good night sleep.


Apartment use and noise: you commit to take care of the apartment and respect neighbours, particularly by respecting the interdiction of making noise between 22:00 (10 and 7 a.m. (which could result in 100 euros fine deducted from the damage deposit if neighbours complain about you and the police testify against you). Prague has many great places to party outside, and we wish you to enjoy it at best, the apartment is greatly located for that ;-)

PLUSES AND MINUSES:
+ Synagoga is located in the very center of Prague in the Old Jewish Quarter & 3 minutes walk from Old Town Square
+ Beautiful view of the Old Jewish cemetery from the window
+ Very quiet at night thanks to its situation on the 4th floor, windows overlooking a very small street and the Jewish Cemetery
+ There is a washing machine which can be really convenient for longer stays
+ The apartment has a fully equipped kitchen
+ High-speed wifi provided
+ Many nice cafés and restaurants in the neighbourhood
+ Secured parking within 5 minutes walk from the apartment.
- The apartment is situated on the 4th floor without an elevator
- Some renters smell an odor in the dining room.

CHECK-IN: from 4:30 p.m.
CHECK-OUT: until 11:00 a.m.
バスルーム

1

表面

90 m2

寝場所の手配

1 Double/Full Bed, 2 Sleeper, 2 Twin
レビュー
管理者は に推薦されて
ミシェラン・ツアーガイド2010
ミシェラン: すべてのアパートはプラハ1区にあり...ハイクオリティサービス...非常に魅力的な料金
プラハガイド
プラハガイドのテキスト
このアパートのレビュー者
Appartement très bien situé pour visiter Prague à pied !

Philippe Dussaucy U. から Lyon France, 29. May 2019

May, 2019日後に4日間滞在

Appartement très bien situé pour visiter Prague à pied ! Il est très spécieux pour 2 couples, propre et très bien équipé. Un petit rafraichissement des peintures ne serait cependant pas de trop... La gestion de la location est très pratique. Notre note : 9/10.

Great

paris France, 01. November 2018

October, 2018日後に3日間滞在

Very simple and efficient

Amazing apartment in Old Town

Vuk S. から Grdelica Serbia, 14. October 2018

October, 2018日後に5日間滞在

We were very satisfied with everything.

Griswald family does Prague

Saskatoon Canada, 29. September 2018

September, 2018日後に4日間滞在

Loved the location! Before renting this place you should know that there are 95 steps up to the apt. Once you get there, it is very roomy, comfortable and clean

Very well located flat

Serge B. から Moncaut France, 24. September 2018

September, 2018日後に4日間滞在

Synagoga flat is spacious, we were 4 but il can be ok for 6 persons, this flat is very interesting if you want to visit the old town. We did everything walking around.However, people who want to rent this flat must be in a good physical condition because he is on the 4th floor without lift.


Great place to stay for visiting Prague

Lori T. から Beamsville Canada, 21. August 2018

August, 2018日後に3日間滞在

Great spacious apartment close to everything - a perfect location to walk to all the sights. Beds were very comfortable and it was very quiet at night so we kept sleeping in:) It was very warm during our stay but comfortable in the apartment with the windows open and fans. We rarely saw anyone else in the building, outside in the street below were lots of tours and souvenir shops for the Jewish cemetery and synagogue. Be prepared to climb stairs - the stairway is nice and wide and well lit but the apartment is on the 4th floor!

marvelous trip

LAURENCE F. から MORANCE France, 24. June 2018

June, 2018日後に5日間滞在

We were very satisfied about the apartment.
It was a pleasure being so closed of the old town.

Prague April 2018

Berstett France, 29. April 2018

April, 2018日後に4日間滞在

Big flat, very well located and calm

Très bon séjour

audrey s. から Longfossé France, 21. February 2018

February, 2018日後に3日間滞在

Week end inoubliable , appartement très propre , très bien situé , avec de grand espace .



Perfect!

Mrs J P. から London United Kingdom, 16. February 2018

February, 2018日後に3日間滞在

We had a wonderful experience renting. The place we stayed was plenty big and had everything we needed. It was located close enough to all the major spots that you'll want to see In Prague. It was easy to access and anytime I had questions, I got responses right away. It was a pleasure renting with Rentego and I would highly recommend it.

stay in Sinagoga

NICE France, 09. January 2018

December, 2017日後に4日間滞在

the flat is wide, very well located and calm
we appreciated the responsiveness of the property management company
a suggestion ! to remove or replace the carpeting because of the smell and replace the bath by a shower...

Fantastic place in prague

marlton United States, 23. December 2017

December, 2017日後に3日間滞在

This is a must stay place in Prague. Was close to everything and the staff was very helpful especially with receipt of the key posted overseas.

On the top floor with a great view (note no elevator but the view is worth it) and close proximity to the train station (we used Uber and is was not an expense ride at all). Walking distance to the Charles bridge, Prague castle and historic center.
Staroměstská metro stop real close.


We will stay again.

NICE, CONFORTABLE AND GOOD LOCATED

CARMEN R. から Pfaffenhofen Germany, 21. December 2017

December, 2017日後に3日間滞在

Recomendable for a family. Probably we'll come back
Just the pipesmell in the stairs of the building butnothing that can't be solved. Property was really hellpfull and kind anytime

A Good all-round Stay :)

Ian P. から Rugeley United Kingdom, 20. December 2017

December, 2017日後に8日間滞在

An excellent apartment, with everything you could need for your stay. Clean, nicely furnished, with a well-equipped kitchen.
I particularly enjoyed the mobile Wi-Fi router provided which allowed me internet access wherever I took it.
The view over the Old Jewish Cemetary is really nice, and although there is a busy street below (during the day) I never heard any noise from there.
One tip : when taking the rubbish out at the end of your stay, prop the door to the courtyard where the bins are open, otherwise you might find yourself locked out (like I did)!

Posizione perfetta!

Torino Italy, 22. November 2017

November, 2017日後に4日間滞在

La posizione della casa è perfetta, ci si può muovere per il centro della città a piedi e raggiungere le mete più turistiche anche a piedi! La casa è spaziosa e pulita ed è fornita di tutto il necessario! L'agenzia è molto disponibile!

Nov 17, Aufenthalt mit 5-köpfiger Familie, Kinder zw. 13 und 17

Greven Germany, 06. November 2017

October, 2017日後に5日間滞在

Wunderbar zentral gelegen, alles in Fußreichweite. Sauber, großzügig. Uneingeschränkt zu empfehlen für 5 Personen bei Übernachtung in zwei Zimmern (2+3), ansonsten wäre ein Schlafraum gleichzeitig Aufenthaltsraum und Durchgangszimmer zum Bad. Toilette in jedem Fall aber seperat erreichbar.
Wir haben uns sehr wohl gefühlt.
Hervorragende Internetmöglichkeit: funktionierendes Wifi in Wohnung plus mobile Wifimöglichkeit überall in der Stadt.

Synagoga Apartment

Barbara Weedon A. から Adamant United States, 22. October 2017

September, 2017日後に30日間滞在

I submitted my review a few days after returning home from Prague. Was this not received? The apartment was completely satisfactory for our needs and expectations. I had excellent service and information from the owner company. The apartment is well located for transportation in Prague and I would give it my full recommendation.

Très bon séjour dans cet appartement

Paris France, 05. September 2017

August, 2017日後に5日間滞在

Nous recommandons vivement cet appartement. Il est grand, propre et bien équipé. De plus, sa situation dans la vieille ville est idéale pour rayonner à pied. Il est situé au 4ème étage sans ascenseur.

Sehr geräumige Altbauwohnung in direkter Nähe des jüd. Friedhofs

Katharina D. から Berlin Germany, 30. August 2017

August, 2017日後に5日間滞在

In der großzügig geschnittenen, hellen Wohnung haben wir uns mit 5 Personen sehr wohl gefühlt. Die Küche ist gut ausgestattet, außerdem ist es günstig, dass Bad und Toilette getrennt sind. Die Wohnung war sehr sauber und ordentlich.

Fabulous apartment in Central Prague

Poulsbo United States, 10. August 2017

August, 2017日後に4日間滞在

We stayed here with 4 adults and two kids. This apartment had everything that we needed. The location is superb, everything is walking distance. It is nice and quiet at night, and lively during the day. I loved that a washer is in the apartment - fabulous for a longer stay! I would recommend using their drivers for pick up from the airport, to be dropped off at the apartment.

synagoga

Pierre A. から Colomiers France, 01. August 2017

July, 2017日後に4日間滞在

ok

Synagoga Apartment in Prague

Philip S. から HARROW United Kingdom, 14. July 2017

June, 2017日後に7日間滞在

We were very happy to stay in the Synagoga appartment for one week. It is spacious, clean and comfortable. The location is just excellent with all the important tourist sites within easy walking distance. It is not 'luxurious' but very good value for money. The wi-fi worked well. There is no TV but who wastes time watching TV on such a visit? We were aware that the appartment is on the fourth floor and this did not concern us We would definitely recommend this appartment

great place to stay

Estoril Portugal, 07. May 2017

April, 2017日後に4日間滞在

Nice apartment, very well situated. No TV, but not a problem for us.

Older-style apartment in excellent location

Martin L. から London United Kingdom, 24. April 2017

April, 2017日後に3日間滞在

The location of the property is great, but the property itself is a flat in an older block (1930s I think) with a rather odd layout that makes it less pleasant as holiday accommodation than I'd have liked. (To be fair I should have been able to work this out from the plans very helpfully provided by Rentego in all material.) Two bedrooms are large, but what is shown as a third bedroom is actually a dining room and the only access to the kitchen, so not much use as a bedroom. The one bathroom is only accessible via one of the bedrooms or the dining room, and the WC is separate (accessible from the hall) but has no basin to wash one's hands in. Perhaps such a layout was acceptable or normal in the 1930s but seems rather uncomfortable now.
The furnishing was OK, the kitchen not very well-equipped (no proper oven as far as I could tell), not that we used it. There was only a minimum of basic foodstuffs (coffee and sugar) set out for renters - fortunately there was a shop reasonably near by with moderately late opening.
The company very efficiently dealt with a problem about gaining access to the apartment which was my fault - full marks to them for that.

good low price Appartement

Dennis B. から Dorsten Germany, 17. February 2017

January, 2017日後に3日間滞在

very good

Good Location with good price

Sascha S. から Gunzburg Germany, 02. November 2016

October, 2016日後に2日間滞在

Reservation was easy and uncomplicated. The location was very good for shopping possibilities and restaurants within easy walking distance.
Any Time again!


excellent stay

Wien Austria, 01. November 2016

October, 2016日後に7日間滞在

thank you for everything!

Très propre et très bien situé

Steeve D. から Lachine Canada, 01. September 2016

August, 2016日後に7日間滞在

Appartement très fonctionnel, très propre, et surtout bien situé. Nous avons visité la ville à la marche seulement. Seul inconvénient, il n!y a pas d'ascenseur. Si vous êtes en forme, ce ne sera pas un problème. Aussi, nous avons eu un très bon service, des réponses très rapides à nos questions. Et Prague est tellement une belle ville. Merci!

Response from RENTeGO

14. 9月 2016

Merci beaucoup Steeve. À la prochaine!

Sinagoga ap

Mario C. から United States, 01. September 2016

August, 2016日後に3日間滞在

Tutto bene
Organizzato
Pulito
Unico neo: 4 piani di scale senza ascensore !!

Response from RENTeGO

14. 9月 2016

Molte grazie!

Perfect!

Lisboa Portugal, 16. August 2016

July, 2016日後に3日間滞在

The stay went beautifully. The apartment is very well located. The staff of RENTeGO was extremely kind and helpful. They noticed that our check out time was nor the departure time to airport so they extended our apartment exit for a few hours! It was an experience that went very well and I recommend RENTeGO to everyone.

Response from RENTeGO

24. 8月 2016

Thank you for the nice review, Rita :) We are really happy you had a nice stay in Synagoga. Hope to see you next time!

Parfait

Marc S. から Pont Saint Martin France, 25. July 2016

July, 2016日後に3日間滞在

idéalement situé à proximité du centre historique
déposez votre voiture dans un parking et tout se fait pied
appartement très bien équipé, très silencieux
l'équipe RenteGo est très professionnel

Response from RENTeGO

03. 8月 2016

Merci beaucoup :)

Great space

Aidas M. から Urbana United States, 19. July 2016

June, 2016日後に6日間滞在

The space was great. Lots of room. I really enjoyed the wifi mobile device. The only things that would have made it better would have been a small freezer in the refrigerator and a TV. But otherwise it was nice.

Response from RENTeGO

27. 7月 2016

Thank you Aidas, we are glad you had a good time here in Prague. See you next time :)

Overall, very good!

Stonington United States, 23. May 2016

May, 2016日後に3日間滞在

The apartment was as described; pictures and floor plan are accurate! The location was great for walking to shopping and restaurants (1 minute), Old Town Square (5 minutes) and even the Prague castle (about a 15-20 min walk). The neighborhood and building felt safe and clean. The stairs were not an issue for us but this is definitely not the place for someone with physical limitations!

The apartment itself suited our needs. I would consider this a 2BR+ given that if you count the living room as a bedroom, there is no common living space to gather or eat. The kitchen was clean and had every thing you could need. There is a washing machine in this apartment (which I did not see advertised) which was great, and plenty of room to spread out the drying rack in the bedrooms! The beds were comfortable and the bedding was good quality.

In terms of service, we appreciated the keys being mailed to us and the instructions to access the apartment were clear. Parking was a bit far away but if you don't have a car this clearly isn't an issue! If you are driving, this area can be a bit tricky in terms of 1 way streets and the GPS's aren't always perfect, so make sure you have an actual street map.

Overall, especially given the good location and reasonable cost, we would definitely recommend this apartment!

Response from RENTeGO

22. 6月 2016

Thanks for your nice comment, Erin! We are glad you enjoyed your stay in Synagoga, we would be happy to host you next time you're in town :)

Un excellent séjour

Pierre A. から ORVAULT France, 15. May 2016

April, 2016日後に4日間滞在

Un super appartement. Une belle découverte de location à Prague.

Response from RENTeGO

18. 5月 2016

Merci, nous nous réjouissons d'entendre que vous avez eu un séjour agréable à Prague.

Richard K Review of Synagoga

Richard K. から Beachwood United States, 27. April 2016

April, 2016日後に7日間滞在

Very nice, spacious apartment for my wife, adult son, adult daughter and me. Pictures accurately reflect the apartment. Great location as evidenced by the many, many tour groups found outside the front door of the apartment during the day. This is not a complaint, but a reflection of the desirability of the location. My only complaint is only half a complaint. The apartment was very clean which is of course very important, but the apartment had a strong smell of a chemical that I suspect was used for cleaning. I would suggest using a solution with less of an odor. Nevertheless, would absolutely stay at this apartment again if I were to return to Prague. I would also recommend the transportation service to and from the airport arranged through the Rentego website.

Response from RENTeGO

18. 5月 2016

Thank you Richard, we are happy that you had a nice stay in the apartment Synagoga. As for the smell, it's not a detergent used by our cleaning team, however so far we have not been able to do anything about it. So for any clients who are sensitive to this, we would recommend another of our apartments in the Old Town.

Prague

Milano Italy, 13. March 2016

February, 2016日後に3日間滞在

our vacation in Prague was great. The place was large and tidy.

Response from RENTeGO

08. 4月 2016

Thank you very much Fabrizio, feel free to contact us next time you come to Prague.

Very good stay

Francesco A. から Roma Italy, 10. March 2016

March, 2016日後に4日間滞在

A very good stay in Prague, the apartment has a fantastic position in Parizka street and a fantastic view.
It was clean and pretty, not enough provided, it needs more dishes and towel for table and something else for beds.
Anyway it is warmly adviced and we enjoy the stay

Response from RENTeGO

08. 4月 2016

Thank you Francesco! We would be happy to welcome you again in Synagoga or any other of our apartments in Prague, make sure to contact us again for your next visit :)

Synagoga rental

Catherine B. から CESTAS France, 02. March 2016

February, 2016日後に5日間滞在

We spent a very nice stay in this Synagoga apartment very well located and agreable. I really appreciated the possibility to let our luggages 2 hours more (from 11am to 1 pm) in the apartment before leaving!! The taxi driver was a nice person, helpful when we arrived to open our apartment.

Response from RENTeGO

08. 4月 2016

That's nice to hear that you liked the apartment Catherine, hope you had a great stay in Prague. We will let the driver know you were satisfied :)

Bien placé

LEVALLOIS France, 08. January 2016

December, 2015日後に3日間滞在

Très bien placé agréable clair calme bonne literie
Un peu moins éclatant en vrai que sur les photos. Mais ça cet toutes les locations

A place to call home in Prague

Anthony Janssens b. から United States, 17. December 2015

December, 2015日後に3日間滞在

Location was perfect, smack in the centre, with just 5 minutes walk to Charles bridge. Furthermore, the staff was so wonderful with helping us out with an airport pick up and drop off, an extra late check out, etc. The appartment was bright and spacious and felt like coming home.

Somewhat inconvenient were the 5 flights of stairs. Some renovation might be welcome in the appartment, but it didn't bother us one single bit.

Response from RENTeGO

02. 1月 2016

Thank you so much, Anthony. We would be happy to host you the next time you'll come to Prague!

Nell'appartamento centralissimo!

Gabriele C. から Bovolone Italy, 08. November 2015

October, 2015日後に5日間滞在

Abbiamo scelto di prendere in affitto un appartamento invece dell'albergo perché abbiamo 2 bimbi piccoli.Siamo andati con una coppia di amici, anch'essi con una bimba e c'era posto per tutti comodamente. Cucina piccola ma attrezzata. Centralissimo sia per andare a piedi in centro che per prendere i mezzi pubblici.Consigliato!

Response from RENTeGO

19. 11月 2015

Grazie mile per il suo bello comento, Gabriele! Siamo contenti che lei e i suoi amici abbiate passato un bel soggiorno nel nostro appartamento. Non esitate a contattarci per il prossimo viaggio a Praga. Sarebbe un piacere di ospitarvi la seconda volta.

Superb location for a short stay in the city

United States, 14. October 2015

October, 2015日後に3日間滞在

The apartment is just a few minutes walk from the main square so is perfectly located. The flat itself is fairly basically furnished but everything you need is there. I would have preferred a stand-up shower (there's a bath with a handheld shower) but it wasn't a big problem. The apartment is also reasonably priced. Lack of parking is probably the biggest issue in that we had to park around 15 minutes walk away. Overall cost for the parking for 3 days was about 70 euros.

parfait, parfait et PARFAIT !

Lionel P. から HOMBOURG France, 26. June 2015

June, 2015日後に3日間滞在

Nous avons passé un super séjour grâce à RentEgo ! ils sont parfaits ! ils répondent vite, en français, il sont fiables et ils renseignent parfaitement. Tout était comme décrit sur le site. Le chauffeur nous a bien transporter depuis et jusqu'à l'aéroport.
L'appartement est grand et très bien situé. Rien à dire, si ce n'est que tout était PARFAIT !

Great short sttay

United States, 17. June 2015

June, 2015日後に2日間滞在

Fantastic

Spacious 4th Floor Walkup

Betty M. から United States, 29. May 2015

May, 2015日後に5日間滞在

The apartment was spacious, clean, and well provisioned. There were nearby restaurants, grocers, and shops. It was very close to Old Town. Our only problem was managing luggage up to the fourth floor.

A perfect location

Rosa M. から ??? Austria, 22. May 2015

May, 2015日後に4日間滞在

Thank you,RENTeGO team, for sending us the house key to Vienna/Austria way before we arrived at Prague, thanks for the perfectly clean apartment with all the amenities in it and space enough for us (6 adults) - just as described on your homepage. If you do not mind climbing up the four floors/storeys (there is no lift), you will have a perfect stay. There even is a good supermarket down Maiselova Street nearby.

Great apartment in an ideal location

Suzanne H. から San Francisco United States, 04. February 2015

January, 2015日後に7日間滞在

The apartment is large and well appointed for a vacation rental. As a family of four we had plenty of room, and we enjoyed little extras in the rental, including laundry detergent, tea, coffee and sugar. They also had great resources in the apartment for touring around, including a list of local shops (which did need some updating but was nonetheless helpful). Moreover the Rentego staff was professional and helpful throughout. Only downside was a slight smell, noticeable only when first entering the apartment.

Synagoga - a great place

Ville V. から Espoo Finland, 28. January 2015

January, 2015日後に3日間滞在

Thanks for all the superb arrangements. The location could not be more perfect. The apartment was in great conditions, with all the amenities you need for a visit like this, a long weekend of 3 nights. Besides the locations, we especially liked the spacious rooms, central heeting and the furniture and equipment that made us feel like home. Also spare keys were good to have, when travelling with a group.

Merveilleux séjour à Prague

Alain A. から saint prix France, 01. January 2015

December, 2014日後に4日間滞在

Nous avons passés de merveilleuses vacances en famille à Prague, l'appartement est idéalement placé, grand, parfait pour 6 personnes. Rentego fournit de très nombreuses informations pour vous aider.

Grand appartement dans trés bon quartier de Prague

United States, 19. November 2014

October, 2014日後に3日間滞在

Appartement pour 5 ou 6 personnes corespondant aux photos avec de grandes piéces. Quelques améliorations en ce qui concerne la salle de bain sont à prévoir. Le quartier est trés chic et calme. Nous avons pu visiter Prague à pieds trés facilement. A noter également en supplément un excellent service de navette privée depuis l'aéroport.

Appartement propre et très central

Anne-Lise K. から PARIS France, 17. November 2014

November, 2014日後に4日間滞在

L'appartement a répondu à ce que je désirais et n'avait pas de mauvaise surprise. Propre et spacieux, il est surtout calme alors qu'il est au coeur de la ville touristique (il donne sur le cimetière). un peu léger sur le contenu des placards, on aurait juste aimé un peu de thé et café pour ne pas à avoir à acheter des quantités impossible à écouler durant notre séjour

Pleasant stay without problems.

Heinz Becker A. から United States, 16. October 2014

October, 2014日後に3日間滞在

very nice location in old town with lots of facilities around
communication was easy and helpful


Family Retreat

John R. から Brookfield United States, 14. September 2014

September, 2014日後に2日間滞在

We rented 4 different apartments on our trip and this was by far the best value, and the easiest company to deal with. Rentago was very easy to deal with and accessing the apartment was extremely easy. I will definitely use Rentago again.

3 days in Prague

CHRISTIANE V. から BRIE ET ANGONNES France, 03. September 2014

August, 2014日後に3日間滞在

3 days located in a space appartment well located in Prague. The only problem is a special smell in the house that we could not identified but a little bit unpleasant.

Great Location and Service

Charles C. から United States, 28. July 2014

July, 2014日後に2日間滞在

The apartment in Prague was clean, well stocked with kitchen utensils, and tourist books. Location was great with easy access to Old Town Square and public transport. The service from the Rentego staff was fantastic, from the driver to people on the phone to responsive e-mails. We will definitely use Rentego again when we travel to Prague.

bravo pour tout

Andre V. から NANTES France, 20. May 2014

May, 2014日後に4日間滞在

Appartement très bien situé , calme , propre , spacieux : nous avons passé un excellent séjour

Nice appartment

Benjamin K. から Quierschied Germany, 07. May 2014

April, 2014日後に3日間滞在

Nice appartment, nice people at rentego,

Synagoga

philippe e. から bourbonne les bains France, 04. May 2014

April, 2014日後に5日間滞在

Appartement spacieux, très bien placé, silencieux, bien équipé, seul bémol: 4 étages sans ascenseur.

Prague appartement

Quimper France, 24. April 2014

March, 2014日後に6日間滞在

Very well located and spacious, good services

vacances formidables et bonne organisation

dominique v. から Massieux France, 22. March 2014

March, 2014日後に7日間滞在

une très belle ville mais un accueil local décevant

Wonderfull property and very spacious

Virginie V. から templeuve France, 03. March 2014

February, 2014日後に5日間滞在

We spent very nice time in Prague. We were a family with 3 children and property was wonderfull and very spacious.

Very convenient location in Prague

Gilles G. から Lyon France, 03. January 2014

December, 2013日後に4日間滞在

Very pleasant stay

a very nice flat and a very professionnal company

Barbara B. から Paris France, 29. December 2013

December, 2013日後に5日間滞在

The flat's location is great (beautiful view on the Jewish cemetary), and the flat itself is very comfortable, nicely decorated with an ideal room disposition and a calm environment. The fact that one can contact the company at any time in case of need is very helpful and reassuring. Ideal conditions to have a great time in Prag!

Prague November 2013

Rebecca N. から Sowerby Bridge United Kingdom, 01. December 2013

November, 2013日後に4日間滞在

We had a lovely stay at Synagoga, very convienent location within walking distance of all the main tourist spots. Will definitly stay here again

Appartement central et très agréable

francoise H. から ANGERS France, 26. October 2013

October, 2013日後に4日間滞在

L'équipe rentego a été très agréable et l'appartement idéal pour une visite de Prague en 4 jours

3 days in Prague

Madeleine J. から Paris France, 15. October 2013

September, 2013日後に3日間滞在

We had a wonderful stay in Prague et we were very satisfy with the appartment....but the appartment is located on the 4th floor that is a bit high for people as old as we are.

A well located flat; but, with 4 floors, escalator is missing

bernard a. から SEYSSINS France, 24. September 2013

September, 2013日後に7日間滞在

Interesting experience, operated without physical meeting with the operator and specially efficient.

Just one thing didn't like

United States, 03. September 2013

August, 2013日後に2日間滞在

The staff- wonderfull! Very helpful, very understanding- the best!
The location would be very good if not the view through the window- cemetery :(

Simply perfect

ALBI France, 11. August 2013

August, 2013日後に5日間滞在

Good location, quiet, with all the accomodations necessary. Large appartment.

excellente situation dans le centre de Prague

SAINT GHISLAIN Belgium, 30. July 2013

July, 2013日後に3日間滞在

appartement lumineux et agréable... dans un bâtiment bien sécurisé et jardin accessible... situation idéale ... quartier juif fréquenté le jour et calme la nuit...espace suffisant pour le nombre de personnes prévu ... à recommander ... le système de réservation est impeccable... merci

Gérard

GERARD B. から SEMUR EN AUXOIS France, 26. July 2013

July, 2013日後に6日間滞在

Très belle situation au coeur de la vieille ville, idéal pour visiter. Appartement spacieux et correctement équipé. L'équipe Rent e Go a été très professionnelle dès la réservation de la location, et jusqu'à notre départ.A recommander.

Parfait en tout point !

Isabelle B. から BORDEAUX France, 14. July 2013

July, 2013日後に6日間滞在

Nous avons tout apprécié : la ville, la localisation de l'appartement, l'appartement !!!! les relations avec Rentego !

Séjour formidable

BAINS SUR OUST France, 31. May 2013

May, 2013日後に4日間滞在

L'équipe RENTeGO très professionnelle. Appartement conforme au descriptif,très bien situé, très calme. Ce séjour, que du bonheur pour nous 6.

Ideal location in Prague, Large flat. Situation idéale. Vaste.

ROUEN France, 29. April 2013

April, 2013日後に3日間滞在

Cleaning ok. Silence excellent. Well fitted. Just the problem of no lift for old people.
Propreté très bien. Silence parfait. Le problème pourrait être l'absence d'ascenseur pour les personnes âgées. A part cela, le lieu est à conseiller sans hésitation.

Prague Getaway

Kevin C. から United States, 29. March 2013

March, 2013日後に3日間滞在

Everything was well organized by rental company. This apt was in a great location. Only drawback was the four flights of stairs that had to be climbed. Overall great experience. Allowed us to experience prague and a great city. Would definitely rent from Rentego again in the future when we vist prague again.

very nice vacation

Magali J. から Caen France, 17. March 2013

February, 2013日後に4日間滞在

We are very satisfied with this appartment. Just a little problem if you are coming by car : no parking place. You have to think about your organization before coming and know how and where park the car. We did it and had no soucy

Super Séjour.

Didier B. から Dange saint romain France, 09. March 2013

March, 2013日後に4日間滞在

Excellente organisation, emplacement idéal, les Praguois sont très accueillants.

A good way to stay in Praha

Amsterdam Netherlands, 20. February 2013

February, 2013日後に3日間滞在

Synagoga appartment is very well situated for tourism : close to the old square, restaurants, shops, city tours etc. You can do everything by walk. A few details can be better.

Great apartment

Copenhagen Denmark, 19. February 2013

February, 2013日後に7日間滞在

We had a wonderful stay at your apartment in the middle of the beautiful jewish town, very close to everything. Everything was handled well and professional by your company, and the apartment had everything neccesary. (Comment to RENTeGO: the only negative thing was that your gas cooker leaked. IF you change the stove and solve that problem, it is a very nice apartment)

Early spring in Prague

Amsterdam Netherlands, 16. February 2013

February, 2013日後に6日間滞在

I was rather satisfied, only - there was a broken glass of the door at our arrival, which has to be restored. Anyway, the location made all up, it is a beautiful part of Prague city.

great location

Erez .. から United States, 01. January 2013

December, 2012日後に7日間滞在

great location andfacilities,must be in shape climbing 4 floors,stuff is very welcoming.recomands the transfer from and to the airport as we are family of 5 persons,it was great

Superbly located clean and comfortable apartment

Javier M. から United States, 15. December 2012

December, 2012日後に4日間滞在

Excellently located at just 5min walk from Old Town Square. Spacious and comfortable. Charming with and old fashion vibe.
The renting company is trustworthy and professional.

A holder for the shower head would make showers much more comfortable!

Stay in Prague from Nov 22nd to 25th

Veigy Foncenex France, 27. November 2012

November, 2012日後に3日間滞在

Nice experience in Prague, apartment very well alocated not far from the old town and everything arround, very easy to enjoy the city.

ok...

Daniele .. から Vizzini (CT) Italy, 17. November 2012

November, 2012日後に7日間滞在

number 1

Très satisfaites de notre séjour

Nicole B. から Montreal Canada, 29. October 2012

October, 2012日後に11日間滞在

Même si les escaliers sont parfois éprouvant, nous avons grandement apprécié le séjour. Chauffage très adéquat en période fraîche, aménagement répondant à nos besoins. Seule remarque, les appareils pour écoute de la musique non fonctionnels. Amélioration possible une télé.

Apartamento muy confortable

Nieves R. から ZARAGOZA Spain, 08. October 2012

September, 2012日後に4日間滞在

El apartamento en sí está muy bien. Es muy amplio, totalmente equipado y muy bien ubicado, en pleno centro de Praga. El servicio de reservas funcionó de maravilla, pues en una semana nos enviaron a casa las llaves y códigos.
El único "problema" fue que había un olor en el piso durante toda la estancia, probablemente causado por algún producto de limpieza utilizado.

super

Ekaterina I. から Moscow Russian Federation, 04. October 2012

April, 2012日後に2日間滞在

))))

A good trip

42520 France, 31. August 2012

August, 2012日後に5日間滞在

Très belle appartement, très bien situé. On a pu visiter tout Prague à pied!

6 days in the center of Praha

Laurent P. から Besancon France, 21. August 2012

August, 2012日後に6日間滞在

The process to book the apartment was very simple, the apartment very clean, convenient, pleasant and quiet. We are couple with two teenagers and there was enough space for everybody to find its own place.

4 jours à Prague

Paris France, 26. June 2012

June, 2012日後に4日間滞在

Au delà de nos espérances, dès l'accueil à l'aeroport. Un appartement spacieux propre avec tout le confort prévu.

Great place, perfect location

Leipzig Germany, 05. June 2012

June, 2012日後に2日間滞在

We stayed at Synagoga for two nights with 7 people and we loved it! The location is perfect for Prague weekend, you can walk to all the sights and you're in he middle of nightlife, restaurants, bars. We couldn't believe that we got such a great place for that little money. Would absolutely recommend!

6 days in a very plesant town

michel F. から vigneux\\x2Dsur\\x2Dseine France, 26. May 2012

May, 2012日後に6日間滞在

Big flat near down town, all the main sites can be done without transport. It's near the very noisy center but it's very calm.



very good appartment

STEPHANIE T. から VEIGNE France, 17. May 2012

April, 2012日後に4日間滞在

very good appartment. The problem was the man with taxi who doesn't want to drive us to the airport on time the May 1st. We have to tell him that we deal with rentego. His brother , finally, drive us

remarques

MICHEL S. から FUVEAU France, 09. May 2012

May, 2012日後に4日間滞在

Pour info quelques remarques :
Nous étions 4 personnes .
Le matin de la 1 ier nuit une personne avait des piqures sur tout Le corps
(avis de pharmacien qui nous a vendu un gel adapté).
Nous avons téléphoné au numéro indiqué en cas de problème.
La personne qui a répondu nous a dit qu'elle transmettait l'info.
Nous avons demandé que l'on nous informe de la suite que
Rentego faisait .Mais pas de réponse de la journée ni les jours suivants.
Nous nous sommes organisés avec le canapé .
Nous regrettons un manque de contacte même si le problème ne semblait pas grave
Pour notre interlocutrice.
Enfin le jour du départ (prévu à 16 h avec un chauffeur qui devait nous conduire à l' aéroport)
Nous avons été surpris ,en arrivant à 15h35 pour finir nos bagages ,de trouver la porte d'entrée grande ouverte et 2 personnes à l'intérieur qui avaient commencé à ranger alors que nous avions encore nos affaires à mettre dans les valises .On aurait préféré qu'ils arrivent à 16h comme prévu.
Nous avons laissé les 2 jeux de clés au chauffeur.
Salutations,
M. SIMON


Great location

Cambridge United Kingdom, 02. April 2012

March, 2012日後に4日間滞在

Great property, great location. Just make sure you don't leave anything behind because the cleaning staff are so efficient that they throw it out!

very well

DE CIDRAC G. から CROISSY SUR SEINE France, 11. March 2012

December, 2011日後に3日間滞在

very good very well organized - very good information oabout the flat, the conditions to visit prague, places to go, restaurant, ..; way to arrive at the flat (from the airport to the flat) no way of dought

Great central location and very spacious

Obernzenn Germany, 04. January 2012

December, 2011日後に2日間滞在

It is in a fantastic central location within 10 mins walk of Prague city centre. The apartment is more than ample size for 4-6 people with 2 double bedrooms and a pull out sofa in the lounge, good size kitchen, hallway and separate bathroom and toilet oom. Note that the 'double' beds are 2 singles pushed together so better for groups than couples if you don't want a gap in the bed. Also the shower is a hose over a tub. It would be much better if they could put up a shower curtain and a hook for the head to allow stand up showers. I would definitely recommend for the price, space and location, if you don't mind the shower and push together bed

Bravo RENTeGO !

marie p. から mantes la ville France, 06. December 2011

November, 2011日後に7日間滞在

Cette fois encore, merci rentego pour la qualité du service. L'appartement "synagoga" est très agréable, calme, bien situé avec une vue émouvante sur le vieux cimetière (mais vous avez raison de signaler qu'il faut monter les 4 étages à pieds). Appartement confortable, impeccablement propre et bien chauffé (séjour début décembre). Grâce à vous nous avons profité pleinement de cette ville magique qu'est Praha. Dekuji a nashledanou.

Very good

Thomas P. から Prague 1 Czech Republic, 12. November 2011

October, 2011日後に1日間滞在

Excellent overall

Evaluation séjour

Marion L. から Dunkerque France, 22. August 2011

August, 2011日後に7日間滞在

Un beau séjour à Prague

Louis R. から Montreal Canada, 10. August 2011

August, 2011日後に7日間滞在

La location Synagoga de Rentago a été parfaite pour un beau séjour à Prague. L'endroit est tranquille et bien situé. Nous aurions apprécié un rideau de ****** ;-) mais, pour le reste, c'était impeccable !

andrea l. から gateshead United Kingdom, 14. July 2011

June, 2011日後に5日間滞在

Was a nice location and a nice flat,but no lift ,and a bad smell around the flat,but overall very good customer service!!!

Palma Spain, 24. May 2011

May, 2011日後に3日間滞在

Aucun reproche

LE CENDRE France, 11. May 2011

May, 2011日後に5日間滞在

Trés bonne location située dans le quartier juif à 5 mn de la tour de l'horologe, du pont Charles, bref idéal comme départ pour la visite du vieux prague

really good organization

Fanny d. から MONTAUBAN France, 14. December 2010

December, 2010日後に3日間滞在

The global organization is very considerable, keys and all the information are sent at home, everything is is correctly indicated. The apartment is big, warmed and very well situated.
アパートの正確な住所
U Stareho hrbitova 4
Prague
3 分 から徒歩 オールド タウン スクエア(旧市街広場)
チェックイン/アウト
チェックイン時刻
以降のチェックイン 4:30 PM (から荷物を置いておける可能性 1:00 PM)
チェックアウト時刻
までにチェックアウト 11:00 AM (まで荷物を置いておける可能性 11:00 AM)
簡単なチェックイン
コードロックまたは個人的なお迎えにより、お客様は直接 ...に行くことができます
チェックイン/アウトに関するさらなる情報
アメニティ
アメニティ
アメニティ
このアパートのアメニティのリスト
このアパートのアメニティのリスト
Attractions

churches, cinemas, festivals, live theater, museums, restaurants, synagogues, zoo

Leisure activities

sight seeing

Local services and businesses

ATM/bank, groceries

Location

Downtown

Suitability

children welcome, non smoking only, pets considered, wheelchair inaccessible

Theme

Tourist Attractions

アメニティ

toilet, tub
アメニティ

Internet, Iron & Board, Linens Provided, Towels Provided, Washing Machine, baby cot and baby chair (option), hair dryer, heating, iron and ironing board, linens and towels provided, non-smoking, washing

エンターテイメント

radio and CD player

カルチャー

Museums

キッチン

Dishes & Utensils, Kitchen, Pantry Items, coffee maker, dishes and utensils, microwave, refrigerator, stove, toaster

ビジネス

ATM nearby, Free Mobile Hotspot, free Internet (WIFI)

利便性

grocery nearby, medical services nearby, parking nearby, restaurants and bars nearby, shopping center nearby
間取図
間取図 この物件の大まかな間取図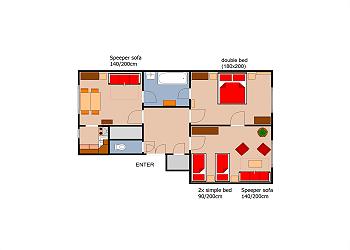 | | |
| --- | --- |
| Room | 部屋 |
| Hall | ホール |
| Kitchen | キッチン |
| Living-room | リビングルーム |
| Bathroom | バスルーム |
| Shower room | シャワールーム |
| Balcony | バルコニー |
| Terrace | テラス |
| Cloakroom | クロークルーム |
| Single Bed | シングルベッド |
| Double bed | ダブルベッド |
| Twin bed(s) | シングルベッド |
| Sleeper Sofa | スリーパーソファー |
| Mezzanine bed (usually a mattress on a wooden parquet) | 中二階のベッド(通常は木製の寄せ木細工上のマットレス) |
滞在期日に利用可能なアパートを見つける
-お客様が興味をお持ちかもしれない近くのアパート
ダウンロード
お客様が興味をお持ちかもしれない追加情報