検索
アパートの詳細& 料金の提案
予約する
ありがとうございます
SMETANA
2 BR 10 min walk from Old Town Square and Charles Bridge
2 ベッドルーム for 4 宿泊者 (最大 7)
Klimentska 40, Prague
説明
Smetana is a calm and comfortable apartment in the heart of Prague. It is located only 20 minutes away from Charles Bridge and the Old Town Square with a view of the Vltava River. This apartment is suitable for exploring Prague since all the must-see places are all walking distance away. The important and well-known historical sights are a few minutes away either by foot or public transportation, the longest you will have to walk is about 40 minutes to Prague Castle.

Apartment Smetana is cozy and provides enough comfort for 4-7 people. There is a well-equipped kitchen with everything you need (coffee maker, microwave, toaster etc.) to make breakfast or dinner before and after a day on the town.

If you plan on staying in a bigger group, Smetana is the practical choice, since it neighbors with Klimt. Klimt is big enough for up to 7 people. . This way you will avoid arranging meeting times and looking for friends and family in a crowd of tourists.

As all our other apartments, there is high-speed internet connection. Klimt is a non-smoking apartment with the option of smoking on the balcony. If you want to get a better idea of the apartment scroll down to view the floor plan.

Smetana is located in Klimentska Street. This street is named after Saint Kliment's Church which used to be a parish church in the settlement of Porici. In the 13th under a Dominican order. Then in the 14th became a part of the Czechoslovakian Evangelical church. There used to be a road which lead from the ford of the Stvanice island to what we know as Dlouha Trida. Even though the houses along the road do not exist anymore, their former names are linked to the Vltava River, for century the church started looking more gothic and example " Rybarsky dum" "The Fisherman's House". The island Stvanice used to be and still is an important part of Prague. Nowadays the island is used mostly for recreation and sport activities, but in the past it was where all the Prague's executioners lived. Since their craft was thought of as unclean and sometimes unjust, they were forced to live outside of the city. Thanks to their profession, the executioners understood the human body very well and many Prague's residents came for their advice. One time, an executioner saved a dying boy's life. He stopped the evil prophecy and cured him.

Apartment use and noise: you commit to take care of the apartment and respect neighbours, particularly by respecting the interdiction of making noise between 22:00 (10 and 7 a.m. (which could result in 100 euros fine deducted from the damage deposit if neighbours complain about you and the police testify against you). Prague has many great places to party outside, and we wish you to enjoy it at best, the apartment is greatly located for that ;-)

PLUSES AND MINUSES:
+ Smetana is located in the very center of Prague, only 10 minutes of walk from the Old Town Square
+ There is a balcony in the apartment which can be a practical thing for smokers
+ Elevator in the building
+ There is a washing machine which can be really convenient for longer stays
+ The apartment has a fully equipped kitchen
+ High-speed wifi provided
+ Many nice cafés and restaurants in the neighbourhood
+ Secured parking within 5 minutes' walk from the apartment (optional - not included in price)

CHECK-IN: from 4:30 p.m.
CHECK-OUT: until 11:00 a.m.
バスルーム

1

表面

74 m2

寝場所の手配

2 Twin, 1 Sleeper, 1 Other, 1 Double/Full Bed
レビュー
管理者は に推薦されて
ミシェラン・ツアーガイド2010
ミシェラン: すべてのアパートはプラハ1区にあり...ハイクオリティサービス...非常に魅力的な料金
プラハガイド
プラハガイドのテキスト
このアパートのレビュー者
unbelievable

richard t. から montreal Canada, 30. September 2018

September, 2018日後に7日間滞在

it was a very nice surprise
the rooms was perfect for a party of three
the location,we can t expect a better location

thanks for everything

Richard Trudeau
Montréal

Spacious well located Apartment

Garden City United States, 27. September 2018

September, 2018日後に10日間滞在

We enjoyed this apartment and it's location. It was out of the main busy tourist area but close enough to walk or use inexpensive Uber rides. The use of a hotspot for the duration was a big plus.

IL a fait bon vivre à Prague

NEROT MORASSI Françoise T. から Stains France, 17. September 2018

August, 2018日後に7日間滞在

Logement spacieux, bien équipé, literie impeccable ; ce logement bien placé dans un coin tranquille de Prague tout en étant à une petite quinzaine de minute de la vieille ville nous a permis un bien beau séjour dans la capitale tchèque.

-----

Duisburg Germany, 17. August 2018

August, 2018日後に3日間滞在

----

Smetana

Burnaby Canada, 12. August 2018

July, 2018日後に5日間滞在

No A/C and was 33C inside during the day and night. Toilet rocked and was a stand alone without a sink. Sink was in another room with the shower. Shower head is placed in the middle of the tub (weird position). Tub too skinny and with the hot water heater above on one wall of the tub area. Can't take a shower and run the taps to do dishes or else you will get a cold one. Location is noisy as it's close to a major road/interchange. It's a walk to any attractions. Had to call property management when we arrived as they sent keys to our home after we had departed. Everything in the apartment is from Ikea.

Wonderful!!!

Elizabeth C. から West Newbury United States, 19. July 2018

June, 2018日後に5日間滞在

We (family of four with two young adult children) loved our stay at Smetana. The apartment is very spacious, well-equipped, conveniently located for walking anywhere, with a view of the river and surprisingly quiet and peaceful. The Rentego staff were very helpful and quickly responded to my questions ahead of our stay. The apartment is clean and nicely decorated and we had zero problems or complaints. Many great sites nearby.

Wonderful stay

Jennifer K. から Oatley Australia, 12. July 2018

July, 2018日後に7日間滞在

A fantastic quiet location great view huge airy light very clean rooms. Rentego team are the best I have ever dealt with. 24 hour service meant that all questions were answered immediately with very helpfu and practical advice. They organised taxis at arrival and departure Gave excellent directions Ohine contact was easy and all spoke excellent English Any issues with the apartment were fixed immediately

Nice accommodation!

Natalia V. から United States, 14. June 2018

June, 2018日後に3日間滞在

Apartments are very suitable , location is good. Ten minutes by foot to the Starapramen square. Nice surprise is free wi-if spot which you can take with you everywhere. Kitchen is fully arranged. Beds are very comfortable. Recommend these apartments for companies of 5-6 people.

Light and airy

Syracuse United States, 04. June 2018

May, 2018日後に5日間滞在

Light, airy and clean. The beds were comfortable and the rooms are sizeable. Take the kitchen chairs out to the balcony and watch the river and people go by. It's an easy walk to the shops and restaurants of the Old
City, but far enough away that the street is relatively quiet. There's a mini-mart next door which is convenient for supplying the kitchen.

Nice stay in Prague

Frank T. から Bergisch Gladbach Germany, 08. April 2018

April, 2018日後に5日間滞在

We stayed in the Smetana Appartement in Downtown Prague. The Appartment is very spacious and located near to many points of interest. The Karls Bridge is about 20min to walk. The condition of the Appartment is OK, not luxury but very good for us as a 5 person family. Bath and toilet are old and could be renovated, but overall sufficient. The Rentego service is very good.

Jan Seidl

Jan S. から ---- Czech Republic, 04. February 2018

January, 2018日後に3日間滞在

Velmi pěkné ubytování, výborná dosrupnost MHD a dobré restaurace.

At the center of Prague

Anton S. から Moscow Russian Federation, 30. January 2018

January, 2018日後に8日間滞在

The apartment is big, the kitchen has all types of equipment except a dishwashing machine. The kitchen is very clean, but we had to clean shelves in wardrobes. There is gas heating in rooms. The toilet is very small, the door to the bathroom (without toilet) couldn't be locked. The apartament location is very good.
There is a parking for cars (Indigo) near the apartment (usual price in Prague).

Very good!

Jose A. から Vila Nova de Gaia Portugal, 01. January 2018

December, 2017日後に4日間滞在

Very good location, nice and cosy!

Christmas in Smetana

Jean-pierre P. から CERGY France, 27. December 2017

December, 2017日後に7日間滞在

Property was spacious, very light and warm. We appreciated finding it well fitted included for small details (sponges, absorbent paper,clothes pegs). Maybe a smaller frying pan would be useful.
It is close to shops, underground and most touristic attractions.
The recommended taxi driver was punctual, efficient and sympathetic.
We have a happy memory of this week spent in Prague.

Nice appartment, nice stay

Paulo G. から ---- United States, 12. December 2017

December, 2017日後に3日間滞在

Our experience was very good. We're a family of 5, all went was just like we expected and described in all the emails we got from the team.
The location of the appartment is very good, 15 min walk from Old town square. We had just one small issue with the heating that was promply solved.
Free wifi hotspot to take with us all day was also very nice.
I recommend this property and services from Rentego. Very professional.

Absolutely satisfying apartment

Zakynthos Greece, 02. December 2017

November, 2017日後に5日間滞在

The property has all the necessary amenities for a short stay in Prague. Nice location, clean, close to everything,quiet and safe neighbourhood. I would definitely recommend it.

Trés bien

Julien P. から Haspres France, 06. November 2017

November, 2017日後に3日間滞在

Appartement propre et spacieux.
Bien placé et relativement au calme.
Le + c'est de recevoir la clef 1 mois avant son arrivée.

City break prague

Nottingham United Kingdom, 27. October 2017

October, 2017日後に3日間滞在

Overall very positive! Absolutely nothing to complain about. Was perfect for our (5headed family) short break.

Merveilleux séjour à Prague

virginie v. から PARIS France, 12. August 2017

August, 2017日後に6日間滞在

L'appartement Smetana est très bien situé : on se déplace à pied jusqu'à la Vieille Ville. L'immeuble est très calme. Un supermarché tout proche permet d'éviter les Mini Markets

A pleasant holiday in Prague

Ilya T. から ramla Israel, 23. July 2017

June, 2017日後に7日間滞在

We ordered a residence through the site We received a response and confirmation of the immediate rental, a week before our arrival from the opening and entry code. In light of the fact that we arrived a long time ago, I asked for an early entry and received a permit. The apartment was clean and tidy. Located in a very good location, in the city center on one side and on the other a quiet area. We all enjoyed the place and the vacation in Prague. Thanks.

Vert Nice stay

Omar N. から TORCY France, 20. December 2016

December, 2016日後に2日間滞在

Hello we were very pleased about our stay in Smetana. The flat was clean well located and we really appreciated the mobile wifi. The customer Service alow us to stay longer for the check out as our plane was in the afternoon. I fully recommend rentego.

Appartment top and good location

Celia A. から Tours France, 18. December 2016

December, 2016日後に5日間滞在

good appartment big ad good location

Schön und praktikabel

Helmut B. から Erlangen Germany, 20. November 2016

November, 2016日後に3日間滞在

Das Appartement liegt 1,6 Kilometer von der Karlsbrücke entfernt, öffentliche Verkehrsmittel sind gut zu erreichen. Der Blick zur Moldau ist klasse, in die andere Richtung blickt man in die Fenster einer Grundschule. Die Zimmer sind sinnvoll eingerichtet, sie sehen genau so aus wie auf den Bildern.
Wir haben zwei Mal die Hilfe von RenteGo in Anspruch nehmen müssen. Das Personal war sehr freundlich! Beim ersten Frühstück haben wir die Kaffeemaschine vermisst, die dann nachgeliefert wurde.

Prague with 2 adults and 3 kids

Kassel Germany, 10. November 2016

October, 2016日後に3日間滞在

The appartment was big enough and the kitchen had space for a table to eat there.
We had only two Pasta dishes, but we could use bowles.
Normally check-in time is 16:30 pm.
I revceived one day before an email that we could check in at 14 pm.
The apparmtent was not ready.
We left our luggage their and left the apparment for the cleaning compny.
Overall it is good apparment for a Family stay in prague!!!


nice appartment

Grasbrunn Germany, 06. November 2016

September, 2016日後に3日間滞在

I was very nice in Prag. The appartment was located nearly the city and was clean. thank you so much

excellent professionnalisme de Rent et Go

Rene M. から SAVIGNY LES BEAUNE France, 21. September 2016

September, 2016日後に4日間滞在

4 jours très agréables, appartement bien situé, complet, spacieux, aucune difficulté à trouver un parking grâce à l'implication de Rent et Go.

Response from RENTeGO

27. 9月 2016

Merci beaucoup René!

Great services

Octav M. から United States, 08. September 2016

September, 2016日後に4日間滞在

The apartment was as marketed, we don't have anything to report. Extra star from us for the whole reservation and access system. You can park the car right in front of the building for a few minutes to leave the luggage, and Mr. Parkit has good prices, can be booked only online, and it's at a 3 min walking distance. Tips&tricks: be careful with the mini-markets, because they can charge you differently for the same product and Uber is very accessible and at a good price, don't eat and drink Pilsner/Staro/Budvar at more de 60 in the city and search Bernard Pubs, 20 PIP Craft Pub and Prague Beer Museum Pubs.

Très bon emplacement

Pierre T. から Chateauneuf les Martigues France, 31. August 2016

August, 2016日後に7日間滞在

L'appartement est très bien situé pour toutes les visites dans Prague.
Les pièces sont grandes et agréables sauf les toilettes où l'on se cogne la tête lorsque l'on se lève.
Pour le reste tout le confort pratique est présent pour ce séjour d'une semaine. Le grille pain ne fonctionne pas mais nous n'en avions pas besoin.
En ce qui concerne l'immeuble, le local des poubelles n'est pas très bien géré et les sacs poubelle s'entassent.

De façon générale, nous avons passé une très bonne semaine à Prague malgré les 3 jours de pluie.

Five days in Prague

STRASBOURG France, 12. August 2016

August, 2016日後に4日間滞在

Very comfortable

Response from RENTeGO

24. 8月 2016

Thank you Blandine!

Very nice and spacious appartements

eke d. から spaubeek Netherlands, 03. August 2016

July, 2016日後に9日間滞在

the appartements were very nice and spacious, close to supermarkets, restaurants,clubs and the city centre. everything was provided, even a portable hotspot! we enjoyed our stay very much!

Response from RENTeGO

03. 8月 2016

Thanks a lot Eke! See you next time :)

Very nice stay in Prague

Michel B. から Sevres France, 10. June 2016

June, 2016日後に7日間滞在

We stay in this RENTeGO apartment for a full week. It is in very good shape, clean, very well located to visit all monuments, museums ... in center of Prague.

Response from RENTeGO

06. 7月 2016

Thanks a lot Michel, see you next time!

prague smentana xmas 2015

Michael R. から San Francisco United States, 01. January 2016

December, 2015日後に7日間滞在

great location - stairwell lights out of order a lot - difficult to navigate stairs in pitch black - downstairs neighbor heavy smoker and rooms stank of tobacco - great time overall 4/5 stars

Response from RENTeGO

08. 4月 2016

Thank you Michael for sharing your experience, we already informed the owner of the house to have a look at the lights. Otherwise we hope you had a great time in Prague :)

Smetana Brings Music to Our Ears!

Karen H. から Fairfax United States, 22. September 2015

August, 2015日後に9日間滞在

My family of 4 had a wonderful stay in the Smetana Apt this summer. The unit was big, clean and offered pretty much every amenity we needed. The staff was very responsive, friendly (and patient) in answering my questions before we arrived and in addressing a couple of minor mishaps that occurred during our stay. Smetana's location was convenient to many of the main tourist attractions and grocery stores (once we discovered them). We had a great time during our stay and I would highly recommend Smetana to my friends as a place to stay in Prague.

Response from RENTeGO

26. 9月 2015

Thank you Karen, it has been a pleasure to host you :)

Apartment SMETANA

Sonia R. から United States, 25. August 2015

July, 2015日後に4日間滞在

We were very happy with the apartment. Everything proved satisfactory.

Response from RENTeGO

31. 8月 2015

Thank you so much Sonia!

Ideally located property for families

United States, 10. August 2015

August, 2015日後に4日間滞在

A spacious, airy apartment ideal for families in a quiet part of town. Little mini mart down stairs, surrounding restaurants offer great food and the supermarket is but near the tram stop. Good configuration of sleeping options. Close to train, trams and old town square. Great value for money. The only negative was the toilet moves slightly when you sit on it.

Response from RENTeGO

18. 8月 2015

Thank you very much, Melanie! We will check on the toilet, otherwise we are glad that you enjoyed your stay :) Do not hesitate to contact us for your next stay in Prague.

Very good overall

Thirsk United Kingdom, 02. August 2015

July, 2015日後に5日間滞在

It was a very sizeable apartment
About 10 mins walk into town which was nice
Clean and very tidy
Easy to book and they were very easy to communicate with

Response from RENTeGO

26. 9月 2015

Thanks a lot, Harry.

W-end Prague

Wittisheim France, 27. June 2015

June, 2015日後に3日間滞在

Nice appartment, clean and bright. Good location,central and near to a metro station.All that we needed to stay a week end in Prague. Perfect for 5 adults. In my opinion small for more than 5 adults.

Excellent !

Seb L. から United States, 14. June 2015

June, 2015日後に3日間滞在

Flat was a described, a beautifull experience !
Will definitely recommend it to a friend !

Nice Place, Lots of Space

Cedar Park United States, 04. January 2015

December, 2014日後に5日間滞在

Overall the place was good and the staff super helpful. The location is great. Stores, food, transportation, banks all near. Everything you want to see in the city is in walking distance. The flat is somewhat spartan, but that's not a bad thing. The master bed needs to be fixed; there is a post in the middle of the bed that is broken and I had to fix it a few times. A light was out, but the staff had it fixed in a couple of days. Instructions on the washer would be helpful. I would stay in this location again.

smetana

Pezinok Slovakia, 03. December 2014

November, 2014日後に3日間滞在

nice apartment, great location near florenc and old town, clean rooms

Good location

Edinburgh United Kingdom, 02. December 2014

October, 2014日後に5日間滞在

Very well organised and clean flat in a good location. Would thoroughly recommend it.

Agréable séjour

Auxerre France, 18. November 2014

October, 2014日後に5日間滞在

Appartement spacieux, bien placé près du centre mais loin de l'agitation, bien équipé pour 6 personnes Seul bémol, on aurait aimé pouvoir mettre un peu de chauffage le soir de façon autonome, mais pas possible ( nous sommes arrivés par température tempérée et le chauffage n'était pas encore en service, mais les nuits suivantes étaient un peu trop fraîches).
A proximité à pieds d'un Lidl (ouvert tôt et tard :bien pratique pour des courses rapides), ainsi que des lignes de tramway et métro.
un gros livret d'accueil multilingue avec plein de renseignements de tous ordres sur la ville vous attend dans l'appartement avec un panier plein de clés de l'entrée pour l'autonomie de chacun (on aurait aimé un plan des trams : il est assez difficile d'en trouver une version papier générale dans les stations).
Il manquait un drap housse à notre arrivée, mais un simple mail le soir et nous l'avons trouvé sur le lit à notre retour ( bravo por la réactivité !)
L'appartement est très agréable et calme malgré une isolation assez légère au niveau des déco est sobre mais de bon goût. La cuisine est vraiment bien équipée et permet de cuisiner normalement (manque juste un lave vaisselle et un ou deux plats à four en plus..)
C'est un lieu de villégiature où l'on apprécie se retrouver après de longues journées d'exploration de cette ville magnifique.

Roomy Apartment

Toronto Canada, 02. November 2014

September, 2014日後に21日間滞在

Better than staying at hotel.

Very nice appartment nearby the city centre

Gemert, Netherlands, 21. October 2014

October, 2014日後に4日間滞在

Very good service and very good assistance

Spacious and comfortable apartment

Sherbrooke Canada, 10. October 2014

September, 2014日後に6日間滞在

Very professional team: the reservation process - transfer from the airport - check in, etc.

The appartment would eventually need to be re-painted, shower curtains changed, etc. (minor compared to all aspects we liked...)

Great Time in this flat !

BOUZY A. から United States, 03. September 2014

August, 2014日後に7日間滞在

Our vacation was very Nice in prague. The flat was spacious enough for 7 people and well equiped. The location is also great just à five minutes walk from the old town. Shops and restaurants were also very close and good quality.

Great location

APO Germany, 15. June 2014

May, 2014日後に3日間滞在

Location was great! The apartment would have been perfect if it included a safe for valuables. I parked in the Marriot secure parking as suggested and it was a great value for the peace of mind. I would definitely stay here again, but would want a safe for valuables.

agréable appartement spacieux et calme

Dominique G. から ETREPAGNY France, 10. June 2014

June, 2014日後に5日間滞在

Nous avons apprécié la vue sur la rivière, l'équipement de la cuisine et la literie. a noter surtout l'écoute du personnel de réservation.
J'y reviendrai


.

delphine c. から Paris France, 15. May 2014

April, 2014日後に2日間滞在

Good with friends

very nice stay

Erlangen Germany, 11. May 2014

April, 2014日後に3日間滞在

the weather was not so nice but the heating int he flat worked well and allowed us to warm up

Great quiet central location

Frederic C. から Belfast United Kingdom, 27. April 2014

April, 2014日後に3日間滞在

Close to everything! Easy walk to main attractions. Many shops and restaurants around. Try the Imperial Cafe! Great atmosphere and food! Great service and communication with Rentego.

Nice and handy holiday appartment

Praha Czech Republic, 10. March 2014

March, 2014日後に6日間滞在

The appartment was really well located : not far from places of interest but in a quiet area.

J'y retournerai sans hésiter!

y.ennajibi@gmail.com .. から United States, 19. February 2014

February, 2014日後に4日間滞在

L'appart est dans un quartier bien fréquenté, l'immeuble est sécurisé spacieux.
Il est super bien situé une fois que l'on connait un minimum la ville (5 min de la vieille place)
Appart propre sans aucune mauvaise surprise si ce n'est une ampoule grillée..
J'y retournerai sans hésiter!

New Year Fiasco

United States, 19. January 2014

December, 2013日後に3日間滞在

Loved the location. The apartment itself was clean. And it fit seven perfectly. The idea of the shower and bathroom apart was a fantastic idea. I didn't see the staff except for check in and check out, but we didn't need there assistance for anything else. The flyers they had were the best part for tourists in a new country!

Nice

Jannick H. から Germany, 07. January 2014

December, 2013日後に21日間滞在

I had a nice time and very good apartment!

one week in Prague

poissy France, 13. November 2013

October, 2013日後に6日間滞在

amazing !

review

Glasgow United Kingdom, 03. November 2013

October, 2013日後に3日間滞在

great location apartment etc did however small of smoke despite being a no smoker

great location

Oakville Ontario Canada, 30. August 2013

August, 2013日後に6日間滞在

Safe and convenient location. Staff also very helpful and quick to reply to any queries. Would rent again.

A cosy stay in Prague

Caroline M. から NANTES France, 26. July 2013

July, 2013日後に3日間滞在

The Rentego was very kind and helpful. We passed a very good stay in that flat.

Good apartment

nicola d. から foggia Italy, 03. July 2013

June, 2013日後に4日間滞在

A very very good place.

Absolutely PERFECT

Xavier P. から Paris France, 05. January 2013

December, 2012日後に3日間滞在

We loved our stay in this place. It was well located, close to the city center, really clean and perfectly furnished. I'll definitely be back!

séjour agréable

Claire M. から Fresnes France, 01. January 2013

December, 2012日後に7日間滞在

Appartement spacieux et clair, proche centre ville, bien équipé, bien chauffé, immeuble très calme. (ça donne sur une route, doit être bruyant l'été). Literie OK.

Good place near the Centre

Lasne Belgium, 17. November 2012

October, 2012日後に31日間滞在

Beautiful place
near the centre
possibility to visit everything on foot

Great value

Craig R. から Oakland United States, 04. October 2012

September, 2012日後に4日間滞在

Four of us stayed at SMETANA and had a great time. It has a beautiful view. The apartment was clean and has great character. The staff was friendly and professional and was flexible with our arrival time.

Nice stay in Prague!

L'Etang-la-ville France, 12. August 2012

August, 2012日後に4日間滞在

We spent wonderful holidays in a very pleasant, beautiful and intersting Town. The appartment was very light, spaceful and in a convenient place. Every thing was OK.

smetana: a place to rent in Prague

---- France, 29. June 2012

June, 2012日後に4日間滞在

overall good. However a few points to be considered:
- no TV
-Internet not working
-taps out of order in the bath room

Lovely stay in Prague for a family of 6

Joshua H. から Conyers United States, 19. May 2012

May, 2012日後に5日間滞在

We had a wonderful stay in the SMETANA apartment. It was in a quiet area of town, but within easy walking of the main parts of town. The inside was spacious enough for our group of 4 adults and 2 children. The arrival process with the key code worked flawlessly, and inside we found everything well organized and well appointed. Thank you for a great stay!

Ideal pour visiter Prague en famille

lyon France, 31. December 2011

December, 2011日後に5日間滞在

Bel appartement confortable et bien placé qui nous a permis de passer 5jours merveilleux en famille.L'équipe Rentego est efficace, discrète et l'organisation est Top.

The best solution to visit Prague

Jean-Marc L. から QUIMPERLE France, 02. November 2011

October, 2011日後に4日間滞在

A wonderfull place for families with young children

Stay at Smetana

Damien B. から ---- France, 13. September 2011

September, 2011日後に8日間滞在

The appartment was more than great. If i had to mention a few concerns, i'd say that the shower tap doesn't work quite properly and the windows open and close with a tad of difficulty, but i'm being very picky!

Response from RENTeGO

14. 9月 2011

Dear Damien, thanks for your insight, we will look into both shortly :-).

Appartement très bien situé, dans un quartier et un immeuble calmes, très bien équipé (on apprécie que les toilettes soient séparées de la salle de bains!).

Michele A. から TOURS France, 29. July 2011

July, 2011日後に9日間滞在

PARIS France, 16. May 2011

May, 2011日後に3日間滞在

Catherine P. から CHEVILLY\\x2DLARUE France, 05. April 2011

March, 2011日後に3日間滞在

excellent!

Mael S. から PARIS France, 23. February 2011

February, 2011日後に3日間滞在

bravo à toute l'équipe de rentego, l'organisation était parfaite, l'appartement bien situé, propre, bien équipé et vraiment fonctionnel. un rapport qualité prix imbattable!

Very good stay

ROMAIN T. から MEYZIEU France, 04. January 2011

December, 2010日後に3日間滞在

Prague is a very beautiful town and Rentego is a society I recommend for rent a flat : no bad surprises, good localisation, hot atmosphere...
チェックイン/アウト
チェックイン時刻
以降のチェックイン 4:30 PM (から荷物を置いておける可能性 1:00 PM)
チェックアウト時刻
までにチェックアウト 11:00 AM (まで荷物を置いておける可能性 11:00 AM)
簡単なチェックイン
コードロックまたは個人的なお迎えにより、お客様は直接 ...に行くことができます
チェックイン/アウトに関するさらなる情報
アメニティ
アメニティ
アメニティ
このアパートのアメニティのリスト
このアパートのアメニティのリスト
Attractions

churches, cinemas, festivals, museums, restaurants, synagogues, zoo

Location

Downtown

Suitability

children welcome, pets considered, wheelchair inaccessible

アメニティ

toilet, tub

アメニティ

baby cot and baby chair (option), balcony, hair dryer, heating, iron and ironing board, linens and towels provided, non-smoking, washing
エンターテイメント

radio and CD player

キッチン

Kitchen, coffee maker, dishes and utensils, microwave, oven, refrigerator, stove, toaster

ビジネス

ATM nearby, Free Mobile Hotspot, free Internet (WIFI)

利便性

grocery nearby, medical services nearby, parking nearby, restaurants and bars nearby, shopping center nearby
間取図
間取図 この物件の大まかな間取図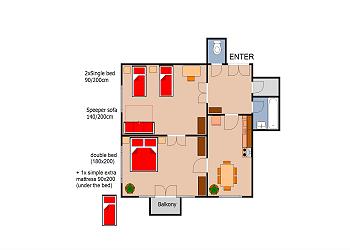 | | |
| --- | --- |
| Room | 部屋 |
| Hall | ホール |
| Kitchen | キッチン |
| Living-room | リビングルーム |
| Bathroom | バスルーム |
| Shower room | シャワールーム |
| Balcony | バルコニー |
| Terrace | テラス |
| Cloakroom | クロークルーム |
| Single Bed | シングルベッド |
| Double bed | ダブルベッド |
| Twin bed(s) | シングルベッド |
| Sleeper Sofa | スリーパーソファー |
| Mezzanine bed (usually a mattress on a wooden parquet) | 中二階のベッド(通常は木製の寄せ木細工上のマットレス) |
滞在期日に利用可能なアパートを見つける
-お客様が興味をお持ちかもしれない近くのアパート
Exact match:

MASARYK matches Bedrooms (2.0), Neighborhood (Center - New Town), Service by (Service 100% Rentego) :-)

2 ベッドルーム - for 3 宿泊者 (最大 7)

1泊*あたりの料金* from 2,624€ to 5,249€

Spacious and bright apartment for up to 5 persons, situated in Prague 1 - Nove Mesto, 7 minutes walk from Wenceslas Square, practically around the corner from Municipal House. You will be able to walk to the best places for culture or parties!

Exact match:

Rosa matches Bedrooms (2.0), Neighborhood (Center - New Town), Service by (Service 100% Rentego) :-)

2 ベッドルーム - for 6 宿泊者 (最大 6)

1泊*あたりの料金* from 40€ to 79€

Bright and spacious apartment is situated in a calm district of Prague 1 Nove Mesto, 10 min walk from Old Town Square and Charles Bridge, with a view on the Vltava river and a small part

Exact match:

MOLDAU matches Bedrooms (2.0), Neighborhood (Center - New Town), Service by (Service 100% Rentego) :-)

2 ベッドルーム - for 3 宿泊者 (最大 5)

1泊*あたりの料金* from 40€ to 79€

Bright apartment, close to Vltava river, in central Prague, 10 min walk from Old Town Square. It is situated 2 min by walk from apartments KLIMT and SMETANA, which can be practical for groups. Park close by, quiet district.
ダウンロード
お客様が興味をお持ちかもしれない追加情報