検索
アパートの詳細& 料金の提案
予約する
ありがとうございます
NOVA
Tiny and cosy studio only a few minutes walk from Charles Bridge
ワンルーム・マンション for 2 宿泊者 (最大 2)
Ujezd 5, Prague
説明
Nova is a modern, affordable, well-furnished studio, perfect for one person or a couple. Since it is well-situated in the center of Prague, it is very easy to discover the beauties of the city. The apartment is located in the historical part called Mala Strana, which is very close to the Prague Castle or only 10 minutes from Charles Bridge. It takes under 30 minutes to get to most of Prague's tourist attractions and the best restaurants and bars in the city. The apartment offers a comfortable pull-out sofa and a kitchen equipped with everything needed to make simple meals (coffee maker, microwave, toaster etc.)There is also a high speed internet connection available, convenient for work or just planning another Prague trip. Apartment Nova is on the third floor without an elevator and has a smaller bathroom than our other apartments, which makes it more affordable. It is also non-smoking, with the option of smoking on the balcony. The building itself is equipped with keyless code locks, which is practical for last minute reservations. For a better idea of what the apartment looks like scroll down for a view of the floor plan.

The apartment building is located under the Petrin hill, near the river in the area called Mala Strana. It was built in 1895 by a well-known architect, who built it for himself, explaining the its good qualities. Petrin is undoubtedly the best place for those who like visiting tourist attractions as well as having a taste of nature at the same time. Just behind the building is the historical Hunger Wall, which apparently served to defend Prague. In 1361, the year of drought and poor harvests, the prices of bread increased severely, which left many people without enough food. In order to feed their families, the locals resorted to frequent theft, augmenting the criminal activity. King Charles IV therefore called upon the locals to build a protective wall from Petrin to the Vltava River. The construction took two years and fed many families, resolving the problem. The Prague people named the wall "The Hunger Wall", because its battlements resembled the teeth of the starving folks building it. At the end of the street is Kinsky Square, known especially for the T34 tank, which commemorated the liberation of Prague by the Soviets in 1944. After the Velvet Revolution in 1989 an artist David Cerny painted it pink. Actually, it was not so much of a political gesture as an attempt to capture the attention of some girl. Later a fountain was built in the original location where the tank stood, but there still a little pink part of it on the square which constantly reminds us of our history. The apartment is also near the French Quarter, only a 5 minute walk from the French Lycée. For those who plan to stay in Prague for a bit longer, will appreciate the proximity to a nearby shopping center called Novy Smíchov, which is only 2 tram stops away. The tram stop (tram line 6, 9, 12, 20, 22) is right in front of the building as well as a bus stop, line 176.

PLUSES AND MINUSES:
+ Nova is located in the very center of Prague, only 10 minutes of walk from Charles Bridge
+ Keyless access to the building and to the apartment - you will only need a code to open the door
+ There is a washing machine and a dryer in the building which can be really convenient for longer stays
+ The apartment has a fully equipped kitchen
+ High-speed wifi provided
+ Many nice cafés and restaurants in the neighbourhood
- The apartment is situated on the 3rd floor without an elevator.

CHECK-IN: from 4:30 p.m.
CHECK-OUT: until 11:00 a.m.
バスルーム

1

表面

18 m2

寝場所の手配

2 Twin
レビュー
管理者は に推薦されて
ミシェラン・ツアーガイド2010
ミシェラン: すべてのアパートはプラハ1区にあり...ハイクオリティサービス...非常に魅力的な料金
プラハガイド
プラハガイドのテキスト
このアパートのレビュー者
Prague Nova Apartments

mehrdad rafiee b. から Germany, 26. April 2019

April, 2019日後に4日間滞在

The worst part when we arrived was finding the place....when even the local taxi drivers couldn't find the address, how would you expect a tourist to do it? The first cab driver, rubbed us by charging 25 Euro from the central train station and left us in the middle of the town, perhaps it's the "leftover" from the old Soviet Culture era? I wouldn't recommend it to others.

Superb Location

United States, 23. November 2018

November, 2018日後に7日間滞在

Studio was clean and had handy facilities and A TV with YouTube and WiFi. This was great for relaxing time after walking around Prague a lot. Rent-e-Go have very friendly staff and will attend to any issue you may have, very swiftly.

Downsides are that the bed, although comfortable wasn't the best as it had a central divider or was like two single beds put together. It might have been temporary. And the toilet is a bit cramped and in a awkward position.

On a positive note, the location really made it. Outside the main building is a tram stop. You can actually see Prague Castle from there too but also the area feels safe and it's dotted with cosy cafes and interesting bars and wine bars. So if you don't feel like going to the old town or really busy tourist areas, you can stay local. In nearby Schimov there's a nice shopping mall with a massive Tesco, food court and pharmacy.

And lastly, we were supplied with a mobile dongle so we had free internet as we enjoyed our holiday which was invaluable to us.



Vacanza Cambareri

Domenico Cambareri b. から Scarperia Italy, 27. October 2018

October, 2018日後に4日間滞在

Messo tutto in ordine e non mancava nulla, l'unico difetto è che ho trovato una macchia di rossetto sulle comperte

critique

SOLTYSIAK Daniel T. から France, 23. October 2018

October, 2018日後に7日間滞在

appartement bien situé, près du tram, bus et funiculaire, immeuble calme. L'appartement manque de confort, manquait un canapé ou un fauteil

Très bon appartement

Berangere C. から ST GONNERY France, 20. September 2018

September, 2018日後に3日間滞在

Appartement bien situé, propre, à deux pas des lieux touristiques.
Petit mais largement suffisant.

NOVA

Olonne sur Mer France, 21. August 2018

July, 2018日後に7日間滞在

un excellent séjour , l'appartement est très bien situé et très agréable

Very overpriced for what you get...

Mansfield United States, 07. August 2018

July, 2018日後に3日間滞在

This place lured us in with their advertised $35 per nignt. At that price, I could have overlooked laying in a pool of sweat all night, a toilet seat that I couldn't sit on, stumbling over the maze of furniture to get to the bathroom, the lack of lighting in the hallways at night, and the dingy, run down exterior. But once they added all their fees, this place ended up being over $70 a night, and you can do soooo much better than this dump in Prague!!





Prague trip

Edinburgh United Kingdom, 26. July 2018

July, 2018日後に5日間滞在

Very interesting city break.

Good but could be better

DUBOIS Clara T. から ?? France, 08. January 2018

December, 2017日後に7日間滞在

L'appartement est bien situé.
Il y avait énormément de poussière sous les lits.
Les chauffages sont vieux et compliqués d'utilisation. Nous avons éteins le chauffage en milieu de semaine et impossible de le rallumer vu l'ancienneté.. de plus ces vieux chauffages n'apparaissent pas dans les photos de l'appartement.
Les plaques de cuisson sont également vieilles et lentes à chauffer.
La salle de bain est petite mais fonctionnelle cependant il n'y a pas de pression d'eau dans la ****** ce qui est désagréable en hiver.
Le personnel est très aimable. Expérience mitigée !

Pleasant and comfortable

Ayman A. から Belgium, 29. November 2017

November, 2017日後に3日間滞在

very good location, clean apartment and has everything you will need. even tea and coffee. We enjoyed our stay and will def be back to this apartment.

Small studio with everything I needed

Vernon Canada, 18. November 2017

October, 2017日後に9日間滞在

I'm a simple traveller. Location is great and had everything I needed. Is as advertised and RENTeGO staff are great.

Nova

Michael J. から AUSTIN United States, 27. October 2017

September, 2017日後に3日間滞在

RenteGo was suggested to us by my son who had visited Prague weeks before we arrived. The location and ammenities for Nova were perfect for my wife and I; we will definitely return to Prague and stay at a RenteGo property again!

Little apartment in a good place

Andrea L. から Corato Italy, 12. August 2017

July, 2017日後に5日間滞在

A very little apartment (overall the bathroom) in a good place, 15 min on foot to the centre (old town square). The nearest metro station is 10 min on foot and there is everything you need in the zone (supermarket, restourant etc).

AMAZING!

Anna S. から Lodz Poland, 23. July 2017

July, 2017日後に5日間滞在

Great, amazing, wonderful! These three words describe my opinion about my stay. The studio is really in the great location - so close to the centre but still not in the middle of all the noise and swarms of crazy tourists. ;) The place is clean, well-equipped, and the beds comfortable. The mobile wifi router is a wonderful addition to the stay - it helped a lot! One more thing - I'd like to mention the customer service I experienced. It's the best one I've ever experiences. Each e-mail was answered almost immediately, Rentego helped a lot with everything - friendly, lovely and so professional. To sum it up - a great place to stay! I'll definitely come back. :)

nova appartement

gent Belgium, 07. July 2017

July, 2017日後に2日間滞在

It was a very good appartment in a nice part of the city of Prague.

Response from RENTeGO

18. 7月 2017

Thanks a lot!

Best place ever!!

Darong N. から Chungju Korea, Republic of, 13. June 2017

May, 2017日後に6日間滞在

Such a nice place! It was so nice perfect at all. Location is perfect to go to every spot. Especially Ujezd street is so nice. Many park to take a rest, to eat, to see. If I visit again definitely stay here again. Pocket wifi was amazing too. Above all, I appreciate Rent Ego friends. They are really helpful. They helped me a lot. Thank u again

Response from RENTeGO

18. 7月 2017

Thank you so much, we were really happy to host you here in Prague, feel free to contact us anytime!

Small and well equipped

burr ridge United States, 09. June 2017

May, 2017日後に3日間滞在

Very easy to find, equipped with all we needed. Clean upon arrival with place to store luggage before check in time. Small space but enough for 2.

Response from RENTeGO

18. 7月 2017

Thank you Gabs :) See you next time!

Stay in Praha

Elena Pasamontes Mencía b. から ??? Spain, 03. May 2017

April, 2017日後に2日間滞在

It was good. The heating is not the best in the world though. Difficult to put it on and not too efficate.

très bien, satisfaite du séjour

paulette laurence M. から clermont ferrand France, 18. April 2017

March, 2017日後に5日間滞在

logement convenable, propre, très bien situé, bien équipé

Trip to Nova appartment during new year

ARNAUD C. から aix en provence France, 06. January 2017

December, 2016日後に7日間滞在


1) Very good location. Really close to shop and to the center
2) Appartment clean, safe
3) Mobile Wifi very useful
4) Owner provided good customer service (Taxi, Answer very fast to our mails)


Two minus,
- the size of the bathroom
- The two beds with the wood in the middle



Great stay 20/08-30/08/16

Polina S. から Moscow Russian Federation, 28. September 2016

August, 2016日後に8日間滞在

We spent 9 fantastic days in Prague. We really enjoyed our stay at Nova. It's almost the same as it's shown in the picture just in reality it's smaller. The studio provides all the elements that are described here. There're 2 single beds which are pretty comfortable. The worst things during our stay were that it was pretty stuffy and hot when we came back in the evening but the ventilator really helped.
As to the noises that were described in previous reviews, walls are very thin and you hear everything that happens in the corridor, especially the cleaners who don't care about the time and speak very loud, laugh and scream in case not to come up closer to each other and solve the problem.
Also, there'e 2 big and 2 small towels, some toilet paper and soap, some tea and coffee, sugar and salt. Also, don't forget to wash crockery and cutlery before using it as they are really dirty.
The hairdryer works not really good, so if you have long hair, take your own.
We really liked the fact that there was a wifi router to take it with you.
If you have a problem with wifi as we had, write an e-mail asking for help. Your gadjets didn't want to connect home wifi as they're some limitations.
Also, if you want to watch a TV, learn the instruction before.
The property's condition was ok. But the cleaners could make it better as there were a lot of dust on the cabinet, chandelier and shelves.
The location is very convenient: a tram station in a minute. If you need to buy tickets- they're sold in shops there and in Taback/Trafika near Pazzeria opposite the supermarket Fivuza or in all the shops ( supermarkets, potravinies) and at the tram station if you go left from the apartment up to starbacks to the square ( 15 mins) or at the metro stations.

We do recommend to stay in this very flat if you are in Prague. And if we are there, we will do it again!



travel to prague

Lancon de Provence France, 04. September 2016

August, 2016日後に4日間滞在

very well!

Response from RENTeGO

14. 9月 2016

Thank you Veronique!

Super !

MAITE G. から Bayonne France, 16. August 2016

August, 2016日後に5日間滞在

L'appartement est très bien situé, à l'écart de la foule mais seulement à quelques pas des lieux remarquables. Il est très propre et très bien équipé. Je recommande !

Response from RENTeGO

24. 8月 2016

Merci beaucoup!

Alles vor Ort

United States, 26. July 2016

July, 2016日後に3日間滞在

Gute Lokalitäten und ein Supermarkt (mit dem besten Wechselkurs der Stadt) waren direkt vor Ort. Die Innenstadt war fußläufig gut erreichbar und die Unterkunft funktional eingerichtet. Besonders unsere große Gruppe hat die vielen Appartements in diesem Haus genossen.

Response from RENTeGO

27. 7月 2016

Guten Tag, fur das freundliche Kommentar. Wir werden uns auf Ihren nächsten Besuch freuen :-)

Good place good management but noisy

Lyon France, 23. May 2016

May, 2016日後に5日間滞在

Nous avons passé un merveilleux séjour l'appartement est propre, l'organisation parfaite mais il y a pas mal de bruits dans les communs nous avons dû dormir avec des boules quies

Response from RENTeGO

29. 6月 2016

Merci, nous sommes hereux que vous avez bien profité de votre séjour. Le bruit est un seul bémol d'être dans le plein centre de ville, c'est vrai. Mais on pense que ça vaut le coup, parce que c'est très pratique d'être seulement 10 minutes à pied du Pont Charles et la Vieille Ville :)

Perfect studio !

Amelie C. から ---- France, 22. March 2016

March, 2016日後に2日間滞在

This studio is very good, clean, quiet, in a good location, everything is perfect. Thank you to Rentego for guides.. in FRENCH, it's very kind, and very useful to know the quarter. I will recommande this place if my family or friends want to come to Prague.

Response from RENTeGO

08. 4月 2016

Thank you so much Amelie, we're glad you liked the apartment and we hope you had a great time here!

Dissapointed

Livermore United States, 15. January 2016

December, 2015日後に13日間滞在

While the price and location of this unit was perfect for my stay in Prague, the bed was very uncomfortable and despite a second cleaning, there was a very unpleasant odor in the apartment. I was also surprised that over two weeks there was no cleaning or fresh linens. I would like to offer that with relatively few changes, this space could be made much more inviting. Please contact me if you require further information.

Recomended

Andrej Ciling b. から United States, 19. November 2015

November, 2015日後に3日間滞在

Very good, 5stars :), location is great.

Response from RENTeGO

20. 11月 2015

We are glad you enjoyed your stay so much, Andrej, that's a big compliment for the whole team :)

Un agréable séjour à Prague

LIMOGES France, 01. October 2015

September, 2015日後に5日間滞在

L'appartement Nova est petit mais très bien situé. Le système d'accès à l'appartement par code est simple et fonctionne parfaitement. L'équipe Rentego est très efficace : Ils ont été réactifs suite à un problème de wifi et à un problème de locataires extrêmement bruyants la nuit. À conseiller : le service de transfert propsé par Rentego entre aéroport et appartement à l'aller et au retour.

Review of Nova apartment

Laurie R. から Houdemont France, 07. September 2015

August, 2015日後に7日間滞在

Very nice experience. Only slight problem was paint falling from the ceiling in the bathroom.

Response from RENTeGO

26. 9月 2015

Thank you for your comment Laurie, we have already informed our technician about this issue.

wonderfull

montpellier France, 13. July 2015

June, 2015日後に3日間滞在

perfect for a couple. clean, functionnal and good location.

perfect studio for a pedestrian couple

carole c. から trois rivieres Guadeloupe, 29. June 2015

June, 2015日後に7日間滞在

perfect, as usual.

Perfect location

Rimouski Canada, 31. May 2015

May, 2015日後に5日間滞在

This quiet studio is located on Ujezd street and overlooks the inner courtyard, just 10 minutes walk from Charles bridge and Mala Strana and literally seconds away from wonderful Petrin park. There are 2 small supermarkets right next door and there is a large shopping mall at Andel metro station, 5 minutes away by tram with a huge Tesco supermarket. A digital code was given to open the doors, no keys were required which was fantastic. Detailed instructions were provided to help us find the closest bank, post office bakery Etc all within a few minutes walk which was also a big plus. The bathroom was spotless but unfortunately, the rest needed some upkeeping. I had to sweep the living room when I got there and obviously the floor had not been mopped in a while. The bed felt really good at first but I woke up with back pain which plagued me for the rest of the trip. A few lights needed to be changed and the fan did not work in the otherwise well equiped kitchen. With a bit more attention to detail I could have given this place a few more stars.

Un super séjour à Prague.

CYRIL N. から SAINT-ETIENNE France, 09. April 2015

March, 2015日後に5日間滞在

Excellent rapport qualité prix pour cet appartement nova. Toutes commodités, situation parfaite.

Nice flat really close to Charles bridge

Helene T. から ollainville France, 28. January 2015

January, 2015日後に3日間滞在

We had a really nice stay in this flat Nova.
No négative point.The flat was calm, good location close to charles bridge, clean with everything we need (bedsheet , towels, all tool to cook and clean the dishes...)
Rentego team was really available for any question we had.
i recommend.

what a good experience!!!

Michel G. から PARIS France, 10. September 2014

September, 2014日後に7日間滞在

all is ok like the other 5 years i come in these studios!

Appartement Nova

Saint Chef France, 24. August 2014

August, 2014日後に7日間滞在

Appartement très bien situé, idéal pour visiter Prague. Bien équipé pour séjourner à deux.

Appartement très satisfaisant !

Magali J. から Corbeil Essonnes France, 28. July 2014

July, 2014日後に5日間滞在

L'appartement Nova est très bien situé : près des transports (nombreux tramways à deux pas), proximité avec la vieille ville (Pont Charles à 10 minutes à pied, funiculaire à 5 minutes à pied,...), nombreux services de proximité (pharmacie en face, des supermarchés pour faire ses courses, des restaurants et bars, une poste, etc).
L'appartement est propre, lumineux, très bien équipé : un chauffage pour l'hiver, un ventilateur pour l'été, tout ce qu'il faut en termes de linge et de vaisselle, des rideaux occultants pour la nuit.
Petits bémols : la salle de bains est petite (surtout le petit lavabo !) mais il y a de la place dans la ******, et l'appartement se situe au 3e étage sans ascenseur, ce qui équivaut plutôt à 6 étages vu la hauteur des étages...
Seule mauvaise note : le dernier soir (un vendredi), un groupe de jeunes a loué l'appartement Minka à côté, et ont fait beaucoup de bruit pendant la nuit dans les escaliers et en claquant la porte lorsqu'ils rentraient... mais les appartements étant bien insonorisés, la gêne n'a pas été trop importante lorsqu'ils étaient dans l'appartement.

good stay

Lyon France, 15. June 2014

May, 2014日後に6日間滞在

It was a good apartment to stay in praha.

Nickel !

REZE France, 26. May 2014

May, 2014日後に3日間滞在

Tout est très bien organisé, et le personnel de Rentego est très réactif. A conseiller !

Litlle cute flat

Antoine D. から Paris France, 19. February 2014

January, 2014日後に3日間滞在

Very well located flat near to the old town.
Very quite and easy to access.
Very good price
It will allow you to visit main area by walk.
Less than 10 minutes to Charles Bridge.
We really appreciated advise provided by email by the team

Week End Février Prague

Louis C. から United States, 11. February 2014

February, 2014日後に2日間滞在

Les +:
- Appartement très bien situé à trois minutes à pied des 1ers lieux à découvrir.
- Rapport qualité/prix de l'appartement interessant - le minimum est là (à ce prix là on ne peut pas s'attendre à tellement + pour la localisation et la ville).
- Equipe Rentego hyper disponible et charmante. Un service impéccable et vraiment irréprochable!

Les - :
Un groupe peu respectueux a loué les appartements à côté de nous et ne s'est pas géné pour "geuler" la nuit alors que l'agence demande à ne pas en faire. Pas mal de bruit. Mais l'agence n'y est pour rien! On a juste pas eu de chance de tomber sur ce que j'appelle des blaireaux mal éduqués... (Précision: nous sommes un jeune couple et en rien des vieux relous, ca ne nous empêche pas de trouver ca pénible :) )

Je recommande cet appartement et l'agence que je remercie profondémment! SERVICE PARFAIT - PRAGUE INOUBLIABLE ET MAGIQUE!!! :) TOTALEMENT SATISFAIT! BRAVO RENTEGO!

très bien

catherine a. から saint junien France, 29. December 2013

December, 2013日後に4日間滞在

location sérieuse et de qualité, je recommande!

Also a perfect flat for a lonely traveller

Arnaud P. から Rennes France, 28. November 2013

November, 2013日後に7日間滞在

I spent 7 days in this apartment and it was a very nice experience. Close to the Charles bridge, it is well-located.
Moreover, you can find a fully equipped flat with all the necessary for your stay (including wi-fi).
I really enjoyed to be in contact with Rentego, an efficient team.
In the end, I recommend this flat without a doubt.

Calme et très bien situé

Marseille France, 01. November 2013

October, 2013日後に8日間滞在

Très bien situé..à proximité de tous les lieux à visiter mais sans l'affluence des touriste...pas besoin de tram ni métro pour déambuler. Proximté des parcs pour profiter de l'automme. A proximité aussi de lieux pour d'agréables soirées. Resto et boite de jazz. Calme mais il est vrai qu'à l'automne beaucoup de touristes ont déjà déserté Prague et que nous avons profité d' un exceptionnel automme indien.

Nova staying experience

Ervin P. から Ireland, 03. October 2013

September, 2013日後に17日間滞在

Great location, friendly staff. I will recommend to everyone who is coming in Prague to try RenteGo properties. Does really worth.

luggages

BELLEY France, 13. September 2013

August, 2013日後に5日間滞在

Having the code of the flat at 6 o clock at the evening is too late. We carried our luggage during the all day and it was to long. If we could have the flat ealier or a place to put our luggages. Thank a lot for the vacation

Bon rapport qualité/prix

Camille T. から Amiens France, 04. August 2013

July, 2013日後に4日間滞在

Studio parfait pour un couple qui ne veut pas dépenser des mille et cent pour un logement de vacances. Très propre, pratique et bien équipé, situé à moins de 5 min à pieds des premiers lieux touristiques, cet appartement est à recommander vivement. Le système de codes est de plus très appréciable car nous sommes très indépendant dès notre arrivée. Nul besoin de récupérer une clé on ne sait où dans une ville qu'on ne connait pas. Pour finir le studio est très facilement accessible depuis l'aéroport et ce à moindre frais: bus, métro et petite marche à pied; c'est enfantin!

Magnificent!

Tor Magnus T. から Oslo Norway, 17. July 2013

July, 2013日後に4日間滞在

I have absolutely nothing but great things to say, me and everyone that shared the flat were really happy with the entire stay!

Je recommande

Christelle D. から Haubourdin France, 13. June 2013

May, 2013日後に3日間滞在

Studio bien place, nous avons tout fait a pied. Excellent rapport qualité/prix si on ne recherche pas le cosy,

Enchantés de notre séjour !

Jacques M. から ERMONT France, 13. May 2013

May, 2013日後に4日間滞在

Petit logement très propre, fonctionnel, confortable et très bien situé dans Prague.
Attention 3ème. étage mais 83 marches !!!! .... et après avoir sillonné Prague à pied toute la journée !!........
A recommander mmême pour un séjour plus long.


-----------------------------------------------------------------

ANNIO GIOVANNI M. から ---- Italy, 17. April 2013

April, 2013日後に4日間滞在

---------------------------------------------------------------------------

VERY GOOD !

Claire J. から Paris France, 30. March 2013

March, 2013日後に5日間滞在

A LOVELY STAY !

Hermosa estadìa en Praga

Gordevio Switzerland, 29. January 2013

January, 2013日後に4日間滞在

Un departamento perfecto: limpio, centrico, economico,... La verdad que fue un gusto la estadìa.

stay December 2012

ALAZET C. から TOULOUSE France, 30. December 2012

December, 2012日後に4日間滞在

Very satisfying; very helpful team: we sent a text message for a heating problem, they solved it right away; very well-organised; quiet district, pleasant walk to the old town; would recommend it;

sgfgsf

VENEJAN France, 12. December 2012

December, 2012日後に2日間滞在

dgfsdg

Location RenteGo pour Prague, solution idéale!

Villeneuve d\\x27Ascq France, 11. September 2012

August, 2012日後に3日間滞在

Je suis extrêmement satisfaite de ma location RenteGo. Avant le voyage, j'ai reçu le code de l'immeuble, ainsi que celui de l'appartement, ce qui permet d'arriver directement au bon endroit sans intermédiaire. Idéalement placé, à une dizaine de minutes du centre ville touristique. L'appartement (NOVA) est bien équipé, propre, avec de nombreux conseils très utiles pour gagner du temps et passer un bon séjour à Prague! Excellent rapport qualité/prix, j'y retournerais sans hésiter !

Location NOVA - Quartier Mala Strana

Puget\\x2DVille France, 16. July 2012

July, 2012日後に6日間滞在

Très bon séjour. Service nickel, équipe très efficace. Appartement très bien situé, dans un quartier agréable et très près du centre ville. On le recommande.

Convenient accommodation at Rentego's Nova

Braintree United States, 28. June 2012

June, 2012日後に8日間滞在

Rentego's staff and apartment in Mala Strana, Prague provided everything necessary to make my first trip to Europe a great one. An ideal location puts you close to the wonderful sites and services without the crowds. I enjoyed the comfortable stay and ecxellent value. I would absolutely return and recommend!

Belle surprise, bel accueil!

Sebastien W. から Vauréal France, 26. March 2012

March, 2012日後に3日間滞在

Petit problème de fonctionnement du chauffage mais à part ça (ce sont des choses qui arrivent), très bonne surprise dans l'ensemble, les autres appartements sont également très bien.

Response from RENTeGO

12. 4月 2012

Merci beaucoup pour Votre commentaire! Nous nous occupons de probleme de fonctionnement du chauffage. RENTEGO

Satisfied with my stayed in Nova flat.

Yago P. から Spain, 25. March 2012

February, 2012日後に16日間滞在

Nova is a comfortable flat and it´s is near Old town, so i´ts a very useful flat.

One week return to Praha

Adam P. から ---- United States, 07. December 2011

November, 2011日後に7日間滞在

Overall the stay was great. The location is close to groceries, a mall, public transport (although you SHOULD walk every where in Prague) and pubs (possibly the best part of Prague).

Just watch out if you have to do laundry, I never found a laundromat in the area and although you can wash your shirts etc. in the sink, drying them will be a problem.

nice stay

Lyon France, 18. September 2011

August, 2011日後に10日間滞在

Nice, quiet, friendly, clean, convenient...I recommend !

Ottawa Canada, 08. August 2011

July, 2011日後に3日間滞在

Perfect location; surrounded by some of Prague's best (and not too touristy) restaurants and bars. Great apartment - small but perfectly proportioned. Super clean, though it may be time in the near future to replace some of the bedding... Staff were very friendly and reserving and getting into the apartment was easy. Thanks!

ISABELLE L. から EVREUX France, 22. July 2011

July, 2011日後に8日間滞在

Vincent D. から Aulnay sous Bois France, 02. June 2011

April, 2011日後に6日間滞在

roma Italy, 20. May 2011

April, 2011日後に4日間滞在

Adrien B. から LIBOURNE France, 02. January 2011

December, 2010日後に4日間滞在

Všechno dobré !!!

Praha 9 - Klanovice Czech Republic, 28. December 2010

December, 2010日後に5日間滞在

Všechno dobré !!! Díky, hodne štestí a úspechu v novém roce.
アパートの正確な住所
Ujezd 5
Prague
10 分 から徒歩 カレル橋
チェックイン/アウト
チェックイン時刻
以降のチェックイン 4:30 PM (から荷物を置いておける可能性 1:00 PM)
チェックアウト時刻
までにチェックアウト 11:00 AM (まで荷物を置いておける可能性 11:00 AM)
簡単なチェックイン
コードロックまたは個人的なお迎えにより、お客様は直接 ...に行くことができます
チェックイン/アウトに関するさらなる情報
アメニティ
アメニティ
アメニティ
このアパートのアメニティのリスト
このアパートのアメニティのリスト
Attractions

churches, cinemas, live theater, museums, playground, restaurants, synagogues, zoo

Leisure activities

sight seeing

Local services and businesses

ATM/bank, groceries

Location

Downtown

Room subtype

studio

Suitability

non smoking only, pets considered, wheelchair inaccessible

Suitability checkbox

Long-term Renters Welcome

Theme

Budget

アメニティ

Internet, Iron & Board, Linens Provided, Towels Provided, baby cot and baby chair (option), dryer in the building, hair dryer, heating, iron and ironing board, linens and towels provided, non-smoking, totally keyless access, washing in the building
アメニティ

shower, toilet

エンターテイメント

Stereo, radio and CD player, satellite, television

キッチン

Dishes & Utensils, Kitchen, Pantry Items, coffee maker, dishes and utensils, microwave, refrigerator, stove, toaster

ビジネス

ATM nearby, Free Mobile Hotspot, free Internet (WIFI)

利便性

grocery nearby, medical services nearby, parking nearby, restaurants and bars nearby, shopping center nearby
間取図
間取図 この物件の大まかな間取図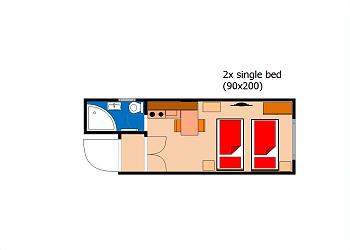 | | |
| --- | --- |
| Room | 部屋 |
| Hall | ホール |
| Kitchen | キッチン |
| Living-room | リビングルーム |
| Bathroom | バスルーム |
| Shower room | シャワールーム |
| Balcony | バルコニー |
| Terrace | テラス |
| Cloakroom | クロークルーム |
| Single Bed | シングルベッド |
| Double bed | ダブルベッド |
| Twin bed(s) | シングルベッド |
| Sleeper Sofa | スリーパーソファー |
| Mezzanine bed (usually a mattress on a wooden parquet) | 中二階のベッド(通常は木製の寄せ木細工上のマットレス) |
滞在期日に利用可能なアパートを見つける
-お客様が興味をお持ちかもしれない近くのアパート
Exact match:

MALA matches Bedrooms (0.0), Neighborhood (Center - Mala Strana), Service by (Service 100% Rentego) :-)

ワンルーム・マンション - for 2 宿泊者 (最大 2)

1泊*あたりの料金* from 37€ to 75€

Studio, across the river from National Theatre and 10 min walk from Charles Bridge, close to the Vltava river bank. Situated in Mala Strana, near the biggest park in central Prague.
ダウンロード
お客様が興味をお持ちかもしれない追加情報