検索
アパートの詳細& 料金の提案
予約する
ありがとうございます
MOLDAU
Bright 2BR apartment, 10 min walk from Old Town Square
2 ベッドルーム for 3 宿泊者 (最大 5)
U nemocenske pojistovny 4, Prague
説明
Moldau is a calm, pleasant and affordable apartment in the heart of Prague. It is situated near the Vltava River, 20 minutes away from Charles Bridge or the Old Town Square. The apartment is very cozy and comfortable enough for 3 to 5 people. It is one of our most affordable apartments. There is a kitchen which is not very big but is well-equipped with everything essential (coffee maker, microwave, toaster etc.) Moldau is located two minutes away from Klimt and Smetana, which makes it an interesting choice for bigger groups. Thanks to this apartment, you can fully enjoy every bit of Prague. As all our other apartments, Moldau has high-speed internet connection, great for work or just keeping in touch. The apartment is non-smoking. If you want a better look at Moldau, scroll down to view the "floor plan".


The street was named after a former health insurance company in the 20.century. Nowadays there is a faculty health center. The street was founded in 1928 when it connected Klimentska Steet and the waterfront Ludvika Svobody. During the occupation the street was renamed "Wettenglova" after a burgher family who lived in Prague in the 16th and 17th century. From the 1945 the street took on its previous name. On your way to metro Florenc, you can notice Saint Peter's Church. This church was built in the 12th century as a roman bazilika, but as the years went on it was renovated in a gothic style. It has been said that there was a rich greedy civilian man buried in the cemetery, who ignored his relatives on purpose so he would not have to share his wealth with them, he even slept in a cheap coffin instead of a bed. After his death his relatives searched for his belongings but never found anything. One day a poor parish clerk saw a gold light near the grave. He then dug the coffin up with his son and found money and jewelry under the man's pillow; he then divided the property between the poor.

Apartment use and noise: you commit to take care of the apartment and respect neighbours, particularly by respecting the interdiction of making noise between 22:00 (10 and 7 a.m. (which could result in 100 euros fine deducted from the damage deposit if neighbours complain about you and the police testify against you). Prague has many great places to party outside, and we wish you to enjoy it at best, the apartment is greatly located for that ;-)

PLUSES AND MINUSES:
+ Moldau is located in the very center of Prague, only 10 minutes of walk from the Old Town Square
+ Elevator in the building
+ There is a washing machine which can be really convenient for longer stays
+ The apartment has a fully equipped kitchen
+ High-speed wifi provided
+ Many nice cafés and restaurants in the neighbourhood
+ Secured parking within 5 minutes' walk from the apartment (optional - not included in price)

CHECK-IN: from 4:30 p.m.
CHECK-OUT: until 11:00 a.m.
バスルーム

1

表面

41 m2

寝場所の手配

1 Twin, 1 Sleeper, 1 Double/Full Bed
レビュー
管理者は に推薦されて
ミシェラン・ツアーガイド2010
ミシェラン: すべてのアパートはプラハ1区にあり...ハイクオリティサービス...非常に魅力的な料金
プラハガイド
プラハガイドのテキスト
このアパートのレビュー者
Buono

Enrico S. から Bienno Italy, 29. May 2019

May, 2019日後に4日間滞在

Buona

Fin d'année à Prague

Philippe et Martine L. から Mûrs-Erigné France, 05. January 2019

December, 2018日後に5日間滞在

Appartement très propre et bien situé. Tout se fait à pied. Nous avons apprécié l'attention du champagne pour la fin d'année. Le personnel de Renta go est au petit soin et réactif à toute demande.

PRAGUE Experience

mortimer v. から San Juan United States, 24. October 2018

October, 2018日後に4日間滞在

Was good , but one of the bedrooms was so small that almost we could not fit in.

Alles super

Angela H. から Stuttgart Germany, 16. September 2018

September, 2018日後に5日間滞在

Alles prima, sauber und schön. Tolle Lage.

Bien solo para dormir

Juan Antonio Martinez b. から United States, 11. September 2018

September, 2018日後に3日間滞在

En general el mobiliario es antiguo y los sofás y las camas poco confortables

Very good location for families with children

LIMIDI DI SOLIERA Italy, 29. August 2018

August, 2018日後に7日間滞在

The apartment is spacious, bright and silent. The forniture is very good. A lot of mini market nearby. Ten minutes walk to the old town square. Very recommended to families with children. Great organisation by rent & go.

Prague aout 2018

Gif sur Yvette France, 12. August 2018

August, 2018日後に7日間滞在

Appartement conforme à la description, trés bien placé et fonctionnel.
Seul (petit) bémol, le wifi n'a jamais fonctionné mais ce n'est pas le plus important.

1st Time in Prauge

Lorne B. から Sydney Canada, 09. July 2018

July, 2018日後に4日間滞在

Overall we were very satisfied with the apartment. It was exactly as you represented it on your web site. It was conveniently located within minutes of great restaurants & major attractions. Anything we did we walked to it. The apartment was hot (July) and does not have air-conditioning but this was disclosed to us prior to our booking. Overall very pleased with our stay. The only unfortunate thing that happened was that our taxi driver that we had prebooked did not show up to the airport. This was inconvenient to say the least. Apparently he marked it for the following day. Other than this issue, I would definitely recommend the Mauldu apartment for a convenient and clean place to stay.

Spring Prague

Jindrich M. から ---- Czech Republic, 17. May 2018

April, 2018日後に4日間滞在

Spring stay in Prague with no problem - as usual - thanks to the Rentego

Квартира Moldau

Ruslan K. から Maykop Russian Federation, 21. February 2018

February, 2018日後に4日間滞在

Соотношение цена-качество отличное, месторасположение квартиры, оснащение, отношение фирмы к клиенту самое лучшее!! Рекомендую всем!

Séjour à Prague pour Noël 2017

Maryse P. から TRELISSAC France, 12. January 2018

December, 2017日後に6日間滞在

La situation de l'appartement est bien placé car proche à pieds du centre ville, y compris pour les visites, restaurants et activités.

wonderful month in Prague

Cherylyn L. から New York City United States, 04. January 2018

November, 2017日後に29日間滞在

The apartment was excellent - comfortable, clean and well stocked with many things to make my stay comfortable and efficient.

Great overall rental!

Hicksville United States, 09. October 2017

September, 2017日後に3日間滞在

The RenteGo rental company made sure that everything was clear and we had a great stay. The location was very good, the apartment big enough (compared to other European similar apartments we stayed before!) and everything was clearly noted and explained, avoiding confusion and/or issues. The only minor inconvenience was that it was not quite properly vacuumed, there was plenty of dust and dirt in several places - could do a better job here. Overall, a great stay at a great price! Will definitely rent again in the future!

22 days at Moldau

Monteal Canada, 25. September 2017

September, 2017日後に21日間滞在

Everything was as advertised. No gimmicks, no jokes, no fake promises.

Defenetly coming back

Ilan Lifshitz b. から United States, 07. July 2017

July, 2017日後に3日間滞在

Everything was great,comunication was easy.
Very good location.

Response from RENTeGO

18. 7月 2017

Thank you so much Ilan!

Moldau Prague

Jindrich M. から ---- Czech Republic, 23. May 2017

May, 2017日後に2日間滞在

Decide to hire the appartment from this company because of great experince in the past.
got the same experience now. All the ladies are very kind and helpful.

Response from RENTeGO

18. 7月 2017

Thanks a lot Jindrich, hope to see you in Prague soon! Don't forget we have a discount for loyal customers :))

A cosy apartment with a perfect location

OUERTANI MOHAMED A., 18. May 2017

April, 2017日後に7日間滞在

We loved our stay in praha. The apartment is perfectly located in the new Town and just a few blocks from the well known dlouhá Street. We are satisfied with apartment everything matched the photos and the description. We strongly recommend it for a group of 4 or less people.

Response from RENTeGO

18. 7月 2017

Thank you for sharing your review, we are glad you were satisfied with our company and we'll be happy to host you next time you're in town!

my experience in rent an apartment

Kladno Czech Republic, 11. May 2017

May, 2017日後に4日間滞在

Nice place,clean apartment in the middle of the city

Response from RENTeGO

18. 7月 2017

Thanks a lot!

Parfait vraiment parfait

GANDELAIN France, 22. February 2017

February, 2017日後に4日間滞在

L'appartement est propre, bien situé et bien équipé. Le service Rentego parfait et toujours disponible

Séjour à prague

Marina T. から Montévrain France, 01. January 2017

December, 2016日後に3日間滞在

Super séjour appartement bien aménagé et grand.petit supermarché justaucorps à côté.
Nous reviendrons.


Everything was perfect!!

Lorenzo L. から ---- Italy, 02. December 2016

November, 2016日後に4日間滞在

The location was excellent and the apartment was very nice and extremely clean, also ideal for 5 people. Rentego is a very serious and professional team. Many thanks for your kindness. Great experience!!

Appartement calme et bien situé prés du fleuve

Nathalie V. から Cholet France, 15. November 2016

October, 2016日後に7日間滞在

Nous avons apprécié le calme et la propreté de l'appartement (lits faits pour 5 couchages, linge de toilette fourni). Nous avions bien reçu la clé de l'immeuble par courrier et nous n'avons eu aucun problème avec le code. Seule la télécommande de la télé ne fonctionnait pas. Des mini-markets ouverts tous les jours jusqu'à 22 h sont à proximité ainsi que des restaurants et des magasins. Prague est vraiment une très belle ville animée et nous avons effectué un agréable séjour.

Praga Magica

ST RAMBERT EN BUGEY France, 04. November 2016

October, 2016日後に3日間滞在

Appartement idéalement placé, à 10mn à pied de la Vieille Ville, avec des commerces (épicerie, supérette...), des restos, des bars et cafés très proches. Très calme, voisinage sympathique, appartement bien pratique et propre, avec le nécessaire fourni pour un premier petit déjeuner avant de pouvoir faire les courses (thé, café, cacao, céréales, sucre, miel). Juste 2 bémols : le linge de lit ne semblait pas "frais", et il manque un porte-serviette ou des crochets, ainsi qu'une étagère (pour poser les nécessaires à toilette) dans la salle de bain. Gros plus : le wifi dans l'appartement, et surtout le wifi mobile ! En bref, séjour nickel !!!

Good review but not for us.

London United Kingdom, 22. August 2016

August, 2016日後に3日間滞在

I was expected much better.
The floor was dirty and duvet smelt not fresh.

Response from RENTeGO

24. 8月 2016

Thank you Kazuyo for your review, we will check it with our cleaning team.

Nice stay at Prague August 2016

SAINT AUBIN DE MEDOC France, 14. August 2016

August, 2016日後に8日間滞在

The flat was as described on the website, well located near the town center of Prague. Rentego is a very serious company and I would recommend them to friends or to my family without any problem.

Response from RENTeGO

24. 8月 2016

We are happy you enjoyed your stay in Moldau, Caroline. Thank you and see you soon!

Moldau

Basel Switzerland, 25. July 2016

July, 2016日後に4日間滞在

Sehr empfehlenswert wenn man preisgünstig, sauber reisen will. Praktisch organisiert, für 5 Luite eher eng, aber sauber. Tolle Lage mit Kindern, da Spielpark vorhanden.

Response from RENTeGO

27. 7月 2016

Guten Tag, vielen Dank fur das nette Kommentar. Wir freuen uns auf Ihren nächsten Besuch :-)

Appartement Prague

Catherine D. から Alboussiere France, 14. July 2016

June, 2016日後に12日間滞在

Idéalement placé (proche de tout) très calme donnant sur cour intérieur donc pas de vue.
Très satisfait du séjour et de l'équipe de RENTEGO

Response from RENTeGO

27. 7月 2016

Merci beaucoup, nous sommes heureux que vous avez bien profité de votre séjour a Prague.

Merveilleux séjour

Sandrine A. から Mont pres chambord France, 10. July 2016

July, 2016日後に4日間滞在

Nous avons été enchanté de notre séjour avec rentego. Services réservation efficaces, renseignements précis, accueil dans l'appartement à notre arrivée. De plus l'emplacement est parfaitement central et l'appartement très confortable.

Response from RENTeGO

27. 7月 2016

Merci Sandrine! A la prochaine :)

Very nice and simple flat close to the centre

Augsburg United States, 06. June 2016

May, 2016日後に3日間滞在

We really enjoyed our stay in this flat. It was clean and tidy, there was everything we needed. The building looks quite old, but the flat is based close to the centre. Also thanks for the nice and friendly contact in perfect German language with Rentego.

Ajánlott

Budapest Hungary, 31. March 2016

March, 2016日後に4日間滞在

Jó elhelyezkedés,kiválló ár-érték arány.

Response from RENTeGO

08. 4月 2016

Köszönöm!

apartment very pleasant and very bright

Vernon France, 28. March 2016

March, 2016日後に6日間滞在

very good impression andvery pleasant stay,near the center

Response from RENTeGO

08. 4月 2016

Merci beaucoup Catherine :)

My holiday in Prague

Elena Nicomedi b. から United States, 26. November 2015

November, 2015日後に5日間滞在

My holiday in Prague was great and confortable. The apartment is located 10 minutes from the centre, and we moved only on foot. The property was very clear and the description on the website is very accurate. If I came back to Prague I'll call you without hesitation. Thanks for all.

Response from RENTeGO

27. 11月 2015

Thank you, Elena, it is really nice to hear that we had helped you to enjoy your stay in Prague :)

Comfortable appartment in a great location

Edgar D. から Fake city United States, 10. November 2015

November, 2015日後に2日間滞在

We stayed here for 2 nights.
Appartement is in a great location, under 10 mins walk to the Old Town Square.
Great communication with managment team, very helpfull!

Response from RENTeGO

13. 11月 2015

Thanks a lot for sharing your nice comment, Edgar. We would be happy to have you here again!

I mis this place

Sadia K. から United States, 29. August 2015

August, 2015日後に2日間滞在

Loved it. Scenery out of window had a great old touch. Beds were comfortable. Pillows genourously provided and the appartment was clean.

Response from RENTeGO

31. 8月 2015

Dear Sadia, we are glad that you've enjoyed your stay in Moldau! It's really nice to get such a good feedback from our guests :)

Very basic, good location

Aaron T. から Kaiserslautern Germany, 27. August 2015

August, 2015日後に2日間滞在

Two friends, arriving via train, want to explore Prague. A 15-minute walk from the train station and we arrive at Moldau. The instructions lead us straight to our door, and inside is a very basic, but perfectly acceptable apartment. We drop our bags and head out to see the city!

Response from RENTeGO

31. 8月 2015

Thank you Aaron, we are glad that you had a good time in Moldau! Do not hesitate to contact us for your next journey to Prague :)

Ferienappartement Moldau, Prag

Madeleine T. から Petit-Lancy Switzerland, 04. August 2015

July, 2015日後に3日間滞在

Die Wohnung ist sehr gemütlich und ruhig gelegen (Innenhof). Wir schätzten, dass die Innenstadt sehr
gut zu Fuss erreichbar war. Ebenso waren die Busse und die Metro in der nächsten Umgebung. Bäckerei, Einkaufsgeschäfte und Restaurants nur wenige Minuten von der Wohnung entfernt.

Response from RENTeGO

18. 8月 2015

Vielen Dank!

MODLAU

Estelle R. から United States, 16. July 2015

June, 2015日後に2日間滞在

Great experience! To do it again !

Response from RENTeGO

21. 8月 2015

Thank you very much, Estelle!

Nice stay at Moldau apartment

Beatrice P. から United States, 25. April 2015

April, 2015日後に4日間滞在

Nice apartment, calm and close to the center, perfect for 4 persons.

Une bonne expérience, satisfait

Yssingeaux France, 24. April 2015

April, 2015日後に3日間滞在

C'est la première fois que nous utilisions rentgo tout était au rendez-vous : propriété calme, propre, près des lieux touristiques à un prix abordable. IL manquait juste la lumière dans la sdb. Nous recommandons.

Appartement intéressant

Carole B. から United States, 07. October 2014

September, 2014日後に6日間滞在

Nous avons apprécié notre séjour au Moldau. Cet appartement est situé dans un secteur tranquille et à proximité du centre ville de Prague. On y est confortable, sauf pour la qualité des draps et du matelas de la chambre pincipal (qui semble être un futon). Autrement, c'est très bien.

review

Xavier G. から Bretoncelles France, 27. June 2014

June, 2014日後に6日間滞在

review
TV was out of service

Un séjour agréable

Eric B. から Brest France, 17. June 2014

June, 2014日後に5日間滞在

L'immeuble est à 10 mn à pied de la station de métro Namesti Republiky et à 20 mn de la place de la vieille ville. Si vous n'aimez pas marcher, des tramways passent à proximité. Pour le shopping, on trouve également des commerces pas très loin (Palladium). L'appartement est simple avec des pièces assez petites (sauf le séjour) mais c'est fonctionnel et on y trouve tout ce qu'il faut pour passer un séjour agréable. La connexion Internet haut débit (Wifi ou cable) est un plus appréciable. Je recommande donc cet appartement.

Nice

Paul E. から Dublin Ireland, 17. December 2013

November, 2013日後に3日間滞在

Very good location, well furnished and clean. The cheap price doesn't mean bad quality !

In Praga as a "praguense"

Alexandre S. から Niteroi Brazil, 20. September 2013

September, 2013日後に6日間滞在

Yes, our stay in all respects was very good, both in terms of the overall condition of the apartment as the location in the Stare Mesto neighborhood, close to several places of interest and tourist trade facilities (shopping, markets, restaurants). The only exception was in relation to the overall cleanliness and maintenance of the building. Also missing is a curtain in the guest room.
Regarding rental management staff, was undoubtedly great, always quick and helpful in our contacts over the Internet, inclusive providing a return transfer to the airport. I thank all

Moldau review

Marg S. から Darlingtom Australia, 13. September 2013

September, 2013日後に7日間滞在

Great location. Building very bleak. Entrance area of building dirty and smelling of cigarette smoke. Furniture and fittings, drapes etc. of low quality and needed renewal. Website photos were creative and glamourised the apartment. Very clean inside apartment. Freezer totally frosted up. Despite these comments we enjoyed our stay.

Quiet place, perfect for a familly closed to the old town

Aurore V. から NICE France, 13. September 2013

August, 2013日後に5日間滞在

The property was clean and quiet. The old town is really closed, you could discover Prague without using public transport. We were a familly with a 10 month baby and it was perfect to have the possibility to cook (you have 2 supermarkets :Albert, Billa at Namesti Republik).The management was professional I will recomand Rentengo to my friends (and you could pay with french "cheque vacance") Thaks a lot

Beautiful Prague

Brisbane Australia, 03. June 2013

May, 2013日後に2日間滞在

We found the accommodation at Moldau prefect for our short stay in Prague. Moldau is located very close to the Jewish quarter in Prague and the majority of the major attractions are within easy walking distance. The wifi was brilliant as this kept us in contact with the world outside of Prague. A little apprehensive at first after receiving the key to the entry door in Australia, however everything worked perfectly. The flat is neat, tidy and comfortable at an affordable price. Thank you rentego!

Moldau property

Fake city United States, 20. May 2013

May, 2013日後に1日間滞在

We only stayed a night but the apartment was clean, close to the center, and very modern. We were only two people but I think it could have easily slept 5, if not 6, people. The staff were very helpful, and even let us check out an hour late because our departure was delayed.

a good stay in Prague

St Paul France, 05. May 2013

April, 2013日後に4日間滞在

Everything fine.
But don't try to get boiled eggs. Getting water to boil in the kitchen is just too long..

A very nice place to stay

Brno Czech Republic, 27. March 2013

March, 2013日後に4日間滞在

Nice place, close to everything by walk, spacefull living room, safe quiet place.
I would totally recommend it.

Appart nickel, site tres pro !!

LONS France, 04. January 2013

December, 2012日後に4日間滞在

Appart Nickel, location et site tres pro !!


4.5 Stars Stay! Recommend for Three Day Weekend Stay

Warsaw Poland, 15. November 2012

October, 2012日後に4日間滞在

The Moldau apartment by Rentego was almost the perfect stay! The customer service was fantastic and the apartment was nice - not luxury, but perfect for a couple over the weekend. The only thing keeping our experience from 5 stars was that there were a couple of hairs (not the long kind) in the bathroom tub and the shower head did not have a mount in the wall, which makes trying to wash your hair interesting. Make sure to ask for a driver to take you to/from the airport. Ivan was very friendly and the cost is hard to beat!

great place to enjoy prague

Yannick W. から Shannon, Co Clare Ireland, 24. September 2012

September, 2012日後に5日間滞在

great place to enjoy prague from

perfect for a no frills getaway

Kimberly M. から Oviedo United States, 18. August 2012

August, 2012日後に11日間滞在

Booking through rentego was easy and efficient. The apt had everything the ad advertised. Beds were comfortable and clean. The washing machine and drying rack came in more handy than anticipated!

A good holiday and a great place

Timur K. から Minsk Belarus, 05. July 2012

June, 2012日後に3日間滞在

This apartment is indeed very close to the center. The description presented on the site - corresponds to reality. Among the shortcomings can be noted the lack of air conditioning. The rest - all well and fully complies with the spent money.

Prague au mois de juin

jacques d. から PARIS France, 21. June 2012

June, 2012日後に13日間滞在

Séjour passionnant.
j'ai apprécié l'appartement Moldau pour son calme, en étant un peu éloigné de l'agitation mais à 10 mn à pied de la Place de la Vieille Ville.
Prague est de plus en plus belle mais il ne faut pas qu'elle soit défigurée par les excés du tourisme.

Good Value For Money

MID GLAMORGAN United Kingdom, 23. May 2012

May, 2012日後に3日間滞在

Only two faults with the property, hand held shower and the pillows were too small, more like cushions. Apart from that very good value for money

9 excellent days in Praha!

Eleftheria G. から Alexandroupoli Greece, 07. January 2012

December, 2011日後に8日間滞在

Very nice, all of us were satisfied, the location was the best advantage, the only thing that annoyed us a little was the double bed/couch that was moving all the time because of the wheels! Except for that, everything's perfect!!! Thank u really much!!!

Centre of Prague

Pascal D. から fontenay le fleury France, 29. December 2011

December, 2011日後に5日間滞在

A very nice stay with a team really ready to help.
Many thanks for the support !

Correct place to stay in Prague

United States, 21. November 2011

October, 2011日後に5日間滞在

Very professional company and very easy to rent a flat

séjour d'une semaine en septembre 2011

Benedicte B. から FAY DE BRETAGNE France, 24. September 2011

September, 2011日後に7日間滞在

appartement bien situé, super calme, propre. Une organisation impeccable pour les clés et les commerces à proximité.

Great Stay :)

APO United States, 08. September 2011

August, 2011日後に3日間滞在

We had a very nice stay in Prague. The apartment was in a very central location. We drove to Prague so we had a vehicle but we were able to walk everywhere. Nice park next to the apartment building for kids to play. Plenty of restaurants in the area to
choose from. Elevator is avaible in building as well for larger luggage. Overall we had a great experience. Thank You so much. The McNeish Family

Very nice get away

EVELYNE C. から LANDERNEAU France, 27. August 2011

August, 2011日後に5日間滞在

Nathalie D. から PONTOISE France, 28. July 2011

July, 2011日後に6日間滞在

marie-claire m. から Beauvais France, 19. June 2011

May, 2011日後に5日間滞在

Helene P. から RENNES France, 15. June 2011

June, 2011日後に3日間滞在

nice week end in Prague

EVELYNE C. から LANDERNEAU France, 02. May 2011

April, 2011日後に5日間滞在

surprising town, very interesting historically speaking.
very nice location for the appartment in a calm part of the town
アパートの正確な住所
U nemocenske pojistovny 4
Prague
10 分 から徒歩 オールド タウン スクエア(旧市街広場)
チェックイン/アウト
チェックイン時刻
以降のチェックイン 4:30 PM (から荷物を置いておける可能性 1:00 PM)
チェックアウト時刻
までにチェックアウト 11:00 AM (まで荷物を置いておける可能性 11:00 AM)
簡単なチェックイン
コードロックまたは個人的なお迎えにより、お客様は直接 ...に行くことができます
チェックイン/アウトに関するさらなる情報
アメニティ
アメニティ
アメニティ
このアパートのアメニティのリスト
このアパートのアメニティのリスト
Attractions

churches, cinemas, festivals, live theater, museums, playground, restaurants, synagogues, zoo

Leisure activities

sight seeing

Local services and businesses

ATM/bank, groceries

Location

Downtown

Safety

Smoke detectors

Suitability

children welcome, non smoking only, pets considered, wheelchair inaccessible

アメニティ

Elevator, Internet, Iron & Board, Linens Provided, Towels Provided, baby cot and baby chair (option), elevator in the building, hair dryer, heating, iron and ironing board, linens and towels provided, non-smoking, washing
アメニティ

toilet, tub

エンターテイメント

Satellite / Cable, Stereo, radio and CD player, television

キッチン

Dishes & Utensils, Kitchen, Pantry Items, coffee maker, dishes and utensils, microwave, refrigerator, stove, toaster

ビジネス

ATM nearby, Free Mobile Hotspot, free Internet (WIFI)

利便性

grocery nearby, medical services nearby, parking nearby, restaurants and bars nearby, shopping center nearby
間取図
間取図 この物件の大まかな間取図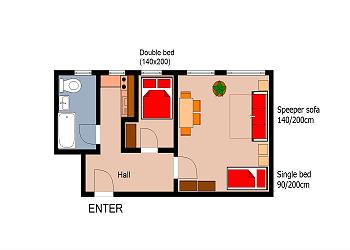 | | |
| --- | --- |
| Room | 部屋 |
| Hall | ホール |
| Kitchen | キッチン |
| Living-room | リビングルーム |
| Bathroom | バスルーム |
| Shower room | シャワールーム |
| Balcony | バルコニー |
| Terrace | テラス |
| Cloakroom | クロークルーム |
| Single Bed | シングルベッド |
| Double bed | ダブルベッド |
| Twin bed(s) | シングルベッド |
| Sleeper Sofa | スリーパーソファー |
| Mezzanine bed (usually a mattress on a wooden parquet) | 中二階のベッド(通常は木製の寄せ木細工上のマットレス) |
滞在期日に利用可能なアパートを見つける
-お客様が興味をお持ちかもしれない近くのアパート
Exact match:

Rosa matches Bedrooms (2.0), Neighborhood (Center - New Town), Service by (Service 100% Rentego) :-)

2 ベッドルーム - for 6 宿泊者 (最大 6)

1泊*あたりの料金* from 61€ to 122€

Bright and spacious apartment is situated in a calm district of Prague 1 Nove Mesto, 10 min walk from Old Town Square and Charles Bridge, with a view on the Vltava river and a small part
ダウンロード
お客様が興味をお持ちかもしれない追加情報