検索
アパートの詳細& 料金の提案
予約する
ありがとうございます
MINKA
3 BR 10min from Charles Bridge and across the river from National Theatre
3 ベッドルーム for 5 宿泊者 (最大 8)
Ujezd 5, Prague
説明
Minka is a sunny and spacious apartment, named after a cute little cat that lived in this house. The apartment is modern and well equipped for 5-8 people. Since it is in the very center of Prague, you can pop in to relax or make yourself a quick snack during the day. Minka's kitchenette is equipped with a coffee maker, microwave oven, toaster, etc., everything needed to prepare breakfast or other basic meals. The kitchen is smaller, but more practical for groups that prefer having 3 quiet rooms, 2 completely separate and little cooking to be done. For those who would like to stay for a longer period of time, Minka is equipped with a washing machine. The apartment is located in the historic district of Mala Strana with a 10 minute walk to the Charles Bridge or the National Theatre. From here you can easily enjoy all tourist attractions, culture, as well as Prague's best bars and restaurants everything not more than 20 to 30 minute walk away. As all our other apartments, there is a high speed internet connection. Also the apartment is non-smoking with the option of smoking on the balconies. If you want a better idea of what the apartment looks like, scroll down to view the floor plan. The building is equipped with keyless lock codes, useful for booking at the last minute

The apartment building is located under the Petrin hill, near the river in the area called Mala Strana. It was built in 1895 by a well-known architect, who built it for himself, explaining its good qualities. Petrin is undoubtedly the best place for those who like visiting tourist attractions as well as having a taste of nature at the same time. Just behind the building is the historical Hunger Wall, which has served to defend Prague. In 1361, the year of drought and poor harvests, the prices of bread increased severely, which left many people without enough food. In order to feed their families, the locals resorted to frequent theft, augmenting the criminal activity. King Charles IV therefore called upon the locals to build a protective wall from Petrin to the Vltava River. The construction took two years and fed many families, resolving the problem. The Prague people named the wall "The Hunger Wall", because its battlements resembled the teeth of the starving folks building it. At the end of the street is Kinsky Square, known especially for the T34 tank, which commemorated the liberation of Prague by the Soviets in 1944. After the Velvet Revolution in 1989 an artist David Cerny painted it pink. Actually, it was not so much of a political gesture as an attempt to capture the attention of some girl. Later a fountain was built in the original location where the tank stood, but there still a little pink part of it on the square which constantly reminds us of our history. The apartment is also near the French Quarter, only a 5 minute walk from the French Lycée. For those who plan to stay in Prague for a bit longer, will appreciate the proximity to a nearby shopping center called Novy Smíchov, which is only 2 tram stops away. The tram stop (tram line 6, 9, 12, 20, 22) is right in front of the building as well as a bus stop, line 176.


Apartment use and noise: you commit to take care of the apartment and respect neighbours, particularly by respecting the interdiction of making noise between 22:00 (10 and 7 a.m. (which could result in 100 euros fine deducted from the damage deposit if neighbours complain about you and the police testify against you). Prague has many great places to party outside, and we wish you to enjoy it at best, the apartment is greatly located for that ;-)

PLUSES AND MINUSES:
+ Minka is located in the very center of Prague, only 10 minutes of walk from Charles Bridge
+ Keyless access to the building and to the apartment - you will only need a code to open the door
+ There is a balcony in the apartment which can be a practical thing for smokers
+ There is a washing machine and a dryer in the building
- The apartment is situated on the 3rd floor without an elevator
バスルーム

1

表面

79 m2

寝場所の手配

3 Twin, 2 Sleeper, 1 Double/Full Bed
レビュー
管理者は に推薦されて
ミシェラン・ツアーガイド2010
ミシェラン: すべてのアパートはプラハ1区にあり...ハイクオリティサービス...非常に魅力的な料金
プラハガイド
プラハガイドのテキスト
このアパートのレビュー者
A nice place near Old Prag

Michel D. から Pace France, 12. September 2018

September, 2018日後に7日間滞在

perfectly situated to explore (walking or by tram) the major parts of the city, the flat is pleasant, clear and sunny. The only limit is the three-story building without lift...

A good place to stay

Konrad B. から Albbruck Germany, 25. August 2018

August, 2018日後に3日間滞在

The location is close to the city and is clean and pleasant and good equipped

Excellent location- spacy

leonidas perdikogiannis b. から Greece, 16. August 2018

August, 2018日後に5日間滞在

We stayed in the apartment for 5 nights , we are a family with 3 children.
The apartment is in excellent location , near the center , you can go almost everywhere on foot. The only disadvantage is that it has no elevator , so you have to use the stairs. The apartment is on the 3rd floor, 90 steps.

Prague rental

Claire B. から castle Pines United States, 09. July 2018

June, 2018日後に3日間滞在

Great place in Prague within walking distance to sights...Prague Castle, Charles Bridge, Old Town (all about 20-30 min).
Food store and restaurants across street, all within 5 min!
Apartment has all basics, clothes washer with soap was great. Was a little warm at night in June, fans were provided, which helped a little. The best was the portable Hotspot provided as this ensured continuous access to google maps!


A great location in Prague! Rentego are easy to work with

Brendan O. から Thoona Australia, 02. January 2018

December, 2017日後に3日間滞在

Rentego were great to deal with. They are good communicators and take good care of you. The apartment (for our family of 5) was clean, well-appointed, and exactly as described on the website. Thank you team Rentego!

Excellent sejour

christophe j. から amiens France, 23. December 2017

December, 2017日後に3日間滞在

Appartement impeccable, proche du centre, quartier calme, propreté correcte
Appartement spacieux avec toutes les commoditées
Facile à trouver et facile d'acces

appartement minka

cagnoncles France, 10. December 2017

December, 2017日後に3日間滞在

beau séjour, appartement spacieux et très propre,pour un prix hyper abordable, pas besoin de grand luxe pour visiter prague, je conseille cette appartement

Five family days in Prague

Heather B. から Dresden Germany, 24. November 2017

November, 2017日後に5日間滞在

The Minka apartment and staff were both excellent. The apartment is clean and the kitchen is well equipped. We have 3 young children and there are several nice parks within a few blocks. Easy shopping, easy walks to all the major sights, easy tram ride from train station, lots of tasty restaurants nearby. Minka recommended the Mexican restaurant a few blocks away and it was delicious. The tram line stops on the street right outside the apartment - it didn't bother us at night but we sleep with earplugs when traveling. Our three children slept in the other bedroom which is toward the interior of the house. They slept well and we all appreciated the dark curtains in both bedrooms. All in all, highly recommend.

It was great. Thank you!

Klara Elsikova A. から United States, 20. November 2017

October, 2017日後に20日間滞在

Everything was fine. Good communication.

Great place, great location!

Telluride United States, 03. November 2017

October, 2017日後に10日間滞在

This is a beautiful property in s great location! We were a traveling group of 5, grandma, two parents and two kids, that stayed for about 10 days. The apartment has everything needed to be fully self sufficient. We enjoyed all the space to lounge after a busy day exploring. It is in s great location, with easy access to public transport and walking distance to many restraurants, pubs and attractions. We would gladly stay here again.

Excellent Rental

Roger M. から Santa Ana United States, 07. August 2017

July, 2017日後に4日間滞在

Everything was great

Bon séjour

Michel G. から PARIS France, 14. July 2017

July, 2017日後に9日間滞在

Un bon séjour ! Comme toujours.

Response from RENTeGO

09. 8月 2017

Merci beaucoup!

Minka apartment

Houston United States, 06. July 2017

June, 2017日後に5日間滞在

The apartment was large with lots of room. Everything was as described. The apartment is close to everything. The washing machine was broken when we arrived but the RenteGo staff was very helpful giving us a solution. There were fans in each room as it was very hot during our stay. The only issue we had was the very loud tram that runs in front of the apartment all night. We had the windows open due to the heat to catch a breeze so we were aware of the noise. Othewise we enjoyed our stay in the 2 BR Minka apt.

Response from RENTeGO

09. 8月 2017

Thank you very much, we always try to do our best and find a quick solution to any problems, so we're happy you promptly informed us on the issue with washing machine. Hope you had a great time in Prague and see you next time!

Three nice days in Prag

Filderstadt Germany, 18. June 2017

June, 2017日後に3日間滞在

Only one unsatisfied thing is to mention about your service. Under a seat was a used underwear from the people who rent the apartment before.
And a bad thing is to mention with the parking in Drtinova. We payed at arrival 900 for three days. At departure the staff sayed we would have payed only for two days. In a list was hand-written only 600 entered. The staff not give us our car until we will pay the missing amount 300 Kronen. After a while of searching in my bag I find my cardbill and could show that we are right. Now they let us to our car and we leave Prag unfortunatelly with this last impression.
But overall it was a beautifull trip.

Kind regards
Marcel Retter

A great apartment nearby the old city centre

Kees van H. から United States, 13. August 2016

July, 2016日後に10日間滞在

Praque a city you need to visit. Altough we had no personal contact Rentego wrangled everything perfectly by mail.

Response from RENTeGO

24. 8月 2016

Thank you Kees, don't hesitate to contact us anytime in the future, we'll be happy to host you again :)

Please, in French!

Michel G. から PARIS France, 22. July 2016

July, 2016日後に9日間滞在

As I say during I stay, only one french chanel on the TV.
Next year, i will reserve onsly if I have a french tv for infos and meteo!

Response from RENTeGO

27. 7月 2016

Bonjour, nous ferons mieux la prochaine fois ;-) J'ai bien note votre preference dans notre fichier, VIP, mais pour etre sur rappelez nous le SVP dans les commentaires de vos prochaines reservations. :-) Quand vous reservez, dans tous les appartements de l'immeuble Ujezd nous pouvons assurer le decodeur Canalsat pour la TNT francaise avec beaucoup de canaux. Dans d'autres appartements, nous pouvons remplacer les decodeurs satellites par ceux ci. Enfin, dans tous les appartements, la bonne connexion internet permet de regarder la TV francaise sur internet (, etc.). En nous prevenant dans les commentaires de votre demande ou de votre rservation, nous verifierons pour vous la meilleure solution possible. ;-)

allez-y les yeux fermés

pierre r. から guichen France, 20. June 2016

June, 2016日後に3日間滞在

nous avons énormément apprécié notre séjour à Pragues. Même si nous n'avons pas passé beaucoup de temps dans l'appartement, il était parfait, proche des commerces, dans un quartier calme, pas trop éloigné du centre de Pragues.
Excellent!

Response from RENTeGO

06. 7月 2016

Merci beaucoup!!

Great holiday stay in MINKA

Joyce Ann P. から United States, 31. December 2015

December, 2015日後に7日間滞在

We spent a week in this apartment. The location is great with a Tram line right in front and another just around the corner. There are restaurants and grocery stores very close. We were a family of 4 and hand plenty of space and could have comfortably had 1-2 more people stay with us. The Management company was very helpful. We had some hot water issues that took several visits to resolve but they did get it fixed. If we return back to Prague, we would look to stay here again.

Response from RENTeGO

08. 4月 2016

Thank you very much Joyce, we do our best to make our clients happy and it's nice to hear you enjoyed your stay here :)

Nice place

Romain C. から Évreux France, 09. July 2015

June, 2015日後に2日間滞在

Good flat

Response from RENTeGO

26. 9月 2015

Thank you, Romain.

Prague - Minka & Karolina

Sheri J. から United States, 02. July 2015

June, 2015日後に2日間滞在

We spent 7 days in Prague with 2 days at Minka and the remainder at Karolina. The apartments were pleasant, clean, and in good central locations. Everything was within walking distance. We had several days of warm weather that made the loft section of Karolina very hot. With fans and windows open, it did cool down later in the evening.

Bonne Prestations pour cette location

Michele G. から RENNES France, 07. June 2014

June, 2014日後に4日間滞在

Appartement bien situé pour visiter Prague à pied.
Informations complètes et pratiques pour l'arrivée et l'entrée dans l'immeuble et l'appartement.
Très bien aussi le transport assuré par le taxi affrété par Rentego.

une trés belle démonstration d'une prestation de qualité

Xavier l. から Neuville sur saone France, 09. September 2013

August, 2013日後に4日間滞在

I

Super !

Philippe P. から Guyancourt France, 03. September 2013

August, 2013日後に3日間滞在

Très bien placé, très spacieux, super cool.

Our time at minka

simon m. から Llanfyllin United Kingdom, 19. August 2013

August, 2013日後に3日間滞在

Rentago managed the whole administration in an entirely professional manner. The apartment was great - exactly as hoped. Value for money excellent. Minor point - the information for drivers could have been more helpful, printed information regarding loading / unloading and parking on the street was unclear.

Fantastic apartment and location

zvika w. から Hod Hasharon Israel, 26. July 2013

July, 2013日後に7日間滞在

We rent Minka apartment for our family vacation at Prague
The apartment is well equipped with full kitchen 2 bed rooms and large living room the bed rooms coming with lining and towels so you just come and enjoy the flat.
Wifi is working good in most of the flat beside the children's room..
The location is in a very nice place of Prague thogh quite and not crowded , down stairs in the street you can find 3 groceries that are opening 7 days a week until 24:00. Also in the street you can find restaurants and bank , 5 minutes walking you can find several neighborhoods pubs with excellent atmosphere and beer ...
Arriving to the old city can be by walk 30 minutes or by tram to Andel station and from their with the yellow metro to Mustak , aftrer several days of heavy walking this become very convenient and fast ( buy the 30 minutes ticket that will be sufficient ).
3 minor issues with the flat : (1) no safe in the apartment , so we had to take passport etc all days long with us.. (2) wifi minor receiving issues in the children's room (3) no air condition in the flat However in mid of July with avg temp of 23 degrees celsius they are not a necessity - we had 4 fans in the flat and this was very good ( actually humidity is very low so fans are enough )

The staff of Rentego are excellent , responsiveness , they make sure that your stay will be in minimum problems. In no time they solve problems with the apartment , they return your calls immediately, for our quest for a late check out they response with immediately yes after checking that the flat is not booked.
They use electronic keys to the apartment so you can arrive late in the evening with the code they send in advance , very convenient

Highly recommended ! (No elevator so with restriction to limitation)

satifaction review

chichoux j. から st etienne de montluc France, 16. May 2013

April, 2013日後に2日間滞在

Very good experience and pleasant stay in Prague

my english is too bad to give you an answer

Jean-Christophe F. から ESSERTENNE France, 16. May 2013

April, 2013日後に7日間滞在

except for the hot water for shower it was excellent

Quite good apartment

Pierrick G. から PARIS France, 13. May 2013

May, 2013日後に5日間滞在

Great location, very calm.
Great apartment.

??????? ?????!

Stanislav D. から Ekaterinburg Russia, 06. May 2013

April, 2013日後に5日間滞在

????? ?????? ????????????? ???????????. ?????????? ???? ??? ???????????: ????????? ?????????? ? ????, ??????? ??????????? ???????, ????????? ??????? ? ??????????, ?????????? ??? ??? ????????. ????????? ?????? ???? ?? ??????? ? ?????????? ??????? ??????? ????????? ????????. ????????? ???????????? ???????? ??? ?????, ???? ????????? ???? ???????? ??????. ??? ????? ? ????????, ??????? ????????? ????? ? ?????????, ? ????? ??????, ???, ???? ? ?.?. ????? ???????? ?????? ??????. ??????????!

Great Location - Easy Connection

Reichenbach Steegan Germany, 29. April 2013

April, 2013日後に3日間滞在

Keyless Entry was terrific. Directions and things to do booklets in the apartment were great. Easy connection to tram stop right out front. Loading and Unloading can be a challenge 'legal' parking may not be available. Just leave someone to watch the vehicle. We parked at the garage under the opera house short 30 min walk or a tram ride. I would stay here again.

Perfect

Adam C. から Harlow United Kingdom, 20. March 2013

March, 2013日後に3日間滞在

Spent a long weekend (Fri-Mon) in Prague with 5 friends and it was made even better by the RENTeGO apartment and team with helpful e-mails and clear directions on the codes to be used and who would be waiting for us at the airport.

I could not fault the apartment and for the price we all paid I was amazed at how clean and well kept it was, I would stay here again in a heartbeat!

The apartment was in nice quiet area opposite a nice restaurant the Meduzza and for some late night food a Chinese that was open until about 11:00 next door, the apartment is about 15min walk from the Old town but the walk in well worth it and a good thing to do to scout out some pubs & clubs.

Overall could not have had a better place to stay and would recommend RENTeGO to anyone!

Thanks RENTego!

Adam

.

Czech Republic, 12. March 2013

March, 2013日後に9日間滞在

.

Minka

George D. から Germany, 21. February 2013

February, 2013日後に2日間滞在

RenteGo was very easy to work with and very profesional. They gave you a code with your confirmation to access the property so no keys were required and it was easy to come and go as desired. Would highly recommend this company!!!

PARFAIT.TRES BON SEJOUR. A RECOMMANDER.

NATHALIE D. から rosny sous bois France, 30. January 2013

January, 2013日後に3日間滞在

Location parfaite, rien ne manquait, propre et lumineux.
Famille avec deux enfants dont un bébé.(lit bébé, chaise haute)
Très confortable, très bien chauffé, bon matelas, lave vaisselle et lave linge !
Idéalement situé, commençants, restaurants, supermarché.
Une navette aller et retour organisée par renteGo.
Vous pouvez y aller les yeux fermés.
Organisme très sérieux, à recommander.


perfect compagny

amandine c. から United States, 03. December 2012

November, 2012日後に5日間滞在

very good

Very nice stay

United States, 24. September 2012

September, 2012日後に2日間滞在

The apartment is very clean and neat. It is in walking distance to Charles bridge and the main sights. Has double door security so very safe, also very quiet. Has quite a lot of stairs however and no lift. The instructions to find the place and get inside were very good.

Very well arranged

Denmark, 20. September 2012

September, 2012日後に4日間滞在

-

tres bon sejour,appartement tres bien situe nous reviendront.

MARLENE G. から ANDERT\\x2DCONDON France, 04. August 2012

July, 2012日後に3日間滞在

appartement superbe tres bien ammenage calme a deux pas du centre historique toute commodite a proximite excellent rapport qualite/prix .

best choice ever

United States, 02. May 2012

April, 2012日後に1日間滞在

we´ve been a groupe of friends, celebrating birthday in Prague. The apartment was next to Charls bridge, so most of the sights you can reach by feet and... of course also the party locations.

séjour en famille en avril 2012

Nathalie J. から osny France, 22. April 2012

April, 2012日後に3日間滞在

logement très bien situé qui permet de tout visiter à pied. la location est propre et bien équipée. Tous les commerces sont à proximité. Très bon rapport qualité/pris. Excellent séjour en famille (6 personnes) Prague est une ville magnifique. Merci

Minka - March 2012

Grenoble France, 02. April 2012

March, 2012日後に4日間滞在

Flat very well located, clean, calm and spacious.

Appartement à recommander!

Paul B. から USTARITZ France, 16. March 2012

March, 2012日後に3日間滞在

Appartement conforme aux photos, confortable, bien situé, ++

belle experience

blandine b. から marignier France, 03. October 2011

September, 2011日後に4日間滞在

appartement bien situé, systeme de reservation bien au point, rien à redire

Visiting Prague

United States, 16. September 2011

August, 2011日後に5日間滞在

We went to the Czech Republic to rest without tour operator, MINKA apartments rented by RENTeGO was very nice, especially the view from the balcony. I recommend this apartment, one of the main things is location: Charles Bridge and Old Centre was just
in a few steps.

huit jours à Prague

LE CHATELET EN BRIE France, 19. August 2011

August, 2011日後に7日間滞在

passez 8 jours ou plus dans cette grande location très lumineuse à proximité des principaux sites touristiques et cependant au calme!la réservation est rapide;l'équipe sympa et performante!

Good place and location

Gillingham United Kingdom, 13. July 2011

June, 2011日後に3日間滞在

We had a fantastic time in Prague and the apartment was great.

Gabriel d. から Paris France, 05. January 2011

December, 2010日後に3日間滞在

4 EXCEPTIONAL DAYS TO MINKA

Mickael P. から GRADIGNAN France, 03. January 2011

December, 2010日後に4日間滞在

DON'T HESITATE, IT'S THE BEST CHOICE TO VISIT PRAGUE !!!

bruno h. から AUTUN France, 28. December 2010

December, 2010日後に3日間滞在

Alban L. から United States, 25. December 2010

December, 2010日後に22日間滞在
アパートの正確な住所
Ujezd 5
Prague
10 分 から徒歩 カレル橋
チェックイン/アウト
チェックイン時刻
以降のチェックイン 4:30 PM (から荷物を置いておける可能性 1:00 PM)
チェックアウト時刻
までにチェックアウト 11:00 AM (まで荷物を置いておける可能性 11:00 AM)
簡単なチェックイン
コードロックまたは個人的なお迎えにより、お客様は直接 ...に行くことができます
チェックイン/アウトに関するさらなる情報
アメニティ
アメニティ
アメニティ
このアパートのアメニティのリスト
このアパートのアメニティのリスト
Attractions

churches, cinemas, festivals, live theater, museums, playground, restaurants, synagogues, zoo

Leisure activities

sight seeing

Local services and businesses

ATM/bank, groceries

Location

Downtown

Safety

Smoke detectors

Suitability

children welcome, non smoking only, pets considered, wheelchair inaccessible

アメニティ

Internet, Iron & Board, Linens Provided, Towels Provided, Washing Machine, baby cot and baby chair (option), balcony, dryer in the building, hair dryer, heating, iron and ironing board, linens and towels provided, non-smoking, totally keyless access, washing in the building
アメニティ

shower, toilet

エンターテイメント

radio and CD player, satellite, television

キッチン

Dishes & Utensils, Kitchen, Pantry Items, coffee maker, dishes and utensils, dishwasher, microwave, oven, refrigerator, stove, toaster

ビジネス

ATM nearby, Free Mobile Hotspot, free Internet (WIFI), writing desk

利便性

grocery nearby, medical services nearby, parking nearby, restaurants and bars nearby, shopping center nearby
間取図
間取図 この物件の大まかな間取図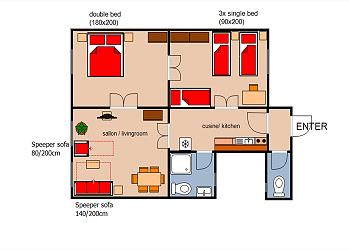 | | |
| --- | --- |
| Room | 部屋 |
| Hall | ホール |
| Kitchen | キッチン |
| Living-room | リビングルーム |
| Bathroom | バスルーム |
| Shower room | シャワールーム |
| Balcony | バルコニー |
| Terrace | テラス |
| Cloakroom | クロークルーム |
| Single Bed | シングルベッド |
| Double bed | ダブルベッド |
| Twin bed(s) | シングルベッド |
| Sleeper Sofa | スリーパーソファー |
| Mezzanine bed (usually a mattress on a wooden parquet) | 中二階のベッド(通常は木製の寄せ木細工上のマットレス) |
滞在期日に利用可能なアパートを見つける
-お客様が興味をお持ちかもしれない近くのアパート
Exact match:

KINSKY matches Bedrooms (3.0), Neighborhood (Center - Mala Strana), Service by (Service 100% Rentego) :-)

3 ベッドルーム - for 5 宿泊者 (最大 8)

1泊*あたりの料金* from 77€ to 155€

Bright and spacious apartment with a great floorplan. Situated across the river from National Theatre and 10 min walk from Charles Bridge, close to the Vltava river bank. Great location in Mala Strana, near the biggest park in central Prague.
ダウンロード
お客様が興味をお持ちかもしれない追加情報