検索
アパートの詳細& 料金の提案
予約する
ありがとうございます
MASARYK
2BR spacey - great deal minutes walk from Old Town and Wenceslas Square
2 ベッドルーム for 3 宿泊者 (最大 7)
Havlickova 6, Prague
管理者にお問い合わせください
Martinaにお電話ください
米国 +420 2 24 32 37 36
または 簡単なフォームに記入してください
Video
説明
Masaryk is a spacious apartment, which has a remarkable ratio between its price and the overall capacity. You can rent this apartment for up to 7 people, although it belongs to the price range of much smaller apartments with a lower capacity.

This apartment is well located in the very center of Prague. It only takes a few minutes to walk to all the major sights in Prague, such as the Old Town Square and the Wenceslas Square. There is also a tram stop "Masaryk Station" and the Republic Square metro station nearby, therefore it is very close to public transport. If you like to go out at night, be sure to drop by Long Street, which is famous for its bars and nightlife. The Masaryk apartment allows you to unwind after a long day of sightseeing. You will be able to use the well-equipped kitchen (coffee maker, microwave oven, toaster, etc.) to prepare a delicious dinner. If you rather go out for meals, you can enjoy the various fine restaurants and bars all within ten minutes! In case you are sensitive to noise, we will advise you to choose any of our other apartments in this neighborhood such as Smetana and Klimt, because Havlíckova Street is rather busy. According to excellent ratings, the windows give sufficient protection against noise.

The apartment can accommodate up to 7 people and is therefore an ideal option for families or groups of friends who want to explore Prague together. As all our other apartments, there is a high speed internet connection. Also the apartment is non-smoking with the option of smoking on the floors. If you want a better idea of what the apartment looks like, scroll down to view the floor plan.

Apartment use and noise: you commit to take care of the apartment and respect neighbours, particularly by respecting the interdiction of making noise between 22:00 (10 and 7 a.m. (which could result in 100 euros fine deducted from the damage deposit if neighbours complain about you and the police testify against you). Prague has many great places to party outside, and we wish you to enjoy it at best, the apartment is perfectly located for that ;-) /p>


PLUSES AND MINUSES:
+ Masaryk is located in the very center of Prague, only 10 minutes of walk from the Old Town Square
+ There is a balcony in the apartment which can be a practical thing for smokers
+ Elevator in the building
+ There is a washing machine which can be really convenient for longer stays
+ The apartment has a fully equipped kitchen
+ High-speed wifi provided
+ Many nice cafés and restaurants in the neighbourhood
+ Secured parking within 5 minutes' walk from the apartment (optional - not included in price)
- Since the apartment is very centrally located, the street can get noisy at night


CHECK-IN: from 4:30 p.m.
CHECK-OUT: until 11:00 a.m.
バスルーム

1

表面

79 m2

寝場所の手配

1 Twin, 2 Sleeper, 1 Double/Full Bed
レビュー
管理者は に推薦されて
ミシェラン・ツアーガイド2010
ミシェラン: すべてのアパートはプラハ1区にあり...ハイクオリティサービス...非常に魅力的な料金
プラハガイド
プラハガイドのテキスト
このアパートのレビュー者
We felt like living in prague!

Atsuko K. から Morioka Japan, 10. January 2019

November, 2018日後に10日間滞在

Everything is close! We can walk to sightseeing spots,shops,restaurant,opera and concert hall.
We enjoyed short trips from near station.
Thanks to the comfortable and clean room we had a wonderful time!
Reception and return of apartment key was very easy.
We recommend this room.



Prague

Grays United Kingdom, 17. December 2018

December, 2018日後に3日間滞在

This apartment was in central location to everything very clean and everything was needed in there
Tv was a plus bonus would recommend

Masaryk

Bonn Germany, 21. November 2018

November, 2018日後に4日間滞在

Great room. Lot of Space and a very well-situated

un superbe appartement à conseiller

josiane L. から Queven France, 20. October 2018

September, 2018日後に7日間滞在

Très bel appartement, bien situé au centre historique de Prague. Nous avons tout visité à pied. Rien ne manquait dans la cuisine, ni dans la salles de bains et WC. Il y avait même une trousse de secours.Personnel très compétent qui a toujours répondu à nos questions rapidement.Merci beaucoup

Très bien situé et bel appartement

michel d. から LA CAVALERIE France, 24. September 2018

August, 2018日後に7日間滞在

Nous avons apprécié cette location, à deux pas du vieux Prague. Endroit agréable et calme. Nous recommandons.

Great location in the heart of Prague!

Irina Z. から Katy United States, 23. June 2018

June, 2018日後に6日間滞在

Perfect location, clean apartment. All questions were answered promptly.

excellent

bernard f. から toulouse France, 03. June 2018

May, 2018日後に5日間滞在

très bonne expérience, excellente localisation, appartement très commode et confortable, très bien équipé. Seul point noir: le bruit du tram qui fait trembler la maison et fait penser à l'orage!

masaryk

Aurore V. から BOGNY SUR MEUSE France, 07. May 2018

April, 2018日後に6日間滞在

all is ok

vacation stay at Masaryk apartment in prag

Rudha A. から Berlin Germany, 10. April 2018

April, 2018日後に5日間滞在

Our residence war very nice 😊,it was good organized from the staff,who was respectful and helpful .we will certainly rent a vacation apartment again by Rentego again .thanks alot
It's good honestly to recommended..
Family Al-Rubaiee

IKEA apartment in a central location.

Paul R. から Dundee United Kingdom, 25. February 2018

February, 2018日後に3日間滞在

The apartment was warm and clean and in a central location, close to all the main tourist attractions.
It was furnished throughout with IKEA products; beds, tables, lamps, cutlery, crockery, etc, and some of it had seen better days. The whole place looked a little tired and could do with some maintenance.
The iron is in a dangerous condition with a cord which is worn through in at least 2 places - we chose not to use it!
The door to the apartment does not feel secure; when it is closed, there is a lot of movement. Further to this, there is no safe provided for passports, money, etc.

10 DAYS STAY AT MASARYK APARTMENT

OREN S. から Petah Tikva Israel, 19. December 2017

December, 2017日後に10日間滞在

we are a family of 4 persons 2 adults and 2 kids 2 and 7 years old.

I will divide my review in to prone and cones:

1.Location! Location! Location! the apartment is greatly situated near the republic square close to the old city shopping streets and centers and the old city.
2. Public transportation. Very close to tram metro and bus stations. Many lines that will take you almost everywhere in the city.
3. Close to shopping center the Palladium and Bile labut centers are 2 minutes of walking.
4. Retnetgo mobile which enables internet connection anywhere in the city for free
5. The internet in the apartment is very fast and stable with very simple connection
6. TV can be connected to the internet so practically you can watch everything by net.
7. Very efficient customer service - we had 2 issues we needed help they answered promptly and problems were immediately fixed.

Cones:

1. Furniture is very basic - in the dormitory there were 2 single beds put together and not a double bad which was not very comfortable.

2. basic cleaning and kitchen tools like broom and kitchen spoon were missing

3. Regulation of water temperature in the bath is difficult it takes time till you get water that is not to warm or to cold.

4. There was a significant wetness in the walls and ceilings in the bath and the dormitory.

The overall Score I will give this apartment is 8.5




November Birthday Trip

Charles S. から Holmfirth United Kingdom, 23. November 2017

November, 2017日後に4日間滞在

Excellent 4 night break in Prague in a superb apartment
Great location, well appointed
Great service from the Rentego team offering early check in and late check out without a request
Free WiFi with a mobile WiFi hotspot thrown in which was brilliant

très bon séjour

aurelie M. から floing France, 07. November 2017

November, 2017日後に3日間滞在

appartement très spacieux et très bien équipé. parfaitement situé dans le centre. nous avons pu faire toutes les visites à pied. l'appartement se trouve juste à coté d'un centre commercial et d'un arrêt de tramway. les échanges pour récupérer les clés etc ont été parfaits. légèrement bruyant (bruits de la rue) excellent rapport qualité prix

location à Prague

Joel L. から mareil en france France, 29. October 2017

October, 2017日後に5日間滞在

Très bon séjour

Loved Prague

Market Deeping United Kingdom, 20. August 2017

August, 2017日後に4日間滞在

First visit to Prague for a lot of sightseeing and soaking up the local culture

Big spacious Apartment

eunike Christian b. から ??? Indonesia, 24. June 2017

June, 2017日後に2日間滞在

Everything was great, nice spacious room, pretty surprised with the room size and we have large windows, so the room is very bright.
Well equiped kitchen.
Perfect location just a couple of minutes walk to Old Square, supermarket are nearby. The highlight of this place is they provide us a portable wi-fi hub so you could carry a portable internet when you are out ,not something I'd seen anywhere before. Very cool!
Location is perfect, close to town centre, trams and train station

The other things is the apartment is not realy clean.

My staying

Michael Perez-Rodriguez b. から amstelveen Netherlands, 01. March 2017

February, 2017日後に4日間滞在

it was as expected...amazing


Appartement tres bien situé

gilles L. から melun France, 31. October 2016

October, 2016日後に6日間滞在

Séjour parfait dans cette magnifique ville, l'appartement est très proche du centre historique et est bien équipé , le seul bémol est le bruit du tramway ...
L'équipe rentego a réagi immédiatement suite à un problème et l'a solutionné, et le service de chauffeur est pratique. Je recommande à tous cet appartement .

Masaryk Apartment - Great Location

Hannah H. から ??? United Kingdom, 19. October 2016

October, 2016日後に3日間滞在

Rentego made our whole trip enjoyable. Very helpful and responded to emails quickly and 24/7.
The location was fantastic and the apartment was extremely spacious and clean.
I recommend arranging tours and transfers through them also. Great deals and hassle free.

perfect for young people who like to be in the center

Praha 3 Czech Republic, 14. October 2016

September, 2016日後に6日間滞在

The Masaryk apartment is very spacious-tall ceilings and lots of space in the rooms and is in a great location but I would not suggest it for warm days as it doesn't have air conditioning and the streets outside are so busy (night and day) and polluted that it's not comfortable to have an open window. I would suggest it rather for younger crowd than a mature couple or a family. The equipment is very basic, but generally there's all you might need, it's great to have kitchen when you travel.Beds and bedding could be more comfortable, two single covers on a double bed was a little surprise too. Generally the apartment feels little bit empty with an odor of an old building. Also the building where it's placed has a little bit dark feel to it but I can imagine that is something that some people would appreciate- taste of old classic Prague rather than a fancy hotel. I think it's perfect for a group of younger friends who want to be close to downtown and don't mind the noise.

Nice apartment. God location.

Svein Age F. から Faberg Norway, 06. September 2016

September, 2016日後に3日間滞在

IT was A clean apartment. God location in The old city center. We where 6 people and IT was Ok. We just sleep there. One big bedroom.

Response from RENTeGO

14. 9月 2016

Thanks a lot Svein, it's great to hear that you enjoyed your stay in the apartment MASARYK :) Don't hesitate to contact us next time you come to Prague!

LOCATION MASARYK

joelle C. から VIGNEUX-SUR-SEINE France, 30. August 2016

August, 2016日後に2日間滞在

Appartement très bien localisé, très grand et lumineux. Nous avons apprécié la qualité des services aussi bien à la réservation qu'avec le chauffeur pour les transferts. Service très confortable.Tout est fait pour faciliter notre séjour (de la préparation au séjour lui-même). Ce qui est confortable c'est d'avoir à disposition dans l'appartement des produits d'entretien et le basique pour la cuisine (sel, sucre, café, thé...). Je recommanderai cet appartement et les services offerts par rentego qui sont excellents. Merci .

Response from RENTeGO

14. 9月 2016

Merci beaucoup!

masaryk

Fontaine N. から Cambrai France, 27. August 2016

August, 2016日後に4日間滞在

Masaryk is a good place to visit Prague on foot and to take train and trams .It's a spacious appartment but the furniture is old and broken .It's very clean .The management company is very professional and kind

Response from RENTeGO

29. 8月 2016

Thanks a lot :) See you next time!

Vive le centre de Prague !!!

Didier M. から United States, 13. August 2016

July, 2016日後に3日間滞在

Idéalement placé en plein centre de Prague l'appartement est tres agréable comme annoncé par les photos avec un équipement satisfaisant.
Le Tram passe en bas de la rue , nous avons apprécié cette ambiance mais prévoir des boules quies pour les oreilles sensibles des 5 h du matin ou le tram reprend du service . En juillet comme nous y étions, si on peut gérer son temps pour le parcmetre( tous les 4 h plage de 8H à 18 H) la bonne surprise c'est qu'il y a toujours des places en bas de l'immeuble et le coût est alors bien moins élevé que dans un parking payant.


Prague 2016

michel r. から l'isle-jourdain France, 01. June 2016

May, 2016日後に4日間滞在

we were very pleased with the overall location service provided by RenteGo.
No doubt we'll recommend this to any friend or relation.

Response from RENTeGO

29. 6月 2016

Thank you very much!

8 days in Praha

Philippe P. から Aix les Bains France, 20. April 2016

April, 2016日後に8日間滞在

It's a very good flat with very good information for the parks

Response from RENTeGO

18. 5月 2016

Thank you Philippe :)

A good place to visit Praha

Ami de M. から United States, 05. January 2016

December, 2015日後に7日間滞在

The flat is very close to the old center, to a mall, a train station... It's very easy to visit on foot. The apartment is large with plenty of storage, we slept very well, we had great holidays !

agréable, spacieux et bien situé

soazig m. から cerans foulletourte France, 30. December 2015

December, 2015日後に6日間滞在

pour la seconde fois nous utilisons Rentego pour notre séjour à Prague, et nous sommes très satisfait de la qualité de vos services, la prise en charge et le sérieux de votre entreprise

Response from RENTeGO

08. 4月 2016

Merci beaucoup Soazig. À la prochaine!

Strategic point

wilson c. から Niteroi Brazil, 07. November 2015

October, 2015日後に9日間滞在

This apartment is very well located. It has everything needed for great moments in Praga. Thank you so much for rentego group. We Will see you again in the future.


Response from RENTeGO

13. 11月 2015

It's been our pleasure to host you, Wilson! We are really glad that you enjoyed your stay and that you were satisfied with the amazing location of the apartment Masaryk. You are very welcome to stay in any of our apartments again :)

Prague Masaryk

Vantaa Finland, 06. November 2015

October, 2015日後に5日間滞在

The location of this appartment is perfect. The property was little bit old but still ok.
The only negative thing was that the shower didn't work.

Response from RENTeGO

13. 11月 2015

Thank you, Jutta. We have already informed our technician about the shower and he will take care of it, thank you for notifying us.

séjour Prague octobre 2015

Michel C. から Artiguelouve France, 29. October 2015

October, 2015日後に9日間滞在

Appartement très bien situé a deux pas du cœur de la ville.Un peu bruyant avec le trafic du tram en contre bas.

Response from RENTeGO

20. 11月 2015

Merci beaucoup, Michel! Nous vous remercions d'avoir choisi Rentego lors de votre visite à Prague et nous nous réjouissons de votre prochaine visite.

anything

CAROLINA M. から GRANADA Spain, 18. October 2015

September, 2015日後に11日間滞在

it´s ok

Response from RENTeGO

26. 10月 2015

Thank you, Carolina.

Very nice

sophie b. から Furiani France, 01. September 2015

August, 2015日後に3日間滞在

We were very satisfied with the property ; The flat was clean, the management compagny very professionnal.
The flat is also in the town's center
A good choice !!!!!!

Response from RENTeGO

02. 9月 2015

Thanks a lot Sophie, we would be happy to host such nice guests again!

Comfortable pad for Prague~

Hradec Kralove Czech Republic, 02. August 2015

July, 2015日後に4日間滞在

very comfortable space for 5-7 people. Very close to the shopping mall and supermarkets. Easy walk to old town. Hassle-free renting and communication was perfect! I would recommend staying here, and consider coming back myself. :)

Response from RENTeGO

21. 8月 2015

Thank you Estella, feel free to contact us again for your next trip to Prague! :)

A la conquête de Prague !

Claire B. から Grenoble France, 17. June 2015

May, 2015日後に4日間滞在

l'appartement convenait tout à fait a la réalisation de notre projet : très bien situé par rapport au centre touristique, nous avons pu tout faire à pied. Il y a toutes les commodités à proximité : poste, transports, marché, supérette bio... Très pratique, très propre. Nous le recommandons. Le système RenteGo est idéal : clé envoyée et explications.. On découvre Prague dans d'excellentes conditions.

Great stay for New year

Camden United Kingdom, 23. January 2015

December, 2014日後に4日間滞在

We really enjoyed the service of Rentego and the quality of the flat, actually bigger than expected from the pictures we saw on the website, clean and very convenient to have meals there + good heating very important when you visit in winter, very professional customer service, very central location, would recommend to anyone looking for a place to stay in Prague

Prague masaryk

Apremont France, 23. November 2014

November, 2014日後に3日間滞在

Web have booked by internet ans all was good. the only problem was the water in the shower.

Bonne adresse

Pierre R. から Angers France, 19. November 2014

October, 2014日後に5日間滞在

L'appartement "Masaryk" a parfaitement répondu à nos attentes pour cinq nuitées à 3 personnes. Deux vastes pièces au 3e étage. Equipement suffisant pour repas légers. Situé à l'est de la Vieille ville, mais à 500 m seulement de la Tour Poudrière. Très bien desservi par les lignes de tram, par exemple pour monter directement à Hradcani.
Revers de la médaille, leur roulement , brièvement interrompu la nuit, peut gêner un sommeil léger.
Bonne adresse pour séjourner à 3-6, correspondant au descriptif. Aucun souci particulier. Nous avons apprécié le service de taxi entre l'aéroport et l'appartement.

bonne situation

Valerie Z. から BIERNE France, 17. November 2014

October, 2014日後に3日間滞在

pratique et facile d'accès.Mobilier vieillot (les photos sont très flatteuses!!), les deux sofas peu confortables.
Très bien situé, plein centre.
bon rapport qualité prix, à conseiller.

A very satisfying stay

Sao Paulo Brazil, 25. August 2014

August, 2014日後に3日間滞在

Me and my family for 3 nights in the apartment Masaryk in Prague. Enjoyed it very much. The apartment was spacious, well furnished, with comfortable beds,
sheets and towels, kitchen utensils. Well located with great trade around and with good public transport .Michaela welcomed us very friendly who gave us all the necessary information.
Certainly recommend it to my friends, both the apartment as service RENTeGO.

Perfect location, spacious apartment and easy comunication

Yuri A. から United States, 11. August 2014

August, 2014日後に3日間滞在

Perfect location, spacious apartment and easy comunication with the host.

prague en mai

Marie-Christine D. から St Vincent de Barrés France, 14. May 2014

May, 2014日後に6日間滞在

appartement lumineux, spacieux et confortable;
très bien équipé et très bien situé ce qui nous a permis de visiter Prague à pied
nous sommes prêts à renouveler l'expérience de location avec Rentego dans d'autres capitales européennes!

Nice place

Saint Même Le Tenu France, 23. April 2014

March, 2014日後に4日間滞在

Nice place

Masaryk review

Laure R. から Villejuif France, 02. March 2014

February, 2014日後に4日間滞在

It was family vacation with 2 young children. The appartment was a great choice (place close to the old center of Prague, large rooms, clean), except for the noise (trams are working even during the night). But anyway, we enjoyed a lot our stay and have discovered a beautiful town. Thanks again for your service.

Super

Crassier Switzerland, 26. February 2014

February, 2014日後に4日間滞在

It was perfect !

très bon WE à Prague

Fleur P. から LARDY France, 03. January 2014

December, 2013日後に4日間滞在

Dans l'ensemble nous avons été très satisfait de notre WE. Pour plus de détails voir le questionnaire de satisfaction rempli dans l'appartement. Nous serions prêt à repartir avec cette enseigne dans une autre ville si possible.

3 days in Prague

Madrid Spain, 01. December 2013

November, 2013日後に3日間滞在

The apartment's location is great, within walking distance to all the places of interest. The Rentego staff were extremely helpful and always available to answer our doubts and solve our problems. The apartment was big, clean and very comfortable. I would totally recommend this place.

Prague visit

Kevin H. から United States, 15. November 2013

September, 2013日後に7日間滞在

I had the opportunity to visit Prague in late September and I loved the place I stayed at. It was very spacious and there was a lot of information in the apt about things to do in the area. And they had it in different languages! It was a central location not far from sites and from where I wanted to be as well as near public transportation.

Masayk stay

Paris France, 08. October 2013

October, 2013日後に3日間滞在

Location is convenient, appartment is huge. Rentego team very competent and helpfull.

Court séjour

Lucie P. から Montreal Canada, 02. October 2013

September, 2013日後に4日間滞在

Appartement très confortable et bien situé, presque tout est à distance marchable. Cependant lorsque les fenêtres sont ouvertes, le tram est bruyant. Dans l'ensemble, je recommanderais cet appartement.

I was unable to

lawerence f. から New Smyrna Beach United States, 23. September 2013

September, 2013日後に2日間滞在

Staff was very helpful. The Beds were not
Terribly comfortable and the living room furniture not clean or comfortable.
The apartment was quiet and located close to good transportation.
Bedrooms were spacious and the kitchen was well equipped and great for cooking.


very good trip

Aurelia D. から PARIS France, 06. September 2013

August, 2013日後に4日間滞在

Congratulations for your organisation.
The flat was big, clean and good localised.
I will recommend you!

Séjour incroyable

Valentin R. から Paris United States, 31. August 2013

August, 2013日後に6日間滞在

Nous étions 7 et sommes restés une semaine dans l'appartement MASARYK. Il est idéalement placé, au coeur de la ville et offre tout le confort nécessaire.
Je vous le recommande sans aucunes hésitations.
De plus l'équipe de RENTeGO est adorable et très serviable.
Merci pour ces vacances ;)

Praha 2013

Cedric F. から Saint-Jean Bonnefonds France, 23. August 2013

August, 2013日後に4日間滞在

Good trip, good flat.

excellent trip

COMBES J. から SAINT JEAN DE FOS France, 19. August 2013

July, 2013日後に2日間滞在

excellent place to live, close to the city center, perfect to leave your baggages and walk to the famous place, enjoy your visit!!

Awesome stay

Andrew H. から United States, 08. August 2013

August, 2013日後に3日間滞在

It was everything that we expected. I liked how close it was to the town centre. Very spacious and could even accommodate for groups.

Très bon séjour à l'appartement Masaryk

FLORIAN K. から THIONVILLE France, 27. May 2013

May, 2013日後に3日間滞在

Appartement conforme aux photos, très bien situé dans Prague à côté du centre commercial Palladium, d'une station de Tram et du Métro.
Appartement spacieux, propre. Les lits sont confortables. Pour 7 personnes c'était très bien. Je le recommande à tous! Si un jour je repars à Prague en étant ce même nombre de personnes, je le reprendrai sans hésitation!

A good stay

NOHANENT France, 16. May 2013

April, 2013日後に7日間滞在

Very professional Rental service( Rentego) . Thank you to Vladka for her help and congratulations for her perfect French. So helpfull to be able to speak french with her.

Séjour super

BEAUCOUZE France, 06. March 2013

February, 2013日後に3日間滞在

Très bon séjour.

overall really good

Giulia D. から Cassacco (UD) Italy, 04. January 2013

December, 2012日後に5日間滞在

Overall it went very well. furniture was fine, checkin and checkout went very smoothly, location was great close to old town square and 2 minutes from the big shopping mall. We had problems with wifi, the shower was always leaking, some linens were missing.

Response from RENTeGO

11. 1月 2013

Dear Giulia, we are happy you had a pleasant stay in Prague. As per your wifi trouble, I remember having you (or someone from your party) on the phone about several issues and I considered them sorted out while navigating you directly or via our technical staff. I hope this was the case in the end... :-) We hope to have you back and wish you a great 2013! Vladka and the Rentego team

We are very happy.

lydie d. から paris France, 17. December 2012

December, 2012日後に2日間滞在

informations, organization, the rented property were quality of good. But we hadn't understand why we had 4 sheets for 5 persons.

Response from RENTeGO

11. 1月 2013

Dear Lydie, we are happy you are/were happy :-) and please just call us next time you confront a problem with number of sheets in our apartment - we would have delireved them immediatlly of course :-) ! Have a great 2013 ! Vladka and Rentego team

I visited Prague, the city of my grandfather

Roberto D. から United States, 28. October 2012

September, 2012日後に2日間滞在

La primera impresión que recibimos al ingresar al apartamento fue desagradable. El olor a humo de cigarrillos era excesivo, tuvimos que ventilar todas las habitaciones. Otra sorpresa negativa fue encontrar que en la nevera no funcionaba el freezer, pero no resulto nada grave. Lo demás, la ubicación del apartamento, el estado del mismo y del edificio, el moderno ascensor (creíamos que el acceso era por escaleras), todas las explicaciones recibidas para el check-in y el check-out y la facilidad del sistema de contratación fueron excelentes.
De volver a Praga, volveríamos a contactarnos con Uds. And we loved Prague!!!

Masaryk

Amy R. から Hartford United States, 25. September 2012

September, 2012日後に3日間滞在

The place was clean and spacious, but for 112 Eur. I was expecting something a bit less basic. Strange living room arrangement, not conducive for relaxing and the furniture was old Ikea or worse. Our last day the key pad combination was changed and we were locked out, so had to go to the nearby Hilton to ask the concierge to call the rental agency. The person we talked to seemed irritated, as if it were our fault! It could have been a disaster. However, the location is excellent and an easy walk to the metro, train station, Old Town, etc. Small gripe, but if I'm paying that much, should I have to take out my garbage when I leave? Isn't that what the cleaning service does?

Response from RENTeGO

27. 9月 2012

HI Amy, I went carefully through our correspondence, which includes many many emails :-) and I confirm the following : You confirmed a reservation for 2 nights, but once you have received the final confirmation ("Payment confirmation" with an entrance code 517899, that worked only till the 14th ) you realised you only reserved for 2 nights instead of 3. We agreed on adding that extra night (see my email from August 11th) and sent you another "Payment confirmation letter , obviously with another entrance code 70594. This is the code you were supposed to be using - that worked till the 15th. My question about the code you used was obvious - not being sure if you used the right code and knowing that in case you used both, they cancel each other, so that not one would work. You called our hotline and we picked up and gave you immediately a code that let you in. This is to say that there was clearly no mistake made from our side and I am sorry you feel disappointed with the service, but we really did our best to make your stay pleasant and far from being desasterous :-). This being said, we are happy you had a nice trip in general and will be happy to have you again in our apartments:-) Vladka Navel

Perfect stay in Prague

PARIS France, 19. September 2012

August, 2012日後に3日間滞在

I go to Prague quite often and was looking for a place to stay for 2 to 4 people, not too expensive, in the center but not in the tourist area and I found exactly what I wanted!
Huge rooms, confortable beds, convenient furnitures and perfect location.
I would certainly advise to go there.

Séjour à Prague à l'appartement Masaryk

Stephane B. から COURTRY France, 27. August 2012

August, 2012日後に6日間滞在

I have appreciated a lot the service of Rentego. I had already gone there two years to Prague with the same agency and if I return in Prague I would go back by this agency.

very good

Dominique G. から BOULIAC France, 09. August 2012

July, 2012日後に7日間滞在

thank you !

Great place in Prague

Rae A. から Shanghai China, 02. August 2012

July, 2012日後に3日間滞在

like this room very much! It's close to city center, and well facilitated. Eating around will not be a problem. Moreover, it's close to the main bus station, only 10 min walk or less. I'll definitely recommend this room to visitor to Prague.

Masaryk Apt

Sunrise United States, 02. August 2012

July, 2012日後に2日間滞在

The good:

Large apt very close to all sights. Parking at the Mariott within 1 block. Small store on the 1st floor was convenient for drinks and small items. Looks like a new elevator is being installed.

The not so good:

Seems that items reported as broken over the last year have not been resolved. Wash machine is not working, freezer not working. Nothing that would ruin a trip, but not as expected.

I will say that the staff was very quick to respond to the issues and offer solutions. The entire process from booking to departure was very well organized. They provide great documentation on the area and the rental process itself.

Merveilleuse ville de Prague

ROUEN France, 15. May 2012

April, 2012日後に7日間滞在

L'appartement est idéal pour un séjour familial, spatieux et très bien situé pour tout faire à pied. Je recommande Rentego comme système de location simple et efficace.

Lovely apt in charming old house Prague 1

Ishoj Denmark, 09. April 2012

March, 2012日後に8日間滞在

Everything worked well, only a few cleaning issues. The washing maschinery was full of long hair. Not very charming.
The freezer didn't work, and seemed to have not been working for some time.
A fridge with a small internal freezer might do it, just for icecream, ice cubes and a little food.
Some of the windows had issues with the handles, nothing alarming, but it might need a check-up.
Apart from the technical details, everything was super. And location is perfect, not to close to the party zone.

Response from RENTeGO

12. 4月 2012

Thank you for Your review! We`re working on putting in order the issues You mentioned. We` re looking forward to see You in Prague again! RENTEGO

Prague

SAINT JEAN DE LUZ France, 21. March 2012

March, 2012日後に2日間滞在

Very good place, clean and quiet
Go

Séjour parfait!

CALUIRE France, 25. February 2012

February, 2012日後に5日間滞在

Un emplacement parfait pour découvrir Prague. Nous n'avons jamais pris les transports en communs (qui sont au bout de la rue). l'appartement est grand, spacieux, bien équipé, calme, fonctionnel. Bref, au top!

Seul (très) petit bémol : les 3 étages sans ascenseurs pour les bagages...

Exceptional service, flat size and location

Saint Petersburg Russian Federation, 14. January 2012

January, 2012日後に3日間滞在

We've enjoyed our stay very much - it's hard to tell details about what has been good - almost everything was perfect.
One minor thing - the washing machine was broken, has to be repaired.
Apart from that, everything was excellent. I will definitely recommend your company to my friends. Thank you.

OK

ROLAND R. から GROOT-BIJGAARDEN Belgium, 12. January 2012

December, 2011日後に5日間滞在

Good

X-mas at Prague

Versailles France, 28. December 2011

December, 2011日後に5日間滞在

We had a wonderful holiday in Prague.The appartement is ideally situated and the rentego team very professional and helpful.

Très bonne expérience à Prague

France, 07. November 2011

October, 2011日後に4日間滞在

Tout c'est très bien passé
Pour la reservation votre équipe parlant français, cela à grandement facilité les démarches. De plus vous avez toujours été très sympatique que ce soit au téléphone ou sur place ou l'acceuil a été très agréable.
Merci beaucoup

???????, ???? ????????? ? ???????.

Tatyana K. から Russian Federation, 17. October 2011

October, 2011日後に4日間滞在

??? ???????????, ????? ?????????? ???.

Great team, great location, recommended !!!

BALMA France, 13. October 2011

October, 2011日後に3日間滞在

All perfect, staff, location, city. thks !!

Very good

Alexandre M. から Geneve Switzerland, 28. August 2011

August, 2011日後に4日間滞在

Très satisfait. Appartement très propre et très bien placé.

Jean-Sebastien P. から ANGERS France, 28. August 2011

August, 2011日後に3日間滞在

Agréable séjour

PHILIPPE L. から PLESCOP France, 28. August 2011

August, 2011日後に5日間滞在

Appartement bien situé (nous avons tout visité à pied), confortable, très propre et spacieux.

Appartamento in ottima posizione centrale ideale per un soggiorno

domenico r. から United States, 21. August 2011

July, 2011日後に3日間滞在

Nathalie P. から ---- France, 04. August 2011

July, 2011日後に5日間滞在

isabelle c. から aurillac France, 28. July 2011

July, 2011日後に4日間滞在

aude c. から granges les beaumont France, 21. July 2011

July, 2011日後に3日間滞在

C'est dommage que rentego ne soit présent qu'à Prague car le principe est vraiment bien et l'équipe est compétente: les réponses aux mails sont rapides. Merci

Linda Thériault (Lac-Beauport, Québec, Canada)

Linda T. から Lac\\x2DBeauport Canada, 12. May 2011

April, 2011日後に6日間滞在

Grand appartement très bien situé. Près de la vieille ville et de la gare.

Montauban France, 11. May 2011

May, 2011日後に4日間滞在

Gemma N. から Castejon Spain, 02. May 2011

April, 2011日後に4日間滞在

Prague Apartments

Colleen K. から ---- United States, 07. April 2011

March, 2011日後に4日間滞在

Had a heat and hot water problem in first apartment, but agency took care of it right away and was very helpful with us moving apartments. Great service and gorgeous apartments, I have already recommended it to many friends!

France, 05. April 2011

April, 2011日後に2日間滞在

Very good reactivity and availability of the local contact person.

United Kingdom, 27. February 2011

January, 2011日後に36日間滞在

Catherine D. から Saint-Pancrasse France, 07. January 2011

December, 2010日後に5日間滞在

Happy in 2006, and still happy in 2010 :-)

CEDRIC C. から SERVIAN France, 19. December 2010

December, 2010日後に6日間滞在

We sent you the (paper) survey with the key. I'll continue to recommend Rentego to all my friends who want to stay in Prague :)
アパートの正確な住所
Havlickova 6
Prague
9 分 から徒歩 オールド タウン スクエア(旧市街広場)
チェックイン/アウト
チェックイン時刻
以降のチェックイン 4:30 PM (から荷物を置いておける可能性 1:00 PM)
チェックアウト時刻
までにチェックアウト 11:00 AM (まで荷物を置いておける可能性 11:00 AM)
簡単なチェックイン
コードロックまたは個人的なお迎えにより、お客様は直接 ...に行くことができます
チェックイン/アウトに関するさらなる情報
アメニティ
アメニティ
アメニティ
このアパートのアメニティのリスト
このアパートのアメニティのリスト
Attractions

churches, cinemas, festivals, live theater, museums, restaurants, synagogues, zoo

Leisure activities

sight seeing

Local services and businesses

ATM/bank

Location

Downtown

Safety

Carbon monoxide detector, Smoke detectors

Suitability

children welcome, non smoking only, pets considered, wheelchair inaccessible

Theme

Tourist Attractions

アメニティ

toilet, tub

アメニティ

Elevator, Internet, Iron & Board, Linens Provided, Towels Provided, Washing Machine, baby cot and baby chair (option), balcony, elevator in the building, hair dryer, heating, iron and ironing board, linens and towels provided, non-smoking, washing with dryer
エンターテイメント

Satellite / Cable, Stereo, radio and CD player, television

キッチン

Dishes & Utensils, Kitchen, Pantry Items, coffee maker, dishes and utensils, microwave, oven, refrigerator, stove, toaster

ビジネス

ATM nearby, Free Mobile Hotspot, free Internet (WIFI)

利便性

grocery nearby, medical services nearby, parking nearby, restaurants and bars nearby, shopping center nearby
間取図
間取図 この物件の大まかな間取図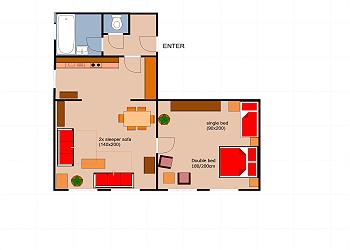 | | |
| --- | --- |
| Room | 部屋 |
| Hall | ホール |
| Kitchen | キッチン |
| Living-room | リビングルーム |
| Bathroom | バスルーム |
| Shower room | シャワールーム |
| Balcony | バルコニー |
| Terrace | テラス |
| Cloakroom | クロークルーム |
| Single Bed | シングルベッド |
| Double bed | ダブルベッド |
| Twin bed(s) | シングルベッド |
| Sleeper Sofa | スリーパーソファー |
| Mezzanine bed (usually a mattress on a wooden parquet) | 中二階のベッド(通常は木製の寄せ木細工上のマットレス) |
滞在期日に利用可能なアパートを見つける
-お客様が興味をお持ちかもしれない近くのアパート
Exact match:

Rosa matches Bedrooms (2.0), Neighborhood (Center - New Town), Service by (Service 100% Rentego) :-)

2 ベッドルーム - for 6 宿泊者 (最大 6)

1泊*あたりの料金* from 62€ to 125€

Bright and spacious apartment is situated in a calm district of Prague 1 Nove Mesto, 10 min walk from Old Town Square and Charles Bridge, with a view on the Vltava river and a small part

Exact match:

MOLDAU matches Bedrooms (2.0), Neighborhood (Center - New Town), Service by (Service 100% Rentego) :-)

2 ベッドルーム - for 3 宿泊者 (最大 5)

1泊*あたりの料金* from 62€ to 125€

Bright apartment, close to Vltava river, in central Prague, 10 min walk from Old Town Square. It is situated 2 min by walk from apartments KLIMT and SMETANA, which can be practical for groups. Park close by, quiet district.
ダウンロード
お客様が興味をお持ちかもしれない追加情報