検索
アパートの詳細& 料金の提案
予約する
ありがとうございます
LORETA
Romantic 2 BR apartment only 1min walk from Prague Castle
2 ベッドルーム for 3 宿泊者 (最大 5)
Loretanska 7, Prague
説明
If you like romantic scenery, Loreta is the place for you. There is nothing more pleasant than a drink on the balcony after a tedious day of sightseeing with a beautiful view of Prague. The balcony is just above a nice garden, well- kept by occupants in the other apartments. You can also see a nearby park called Petrin, the largest "green" area in Prague. Since the apartment is located in a pedestrian area, one minute from the Prague Castle, the rattling of trams or the vexing traffic noises will not disturb you. Loreta is perfect for a hot summer day, thanks to the strong walls and a basement, typical for Prague's 18th century buildings. On the other hand in winter, Loreta will delight you with pleasant floor heating throughout the whole apartment. Due to the numerous restaurants and pubs nearby, you might not even notice the miniature kitchen which is unsuitable for preparing complex meals, but fully equipped for preparing breakfast or a quick snack. Loreta is ideal for 2-3 guests and the optimal price is calculated according to this. If you choose to stay here with a group of five people for example, you will save some money, but you might find the bathroom and kitchen, as well as the water heater insufficient. As all our other apartments, there is a high speed internet connection. Also the apartment is non-smoking with the option of smoking on the balconies. If you want a better idea of what the apartment looks like, scroll down to view the floor plan.


Most of the houses, located in Loretanska Street, were built on a burnt-out area after a fire in 1742. The name of the apartment as well as the street it is on are named after a well-known baroque historical sight with unique chimes, donated by merchant Eberhard von Glauchau. Every hour Marian songs start to sound and on holidays religious music is performed by organ players. Loreta chapel is a copy of Santa Casa, the saint house in Italian Loreto that has been worshiped as a place of the Incarnation. Loreta and its surroundings are connected with many legends; unfortunately most of them are sad. One of the well-known ones is about a poor widow and her children. At the time of a plague all the widow's children got sick and passed away one by one. Every time she buried one of them, she took her saved up coin and had the bells rang for the poor child. Eventually she became sick herself. When she died, the glockenspiel started to play a Marian song which we can hear today.

Apartment use and noise: you commit to take care of the apartment and respect neighbours, particularly by respecting the interdiction of making noise between 22:00 (10 and 7 a.m. (which could result in 100 euros fine deducted from the damage deposit if neighbours complain about you and the police testify against you). Prague has many great places to party outside, and we wish you to enjoy it at best, the apartment is greatly located for that ;-)

PLUSES AND MINUSES:
+ Loreta is located in the very center of Prague, just one minute from Prague Castle
+ There is a balcony in the apartment which can be a practical thing for smokers
+ Romantic view over the historical center of Prague
+ Situated on the 1st floor
+ Very quiet at night thanks to its location
+ The apartment has a fully equipped kitchen
+ High-speed wifi provided
+ Many nice cafés and restaurants in the neighbourhood

CHECK-IN: from 4:30 p.m.
CHECK-OUT: until 11:00 a.m.
バスルーム

1

表面

30 m2

寝場所の手配

1 Twin, 2 Sleeper, 1 Double/Full Bed
レビュー
管理者は に推薦されて
ミシェラン・ツアーガイド2010
ミシェラン: すべてのアパートはプラハ1区にあり...ハイクオリティサービス...非常に魅力的な料金
プラハガイド
プラハガイドのテキスト
このアパートのレビュー者
Loretanska, 7

NAILIA S. から unknown Russian Federation, 02. September 2019

August, 2019日後に9日間滞在

Апартаменты очень нам понравились, отдыхали в пятером. Мы с мужем и наши дети. В окнах замечательный вид на всю Прагу. В пяти минутах ходьбы от апартаментов находится Пражский град, Лоретта, рядом сад. Если подняться немного вверх по улице, есть магазин жабка, много кафе, и много обменников. Здесь самый выгодный курс обмена валют у турков. Маленький минус в апартаментах это то, что очень маленький совмещенный санузел, и было не удобно при нашем колличестве, но это конечно мелочи, к которым можно приспособиться. А так я рекомендую эти апартаменты, очень уютные, фото все реальные.

Perfect choice! Comfortable apartment in the heart of the city.

unknown Ukraine, 21. August 2019

August, 2019日後に8日間滞在



Incredible place with all necessary amenities and a kitchen are suitable for families with children, a great view. It was very convenient to reach to all signts by walk.

Prague Visit

Jannik M. から Elze Germany, 19. July 2019

July, 2019日後に4日間滞在

Good equipped flat with a great view on Prague!

Bel appartement au calme près du chateau

veronique D. から MANTOCHE France, 20. May 2019

May, 2019日後に4日間滞在

Très propre. Agreable.jolie vue.
Salle d'eau un peu petite.

Séjour enchanteur à Prague

Francine L. から montreal Canada, 17. November 2018

November, 2018日後に4日間滞在

Petit studio confortable, sécuritaire et merveilleusement situé dans le quartier du château.

Great location

Pascale V. から Hamilton Canada, 02. November 2018

October, 2018日後に3日間滞在

Great apartment with a beautiful view. Bonus mobile hotspot device lent to us for free during our visit.

Taxi to airport was arranged for us - driver was great and came right on time.

Would recommend this!

Flat in old courtyard near castle

London United Kingdom, 01. November 2018

October, 2018日後に4日間滞在

Nice flat in good location but lacking instructions and most of the paperwork needed.

Hill climbing

Hannover Germany, 15. October 2018

October, 2018日後に7日間滞在

On old building nicely converted to holiday home with great location near Hradčany and Malá Strana, but you have to climb up and down and pass the over-crowded Charles bridge to go to city.
For two people it's perfect, with three a bit cramped. Furniture is mostly Ikea and could need similar to some other fittings/provisions a renewal soon. Anyway I recommend as it's reasonably priced, has good wifi and is a comfy holiday home. And the company team is professional with all issues and provides good service.

Loretta

Trevor W. から Claresholm Canada, 10. October 2018

September, 2018日後に3日間滞在

Great space, so close to the castle we didn't realize it until day three. Loved the location. the view from the window is amazing

Nice rental in a nice location

Gabrielle B. から South Bend United States, 19. September 2018

September, 2018日後に4日間滞在

This rental is very nice, in a really good location if you want something away from the bustle of old town but still convenient to get to the sights. The tram stop that will take you to old town is about a five minute walk down the hill. To get back from the tram stop it may take a bit longer due to having to hike back up the rather steep hill. Not a problem for us but may be for some. Prague castle is right around the corner from the apartment, only a minute away.There are a few good cafes and resturants very close by, but do your research as there are also quite a few pricey tourist traps as well.The neighborhood quiets down at night, which was nice. As far as the actual apartment, it was clean and had everything we needed with beautiful views. The balcony off the bedroom has room for one person, standing room only and the views there are blocked by vines. But the views from the living room are lovely. Be warned that the bathroom is tiny. It has everything you need but I could imagine it would be uncomfortable for some. There is very little counter space and even the shower is very small. There is room for one person to stand in front of the sink and that is it. If you turn you would run into the shower or the toilet, and if you are a shorter person you more than likely will not be able to use the mirror. I could only see the top of my head. Rentego staff were very helpful and answered all of our questions in a timely manner. Overall a very good choice for a stay in Prague.

Very good Location

Samira A. から São Paulo Brazil, 15. July 2018

July, 2018日後に4日間滞在

Very good experience

Near Prague castle but uphill climb from city centre

Christina T. から Winthrop Australia, 25. June 2018

June, 2018日後に4日間滞在

Not for the faint-hearted or older people as the walk is uphill from the city centre. There was no information given by the accommodation on nearest public transport to avoid the climb and tha maps provided were not in English. Other than that, the apartment was clean and staff responded quickly online but I wished we were told about the uphill climb

Peaceful apartment near castle

Mequon United States, 08. June 2018

June, 2018日後に3日間滞在

This apartment had lovely views and the perfect location, just a short stroll down to Prague Castle. Transportation was very convenient with tram #22. It was clean and we had everything we needed. The staff were very good about communicating with us in advance of our trip. If you stay, don't miss the gorgeous view from below the Bellavista restaurant by the Strahov monastery.

Quiet apartment near Prague castle

Laurent T. から DORNES France, 06. May 2018

April, 2018日後に4日間滞在

The property was as described, situated in a quiet street, just one minute walk fron Prague castle. It was clean and well maintened. We had just a problem with the tap in the shower: it broke on our third day in the evening, and it has been replaced the day after. The management staff was very helpfull and amenable.
We spent a good time in this property, and we recommend it for people who search a peacefull place to be.

Loreta Prague - short stay

michael b. から whaley bridge United Kingdom, 05. May 2018

April, 2018日後に3日間滞在

For a single person (who is mobile) the apartment is fine. The proximity to the castle area and Loreta church is ideal & the View over Prague a bonus. The walk down to Charles Bridge and back was steep - but I believe there are trams/metro nearby. I don't smoke but having a balcony is again a bonus for those that do. The apartment is in a quiet courtyard so security is good. The shower/bathroom/kitchen facilities are compact to say the least - however the apartment was clean. The only issue I had was the outer door handle was loose - but I am sure this is fixable (if not they should remove the door!)

nice cosy flat, excellent location

Sarka T. から Gex France, 17. April 2018

April, 2018日後に7日間滞在

The apartment is comfortable and has a breath-taking view, is well situated, well heated and well equipped. The bathroom is really tiny, that's the price to pay for living in a historical building presumably. There is no shortage of good restaurants within short walking distance (10 min).


séjour dans l'appartement Loreta

Rambouillet France, 02. March 2018

February, 2018日後に7日間滞在

Un appartement très propre, d'un calme absolu, dans le quartier des ambassades à Mala Strana. SDB très petite, mais l'on s'en arrange sans problème. Très fonctionnel aussi, avec de petits détails bien pensés. Bien chauffé et d'une grande propreté!
A deux pas du château, de l'abbaye de Strahov et des deux des galeries nationales dans de magnifiques palais. C'est un plaisir que d'y revenir après de longues déambulations dans Prague.

petit appartement idéalement situé

RENNES France, 26. February 2018

February, 2018日後に5日間滞在

très bon séjour dans l'appartement.
très calme. très bien situé...

Nice experience

Florin Rafael Serbanut b. から Iasi Romania, 21. January 2018

December, 2017日後に4日間滞在

Nice experience

We had a fabulous Christmas holiday in Prague!

Colorado Springs United States, 14. January 2018

December, 2017日後に4日間滞在

The mobile wifi was PERFECT! We were able to use it for help with maps, locations, restaurants, etc. So, bring an extra portable charger to ensure it stays charged while you are out tourung.

The heated floors were exceptionally nice to wake up in the mornings. But, it would get really warm during the night, so we opened the windows.

The location is within walking distance of Prague Castle with a gorgeous view every evening after dark. There are several souvenir shops, cafes, and a small convenience store close by. There is a tram stop about 5 mins away.

Transportation upon arrival and departure, which was arranged through Rentego, was so nice.

The only requests would be to have access to a washer. And, a larger hot water heater. Our family of three took tepid showers our entire stay. The bathroom sink is extremely small and not really useful; we chose to use the kitchen sink to wash our hands, brush our teeth, etc.

Overall, had a great time and would stay here again.

joli petit appartement avec vue superbe sur Prague

Paris France, 08. January 2018

December, 2017日後に7日間滞在

Séjour en famille, à Noêl. Appartement très bien situé à coté du château avec vue magnifique sur la ville. Bien chauffé, cosy et bien équipé sauf la cuisine minimaliste et la salle de bain microscopique (quelques doutes sur la sécurité électrique...) Idéal en famille. Ravitaillement compliqué dans le quartier.

Short break at Loreta

Martin B. から Alsager United Kingdom, 19. December 2017

November, 2017日後に4日間滞在

Apartment is small but adequate, in a fabulous quiet area of the city a short walk from sights

Very satisfied

France V. から Quebec Canada, 18. December 2017

December, 2017日後に4日間滞在

Everything was as described: clean, good communication and good information.

loreta

pierrefonds France, 13. December 2017

December, 2017日後に3日間滞在

very nice, calm, excellent location

Prague in the fall

VP Vaals Netherlands, 30. October 2017

October, 2017日後に5日間滞在

Cosy appartment at great location - very helpful and responsive staff

Relax in Prag

Kiel Germany, 22. October 2017

October, 2017日後に3日間滞在

The Rental in the internet was easy. The appartment very nice and silent.

Еще раз Лорета

Samir M. から Moskva Russian Federation, 08. August 2017

July, 2017日後に4日間滞在

Первый раз мы останавливались здесь в 2014 году. Нашли случайно в интернете сайт компании RENTeGO, выбрали Лорету. С первого момента нам очень понравилось. Вход в квартиру находится во дворике жилого дома, построенного в 15 веке. Заходя в квартиру, попадаешь сначала в маленький коридорчик с кухней, а потом в большую светлую гостиную. Чисто и уютно. Еще там есть маленькая спальня. отдельная. Это очень удобно, если вы едете двумя семьями. И конечно отличный вид из окна. В этом году, собираясь в Прагу тоже очень хотели здесь остановиться. На наши даты квартира была забронирована. Я отправил запрос по почте. И благодаря отличной работе сотрудников RENTeGO, как только бронь была снята, мне сразу написали и предложили арендовать Лорету. Я конечно согласился. У этой квартиры самое удачное расположение за небольшую цену. От нее до собора святого Вита ровно 1 минута пешком. И добираться до нее легко. Пешком или на трамвае. Огромное спасибо команде RENTeGO и особенно девушке с прекрасным именем Ариадна. Обязательно в следующий раз собираясь в Прагу, остановлюсь в Лорете.

Sehr schönes Apartment mit idealer Lage

Paul Ruppersberg B. から Germany, 05. August 2017

July, 2017日後に2日間滞在

Das Aparment ist sehr schön, bietet sehr viel Ausstattung mit TV, sehr schnellen W-LAN, Kühl und Gefrierschrank und sogar Wifi to Go. Sofern ich nochmals nach Prag gehe, werde ich dieses Apartment erneut buchen.

très bonne expérience

VICTOR V. から STRASBOURG France, 04. August 2017

July, 2017日後に5日間滞在

Le chek in et chek out se sont faits sans aucune difficulté. L'appartement est bien situé, très calme, et propre. Salon et chambre agréables.

bien placé

michele l. から chauve France, 01. July 2017

June, 2017日後に7日間滞在

lorsque je passe par abritel je suis toujours satisfaite et c'est par eux que nous nous sommes rencontrés

Response from RENTeGO

18. 7月 2017

Merci Michele!

Good Address

THIONVILLE France, 30. June 2017

June, 2017日後に4日間滞在

Loreta is really a good place to stay in has a small bathroom but is very Good located, very quiet and very pleasant.

Response from RENTeGO

18. 7月 2017

Thanks a lot Marie, hope to see you next time :)

Amazing Birthday Trip

Leeds United Kingdom, 14. June 2017

June, 2017日後に4日間滞在

We arrived at the property late Sunday evening. The property is in a great location close to the main attractions and easy to access from the airport using public transport.
The apartment was very clean and more than enough space for me and my partner. Very comfortable beds in the bedroom and literally everything we needed for our stay. I would definitely recommend!

Response from RENTeGO

18. 7月 2017

Thank you Hannah, that's so nice to hear you enjoyed your stay in Loreta. We will be happy to host you again soon!

Good!

United States, 03. May 2017

April, 2017日後に3日間滞在

The apartment is really good and close to the castle (which means 20/25 minutes from the city center). Comfortable but the bathroom is quite small.

Response from RENTeGO

18. 7月 2017

Thank you for your nice review, Juan :)

Au calme pour visiter Prague

Didier H. から BREST France, 23. April 2017

April, 2017日後に4日間滞在

Appartement conforme à la description. Vue agréable. Sdb réduite mais propre et praticable.
Nous avons apprécié l'indépendance et le calme.

i'm satisfaction

Marie dominqiue C. から BITCHE France, 19. April 2017

April, 2017日後に3日間滞在

good but in the bedroom , it is not clean

Très agréable. Quarier très agréable

Gwenaelle B. から Levet France, 19. February 2017

February, 2017日後に3日間滞在

Dommage que le canapé lit de la pièce principale ait été déplié, nous n'en avions pas besoin pour deux. donc peu de place dans la pièce.
La salle de bain est un peu petite et manque de crochet pour disposer les serviettes.

Do NOT FALL for the pictures!!!

Sabina Surugiu b. から ??? United Arab Emirates, 04. January 2017

December, 2016日後に3日間滞在

The apartment is incredibly small and was not clean when we checked in. It is definitely not fit for 5 guests and not woth $1000 for 3 nights. There was hair in the bathroom, on the floors, someone had smeared boogers on the hall mirror. The place was cold and when I asked the agent how does the heating work, he replied ''I don't know, call the hotline'' (the hotline did not pick up and we froze for 2 days straight. It is also funny how after all this, the house is full of boards with rules, such as do not smoke, do not lose the wi-fi router, do not check out later than 11, etc and for everything there is a fine. Your guests are not children and your apartments are not college dorms to be filled with rule boards in every room. People pay top money for a house fit only for hobbits, a horrible bathroom, cheap furniture and no amenities. Would never recommend it to anyone.

Good Experience

Jonas S. から Drakenburg Germany, 02. January 2017

December, 2016日後に6日間滞在

We had very nice Holidays in Prague.

Stupenda esperienza

andrea d. から Lugo Italy, 01. December 2016

November, 2016日後に7日間滞在

Ci si sente a casa in questo piccolo ma confortevole appartamento. La cucina è perfettamente attrezzata, è riscaldato a dovere ed è estremamente silenzioso essendo situato in un cortile interno con la camera da letto rivolta verso una bellissima vista sulla città. Si trova nel quartiere di Mala Strana ma con una meravigliosa passeggiata di 10 minuti si arriva al Ponte Carlo. L'unico neo è il bagno, veramente molto piccolo ma comunque funzionale. Il wi-fi funziona alla perfezione ed è veramente molto utile il piccolo wi-fi portatile! Consigliatissimo!!

A great break in Prague

LYON France, 29. November 2016

November, 2016日後に3日間滞在

We had a great time in the apartment near Prague Castle. Well heated and confortable, we had all we needed.
Thank you for the organization!

Response from RENTeGO

30. 11月 2016

Thanks a lot!

Mini palace by the palace.

Brian M. から Anchorage United States, 16. November 2016

October, 2016日後に3日間滞在

Beautiful, cozy little apartment with a magnificent view. Big enough to have a sleepover with a friend from Slovakia and one from Czech. It was nice to treat our friends to a stay over in such a convenient place and to have a tiny smoking balcony. Big enough for one smoker and a glass of cider.
Be ready to climb the hill to the top when you visit the sites. And do find the 'Hanging Coffee' cafe three doors up. Brilliant place with gf crepes and gf beer!

Response from RENTeGO

30. 11月 2016

Thanks a lot Brian, we are glad that you enjoyed your stay in Loreta :) Feel free to contact us anytime in the future!

Week-end in Pragua

Hubert S. から NANTES France, 02. November 2016

October, 2016日後に3日間滞在

Good experience of this week-end in this location. A little bit disappointed by the crowd of tourists during our stay in Pragua.
Good service and clear explanations from Rentego to arrive from the airport.

nice stay

Dan Grozav b. から Timisoara Romania, 14. October 2016

September, 2016日後に4日間滞在

ok

Quiet and convenient

---- United States, 27. September 2016

September, 2016日後に3日間滞在

The location was superb. Just a few steps from the castle on a quiet street but close to restaurants and shops. The living area and bedroom were comfortable and nicely furnished. The bathroom left something to be desired - it was very tiny and the hot water was in short supply. But overall, a nice place to stay.


Response from RENTeGO

05. 10月 2016

Thank you Carol, we are happy you enjoyed your stay in Loreta :) Feel free to contact us anytime in the future!

Apartment in Loreta street

Paul S. から GROSROUVRE France, 17. September 2016

September, 2016日後に4日間滞在

Situé dans le vieux quartier de Mala Strana, l'appartement de la rue de Lorette est situé au fond d'une cour très calme et ouvre ses fenêtres sur un jardin et la colline de Peltrin.

Response from RENTeGO

27. 9月 2016

Merci beaucoup Paul, nous sommes heureux que vous avez bien profité de votre séjour a Prague.

????

Gert Jan S. から Hoogeveen Netherlands, 05. September 2016

August, 2016日後に4日間滞在

Geest vacation

Response from RENTeGO

14. 9月 2016

Veel dank!

très bon séjour

Frederic P. から RENNES France, 28. July 2016

July, 2016日後に7日間滞在

appartement très agréable avec une magnifique vue. situé a 5min du château.Tout peut se faire à pied à partir de l'appartement (si vous aimez bien la marche bien-sur, ça monte au retour!)très satisfait par le service de rentego.


Response from RENTeGO

03. 8月 2016

Merci Frederic! À la prochaine :)

Great apartment with a view of the Prague castle

Maria P. から New York United States, 05. July 2016

June, 2016日後に4日間滞在

Very nice clean apartment close to the Prague castle, Loretta and Strahov monastery; in a quite zone away from tourist crowds. Apartment is very well equipped with everything you need. They even provide you with a mobile hotspot so you can have access to the wi-fi while exploring Prague. Great value for the money. Great customer service, they replied to my emails within minutes and helped us with everything we asked for. Would definitely recommend to anyone!



Response from RENTeGO

06. 7月 2016

Thanks a lot Maria, glad you enjoyed your stay in Loreta, thank you for the nice feedback :)

Loreta June 2016

Yannick W. から Shannon, Co Clare Ireland, 04. July 2016

June, 2016日後に2日間滞在

Like Usual, the apartment was in a perfect condition.

Response from RENTeGO

03. 8月 2016

Thank you very much Yannick, we are happy you keep coming back as our loyal customer :) See you next time!

A wonderful escapade in Prague

Murielle T. から Saint-Malo, France France, 22. June 2016

June, 2016日後に4日間滞在

It was a fabulous experience because the property is very clean and very calm, near a lot of restaurants and above all the view is wonderful. It's very near from Prague's castel, but a little far from nove mestro. I would recommend this property to a friend, but not if he's old or if he has difficulties to walk because the property is in a very high place of Prague with a lot of steps to climb.
Thank you to be so professional

Response from RENTeGO

03. 8月 2016

Thank you very much! The location of Loreta has its pros and cons, but if you are the type of guest who enjoys calm and romantic scenery, I would strongly recommend it to you :) If you prefer to be in the center of everything and enjoy partying, some other apartments (for example Roxy) would be better for you. Feel free to contact us for your next visit, we will be happy to choose the right apartment for you!

Great location! Close to city center but quiet neiborhood

Cynthia L. から Milwaukee United States, 18. June 2016

May, 2016日後に3日間滞在

This is a small but very comfortable apartment close to Prague castle. Kitchen is small but has everything you need to have breakfast and lunch. Only drawback is the bathroom is tiny but for just two of us, it wasn't an incovience. Would definitely stay there again. It made us feel like locals,

Response from RENTeGO

03. 8月 2016

Thank you for your nice comment Cynthia! I personally love the atmosphere of Loreta, it really makes you feel like you live in the old Prague :) We are glad you had a nice stay and will be happy to host you next time you come to Prague!

loreta

Aurore C. から 38850 Bilieu France, 23. April 2016

April, 2016日後に4日間滞在

wonderful

Response from RENTeGO

18. 5月 2016

Thank you very much.

Une semaine au Loreta

Antoine M. から Nimes France, 11. December 2015

December, 2015日後に7日間滞在

Nous sommes restés une semaine à Prague et cet appartement nous a permis de profiter au maximum de ce séjour. Il est parfait pour deux personnes, dans un quartier charmant et parfaitement calme. Le voisinage du Château et la proximité des principaux sites sont évidemment très appréciables. Je voudrais souligner particulièrement la qualité du service associé de transfert de l'aéroport : rapidité, ponctualité, amabilité du chauffeur.

Response from RENTeGO

02. 1月 2016

Merci beaucoup, Antoine!

4 nice days in Prague

Boulay-Levy G. から Fontenay sous bois France, 02. November 2015

October, 2015日後に4日間滞在

Nice location, very close of the castle. Really quiet and well garnished. Toilets are a bit too close of the kitchen, it's the only minus.

Response from RENTeGO

13. 11月 2015

Thank you for the nice comment, we would be happy to host you again here in Prague!

Rent loreta from rentego in Prague

philippe-olivier m. から MONTREAL Canada, 22. October 2015

August, 2015日後に4日間滞在

Small appartement,clean and well equiped,good location, calm area not far from the center

Response from RENTeGO

20. 11月 2015

Thank you, Philippe Olivier, for sharing your review. We are glad you were satisfied with our services :)

Loreta

Bernard J. から BILLERE France, 30. September 2015

September, 2015日後に10日間滞在

Séjour agréable, l'appartement correspondait bien à la description.
Très propre.

Response from RENTeGO

09. 10月 2015

Merci beaucoup, Bernard!

Appartement Loretta Prague

Adrien M. から Niort France, 31. August 2015

August, 2015日後に4日間滞在

Emplacement sécurisé à deux pas du château donc bien placé, le centre ville est facile d'accès, le quartier était assez calme, il manque juste un parking proche.
L'appartement était propre, équipement complet (cuisine, draps, etc...), salle de bain un peu petite mais pour quelques jours on s'en contente, belle vue si on sort la tête par la fenêtre, cour fermée agréable à l'extérieur.
Les personnes de l'agence sont très agréables, réponses rapides au question, solution de rechange (l'appartement demandé au départ nous est passé sous le nez) proposée rapidement.
Chaudement recommandée.

Response from RENTeGO

31. 8月 2015

Merci beaucoup, Adrien!

Loreta, quiet apartment of amazing location

Kamil H. から Ploske pri Kosiciach Slovakia, 29. July 2015

July, 2015日後に5日間滞在

Loreta is small apartment suitable for couple or for family with kids. Little discomfort at tiny bathroom is very well compensated with apartment great location and romantic window view. Area is very silent. Bathroom would need little remodelling. Overall satisfaction

Response from RENTeGO

26. 9月 2015

Dekujeme, jsme rádi, že se Vám v Lorete líbilo. :)

Cute Place

Katherine V. から San Diego United States, 04. March 2015

February, 2015日後に3日間滞在

Cute place by the castle with everything you need!

very convenient

Vaucresson France, 26. February 2015

February, 2015日後に5日間滞在

perfect place to stay

REVIEW FOR RENTAL loreta 02/2015

Yannick W. から Shannon, Co Clare Ireland, 24. February 2015

February, 2015日後に11日間滞在

excellent as usual

feedback

Issy les Moulineaux France, 16. January 2015

December, 2014日後に6日間滞在

the vacation rental met all my expectation except the bathroom was very small.

review for Loreta sept. 2014

Yannick W. から Shannon, Co Clare Ireland, 12. October 2014

September, 2014日後に9日間滞在

excellent like usual

Nice location

Francis-Olivier O. から Montreal Canada, 17. August 2014

August, 2014日後に6日間滞在

Great appartement nothing to say !

Wonderful place

Samir M. から Moskva Russian Federation, 21. July 2014

July, 2014日後に3日間滞在

I liked the location of the apartment. Entrance through a small courtyard. View from the window was lovely. Very clean and cozy. Recommend for a family holiday or traveling with friends.

Très bon séjour

Neuilly sur Seine France, 15. July 2014

July, 2014日後に4日間滞在

Un bon week-end prolongé dans cet appartement très sympa, un peu en hauteur donc très belle vue sur Prague, très pratique. Nous n'étions que deux donc c'était assez spacieux. Je recommande vraiment !

Lovely, very lovely!

Larysa D. から QUINCY United States, 12. June 2014

May, 2014日後に11日間滞在

My family stayed in Loreta appartment for 11 days.We just ADORED this place.Wonderful and the management was so helpful and friednly to us.I would definitely come back to this place again one day.THANK YOU for our beautiful and comfortable vacation, Rentego agency!

Stay at Loreta

Ivanka S. から United States, 16. May 2014

May, 2014日後に2日間滞在

Loreta, is situated in a nice envoirement in Praque. Nica appartment only toilet and bathroom is too small and need beter update.

Prague 3 nuits en couple

Stephane L. から BREM SUR MER France, 02. May 2014

April, 2014日後に3日間滞在

Appartement très bien situé, très calme et bien équipé. Un bémol cependant concernant la taille de la salle de bain et la qualité de la literie (matelas un peu mous)

Parfait !

MARLY LA VILLE France, 28. April 2014

April, 2014日後に4日間滞在

Agréable location située juste à côté d'un des plus monuments de la ville (le château) et pas très loin d'une station de tramway (n°22). A l'arrivée, problème de code qui a été réglé en 5 minutes par téléphone. Excellent rapport qualité prix même si la salle de bain est un peu petite mais ce n'est pas l'essentiel. Très satisfait par l'offre Rentego pour le suivi assuré dès la réservation. En plus, ils parlent français !!!!! Je recommande fortement Rentego pour séjourner à Prague.

Enchantment!

Vuko T. から PANTIN France, 09. April 2014

March, 2014日後に5日間滞在

In a lovely situation the Loreta flat satisfied us amply. Our eyes were taken by the Petrin hill which overhangs the old roofs of the magnificent Prague!

Séjour en famille

luc B. から vendargues France, 23. March 2014

March, 2014日後に5日間滞在

Nous avons passé un très agréable séjour en famille dans ce charmant appartement, idéalement situé pour visiter Prague à pied.C'est un plaisir de séjourner au coeur d'un quartier historique non loin d'espaces verts. Nous vous le recommandons.

Stay at Loreta

Patrick T. から Colombes France, 02. March 2014

February, 2014日後に3日間滞在

Very nice stay at Paraha Loreta! I strongly recommend!

Very good

14790 France, 02. February 2014

January, 2014日後に4日間滞在

The property was very good and well located but it will be nicer with a TV. Very quiet and everythings necessary are here.

great!

saint helier United Kingdom, 29. December 2013

December, 2013日後に5日間滞在

Nous avons adore l'emplacement, calme, magnifique vue.
Recommandons fortement.

Great

Yvon P. から CORENC France, 14. December 2013

November, 2013日後に8日間滞在

Great

This is Prague

Amjad M. から aqaba Jordan, 28. October 2013

October, 2013日後に7日間滞在

If you are looking for a great enjoyable stay in prague, affordable yet in a great great location .. Loretanska 7 is the best.

Pas déçu

Saint-Brieuc France, 09. September 2013

September, 2013日後に4日間滞在

Très bel endroit, très bel appartement. A refaire.

Great Experience

Ran V. から Tel Aviv Israel, 08. August 2013

July, 2013日後に10日間滞在

The apartment was very nice and equipped and in a great location. The rental process itself was also very convenient. I'll definitely recommend the apartment for friends.

Parfait

CLAIRE M. から Saint\u002DMaur\u002Ddes\u002DFo France, 10. July 2013

June, 2013日後に4日間滞在

Appartement très bien situé si vous ne venez pas pour faire la fête. Calme absolu, magnifique vue sur Prague et la colline de Petrin et tout est accessible à pied (après 3 jours de marche intensive dans Prague la colline est parfois un peu dure a remonter mais on est tellement bien dans l'appartement que ça vaut le coup et puis il y a toujours l'option tram si vous êtes vraiment épuisé!). L'organisation avec l'agence est impeccable, grand professionnalisme, elle nous fourni toutes les informations pour nous faciliter la vie et il y a tout le nécessaire dans l'appartement. Génial! Et Prague est une ville de rêve...surtout dans ces conditions!

Sojourn in historical area.

Eric M. から Bruxelles Belgium, 21. June 2013

June, 2013日後に14日間滞在

Great organisation, beautiful apartment, tastefully decorated, very fine view, well located in an ancient and quiet area close to Prague's castle... I had sometimes the feeling to live in the past, which was ideal for me to discover Prague's history and culture.

Perfect location, tiny bathroom!

Shawna T. から Hillside United States, 27. May 2013

May, 2013日後に2日間滞在

Male 26 and femal 31 cousins sharing an apartment was hard to plan. This place was perfectly located near St. Vitus. The shower/toilet was tiny, but the door closing off the kitchen made it work to dress in there. Doors provide little privacy and the place could use a complete scrub down, but otherwise it was wonderful. Silent neighborhood at night. If you want to party, stay on the other side of the river. Go up hill to "Cafe Gourmet" for breakfast or lunch, prices and food are very reasonable.

apartment and organisation were excellent

Corrine B. から Toulouse France, 23. May 2013

May, 2013日後に3日間滞在

Thank you for this very well organised experience and for your recommandations, the place (LORETA)is peaceful and the view is mervellous.

Very nice apartment

France, 17. April 2013

March, 2013日後に31日間滞在

Very nice apartment, great location. The bathroom is quite small however, just in front of the kitchen, which is quite awkward. But good stay overall.

review

Michael F. から Sion Switzerland, 20. January 2013

December, 2012日後に4日間滞在

great, for more info, see paper review

Review 14/01/2013

Yannick W. から Shannon, Co Clare Ireland, 14. January 2013

January, 2013日後に9日間滞在

already done before

excellent for a short break

David M. から LONDON United Kingdom, 24. December 2012

December, 2012日後に7日間滞在

bathroom very tiny but otherwise a really excellent choice for a few days stay in Prague; quiet, warm, clean + professional service when required.

une bonne semaine à prague

Samuel S. から Curienne France, 12. November 2012

November, 2012日後に7日間滞在

merci à l'équipe de rentego pour ce sejour, qui à été enchanteur, tant par la beautée de la ville que par les prestations proposées.
c'est en toute confiance que nous repartirons avec vous!

Wonderful !

Catherine G. から Paris France, 04. November 2012

October, 2012日後に4日間滞在

The location was very nice, tidy and well located

my experience whit Loreta apartment

Yannick W. から Shannon, Co Clare Ireland, 18. September 2012

September, 2012日後に8日間滞在

I m coming to this apartment twice per year since 4 years now and still very happy to go there. the management is always ready to help me and very professional.

Very Good!

Raimondo F. から ---- Italy, 14. August 2012

August, 2012日後に3日間滞在

Very Good!

Superb location

Cambridge United Kingdom, 09. August 2012

August, 2012日後に6日間滞在

A small flat, tiny bathrom and kithenette and very difficult to even walk around the double bed but great to have a living room to sit in together and views to die for. Space to wash and dry and even iron clothes. Fantastic to be so close to the castle, gardens and lovely buildings. Close to tram stop when you can't face the walk back up the hill.

Quiet Place with a View

Shane G. から United States, 12. July 2012

June, 2012日後に7日間滞在

When we first arrived, we were concerned that the place was too far from town, being situated two minutes from the Castle. The distance turned out to be a blessing. Recent visitors will know that Prague is crowded with tourists. While this building is close to the Castle, making it busy by day, it is quiet at night. It's a five minute walk from a tram stop (through the castle, no less), there's a good store for stocking up the fridge three minutes' walk, and beer gardens in Letna Park or the top of Petrin hill are each a nice 25 minute walk. The bed is relatively comfortable, there were plenty of linens, useful guide materials (use the expats guide or website), and the kitchen had everything we needed. The bathroom was incredibly small and the shower curtain needed a scrub, but that was my only complaint. Bright, tidy, quiet, secure, and out of the way of the tourist hordes. Make sure you visit the Strakhov monastery (eight minute walk) and leave enough time to enjoy their delicious beer.

Rate Loreta

Bois\\x2DColombes France, 11. June 2012

June, 2012日後に7日間滞在

Well organized. Very nice view from the appartment. One remark : the bathroom is really small.

Room with a view

Ross S. から Germany, 04. June 2012

May, 2012日後に2日間滞在

Excellent location only 2 minutes walk from the castle with a fantastic view over Prague! Rentego were very professional and a great help all around.

Charming Apartment with great view

United States, 28. May 2012

May, 2012日後に3日間滞在

This is a charming apartment with a great view. The staff is courteous and professional. The apartment itself is very cute and in a great location. I did find that it could use a couple of upgrades. The bathroom and kitchen are extremely small. It was not dirty but at the same time not spotless. For example, the futon mattress had a lot of stains. The floors had lent and hairs, etc. Overall, we enjoyed our stay and would definitely recommend this property to others.

Romantic and charming

Patrick A. から United States, 14. May 2012

May, 2012日後に3日間滞在

Very pleasant and relaxing experience, nice view, quietness. One can do a lot by foot from that place to visit Prague historical main place

Loreta Apartment Prague

Canberra Australia, 07. May 2012

April, 2012日後に5日間滞在

Excellent location on the hill very close to the castle. Quiet and easy for walking or the tram. Shops available nearby and restaurants.
RENTego were very helpful. They were personally recommended by a friend.

!

OLGA S. から MOSKVA Russian Federation, 02. May 2012

April, 2012日後に9日間滞在

The location was excellent, apartment was nice and clean. We are very happy to choose Rentego

Everything was great!

Aurelie T. から lyon France, 10. January 2012

December, 2011日後に7日間滞在

Very good and professional agency + very good location + nice city = very good stay!

Very nice and clean apartments

Alban L. から United States, 19. December 2011

November, 2011日後に7日間滞在


It is such a nice experience. In the future i will recomend rentego to everyone i know and i am sure they will like it like my friends who stayed in Loreta did.

Loreta Apartment near Prague Castle

United States, 16. December 2011

December, 2011日後に8日間滞在

Loreta Apartment was in a fantastic location and it was warm, clean and felt safe. The views from the apartment were fantastic and it was good to be so central. The only thing that might have improved the whole experience was that the apartment itself was in need of decoration and the fitments and fittings were looking a little tired. The side lamps and the crockery had chips or cracks on them and the shower sealant was a bit mouldy and needs replaced. It felt as though the whole place could do with some attention, which would make the little (and it is little) apartment really fantastic to stay in.

A

Bruno S. から BRNO Czech Republic, 01. November 2011

October, 2011日後に1日間滞在

Pommeau de ****** cassé et lampe de chevet dans la chambre cassé également.

"Give Your Review A Title (up to 65 characters)" What's that ? and up to 2000 characters, you probably don't have much feedback! :)
Surtout que si on mets pas une lettre dans la case, il ne nous laisse pas "submit review"

++
Bruno

great stay

Mondragon France, 07. September 2011

August, 2011日後に4日間滞在

Appartement au top!

Nathalie C. から soisy sur seine France, 29. August 2011

August, 2011日後に5日間滞在

Appartement clair, propre et fonctionnel. Très bien pour trois personnes. La cuisine et la salle d'eau sont exigües pour 5 personnes. La situation est excellente 1 min du chateau, 15 min du centre dans un quartier très calme, très belle vue sur la campagne.
Je le recommande.

A great location with great services

Christine M. から Nantes France, 07. August 2011

July, 2011日後に8日間滞在

I shall come back !

LONGUEUIL Canada, 06. July 2011

June, 2011日後に4日間滞在

Anne T. から Saarebruecken Germany, 28. June 2011

June, 2011日後に3日間滞在

Good flat

Bruno S. から VITRY SUR SEINE France, 15. June 2011

May, 2011日後に4日間滞在

Very quiet et near of the castle.
A good localisation to visit all the city

Notre séjour s'est fort bien passé

LA TOUR DU CRIEU France, 23. May 2011

May, 2011日後に3日間滞在

Notre séjour s'est fort bien passé. De l'appartement nous avons regretté la salle de bains miniscule avec quasiment rien pour poser ses affaires ou accrocher les serviettes.
Nous avons eu un petit problème à l'arrivée puisque le code communiqué ne nous a pas permis de déverouiller la porte et nous avons dû appeler Rentego , heureusement nous y étions suffisamment tôt pour pouvoir appeler. Ceci nous a contrarié en arrivant mais par la suite rien à dire.

J'ai bien reçu le chèque de caution, merci.


Un logement très agréable et idéalement placé pour qui veut prendre un peu de hauteur tout en restant au centre.

Paris France, 05. March 2011

February, 2011日後に7日間滞在

code acces

Yannick W. から Shannon, Co Clare Ireland, 15. February 2011

January, 2011日後に9日間滞在

Mon séjour fut très bien. Je déplore les dfférents problèmes que j'ai eu avec les codes d'acces à l'appartement. De plus la lumière d' exterieur à coté de la porte de fonctionne pas ce qui fait que l on ne voit pas tres bien les touches. La lumiere generale dans la cour reste seulement quelques secondes. Je conseille aussi de placer un rideau devant la petite fenetre qui est dans la cuisine et qui donne directement sur la salle de bain. quand vous sortez de la ****** vous pouvez etre vu des gens qui sont dans la cour. dommage qu il n y a pas de television dans l'appartment. le lecteur CD est cassé et la reception des stations radio est mauvaise je pense à cause de l'antenne qui est aussi est cassé. Par contre bravo pour les nouveaux meubles dans l'appartment qui sont très pratiques.

didier S. から LE PONTET France, 07. February 2011

February, 2011日後に4日間滞在

Tout est parfait, ne changez rien! et merci pour votre disponibilité et votrre gentillesse.Cordialement

Corintho Rodrigues c. から Niteroi \\x2D Rio de Janeiro Brazil, 17. January 2011

December, 2010日後に3日間滞在

thomas h. から nantes France, 31. December 2010

December, 2010日後に11日間滞在
アパートの正確な住所
Loretanska 7
Prague
1 分 から徒歩 プラハ城
チェックイン/アウト
チェックイン時刻
以降のチェックイン 4:30 PM (から荷物を置いておける可能性 1:00 PM)
チェックアウト時刻
までにチェックアウト 11:00 AM (まで荷物を置いておける可能性 11:00 AM)
簡単なチェックイン
コードロックまたは個人的なお迎えにより、お客様は直接 ...に行くことができます
チェックイン/アウトに関するさらなる情報
アメニティ
アメニティ
アメニティ
このアパートのアメニティのリスト
このアパートのアメニティのリスト
Attractions

churches, cinemas, live theater, museums, restaurants, synagogues, zoo

Leisure activities

sight seeing

Local services and businesses

ATM/bank, groceries

Location

Downtown

Outside

Balcony

Safety

Smoke detectors

Suitability

children welcome, non smoking only, pets considered, wheelchair inaccessible

Suitability checkbox

Long-term Renters Welcome

Theme

Historic, Tourist Attractions

アメニティ

Internet, Iron & Board, Linens Provided, Towels Provided, baby cot and baby chair (option), balcony, hair dryer, heating, iron and ironing board, linens and towels provided, non-smoking
アメニティ

shower, toilet

エンターテイメント

Satellite / Cable, Stereo, radio and CD player, television

キッチン

Dishes & Utensils, Kitchen, Pantry Items, coffee maker, dishes and utensils, microwave, refrigerator, stove, toaster

ビジネス

ATM nearby, Free Mobile Hotspot, free Internet (WIFI)

利便性

medical services nearby, parking nearby, restaurants and bars nearby
間取図
間取図 この物件の大まかな間取図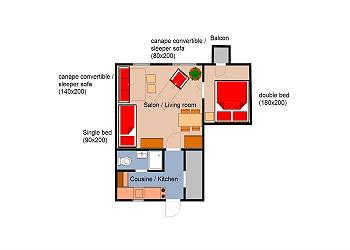 | | |
| --- | --- |
| Room | 部屋 |
| Hall | ホール |
| Kitchen | キッチン |
| Living-room | リビングルーム |
| Bathroom | バスルーム |
| Shower room | シャワールーム |
| Balcony | バルコニー |
| Terrace | テラス |
| Cloakroom | クロークルーム |
| Single Bed | シングルベッド |
| Double bed | ダブルベッド |
| Twin bed(s) | シングルベッド |
| Sleeper Sofa | スリーパーソファー |
| Mezzanine bed (usually a mattress on a wooden parquet) | 中二階のベッド(通常は木製の寄せ木細工上のマットレス) |
滞在期日に利用可能なアパートを見つける
-お客様が興味をお持ちかもしれない近くのアパート
ダウンロード
お客様が興味をお持ちかもしれない追加情報