検索
アパートの詳細& 料金の提案
予約する
ありがとうございます
KINSKY
3BR 10min from Charles Bridge and across the river from National Theatre
3 ベッドルーム for 5 宿泊者 (最大 8)
Ujezd 5, Prague
説明
Kinsky is a nice and spacious apartment situated close to the Old Town. It is located in the center of Prague just 10 minutes away from the Charles Bridge and the National Theatre. Since you are already in the historical Mala Strana, you will be able sight-see and explore Prague very easily. The block of houses is surrounded by pleasant greenery and waterfront nearby, ideal for nice walks. Apartment Kinsky is very comfortable and allows you to relax after a long day walking around Prague. It is equipped with a bar table and leather sofas, all in a style of an English club. There is also a well-equipped kitchen offering everything you need (coffee maker, microwave oven, toaster, etc.) in order to prepare your favorite meals. If you prefer to go out for a meal, the best restaurants and bars in Prague are all located only a quarter of an hour from the apartment. Kinsky provides enough comfort for 5-8 people. It includes two bedrooms and a pull-out sofa bed in the living room, if necessary additional mattresses can be added. As all our other apartments, there is a high speed internet connection. Also the apartment is non-smoking with the option of smoking on the balconies. If you want a better idea of what the apartment looks like, scroll down to view the floor plan. The building is equipped with keyless lock codes, useful for booking at the last minute. Please note that the apartment is located on the fifth floor with no elevator.
The name of the apartment is derived from the surname of the famous Kinsky family; one of the oldest Czech noble families memorable for making Czech architecture well known thanks to many buildings in the country.
The apartment building is located under the Petrin hill, near the river in the area called Mala Strana. It was built in 1895 by a well-known architect, who built it for himself, explaining its good qualities. Petrin is undoubtedly the best place for those who like visiting tourist attractions as well as having a taste of nature at the same time. Just behind the building is the historical Hunger Wall, which has served to defend Prague. In 1361, the year of drought and poor harvests, the prices of bread increased severely, which left many people without enough food. In order to feed their families, the locals resorted to frequent theft, augmenting the criminal activity. King Charles IV therefore called upon the locals to build a protective wall from Petrin to the Vltava River. The construction took two years and fed many families, resolving the problem. The Prague people named the wall "The Hunger Wall". At the end of the street is Kinsky Square, known especially for the T34 tank, which commemorated the liberation of Prague by the Soviets in 1944. After the Velvet Revolution in 1989 an artist David Cerny painted it pink. Actually, it was not so much of a political gesture as an attempt to capture the attention of some girl. Later a fountain was built in the original location where the tank stood, but there still a little pink part of it on the square which constantly reminds us of our history. For those who plan to stay in Prague for a bit longer, will appreciate the proximity to a nearby shopping center called Novy Smíchov, which is only 2 tram stops away. The tram stop (tram line 6, 9, 12, 20, 22) is right in front of the building as well.


Apartment use and noise: you commit to take care of the apartment and respect neighbours, particularly by respecting the interdiction of making noise between 22:00 (10 and 7 a.m. (which could result in 100 euros fine deducted from the damage deposit if neighbours complain about you and the police testify against you). Prague has many great places to party outside, and we wish you to enjoy it at best, the apartment is greatly located for that ;-)

PLUSES AND MINUSES:
+ Keyless access to the building and to the apartment - you will only need a code to open the door
+ There is a washing machine and a dryer in the building
- The apartment is situated on the 4th floor without an elevator
バスルーム

1

表面

80 m2

寝場所の手配

1 Double/Full Bed, 2 Sleeper, 3 Twin
レビュー
管理者は に推薦されて
ミシェラン・ツアーガイド2010
ミシェラン: すべてのアパートはプラハ1区にあり...ハイクオリティサービス...非常に魅力的な料金
プラハガイド
プラハガイドのテキスト
このアパートのレビュー者
great apartment

Patrick A. から Czech Republic, 21. August 2019

August, 2019日後に5日間滞在

great apartment, fully recommended to toher travellers.

Уютно, тепло, в центре

Olena Kolesnyk b. から United States, 14. October 2018

October, 2018日後に5日間滞在

Большая, просторная квартира в самом центре, до Карлового моста 10 минут пешком, до всех основных достопримечательностей легко добраться пешком или на трамвае. Рядом в парке фуникулер. В квартире есть все необходимое для комфортного отдыха - посуда, бытовая техника, в квартире тепло, вода горячая в любое время дня. Хороший сервис, здорово, что не нужно нигде брать или завозить ключи - все двери с кодовыми замками. У нас был отъезд поздно вечером, поэтому разрешили оставить вещи в камере хранения. Не все в квартире идеально новое, но все в рабочем состоянии и выглядит хорошо. Очень теплые одеяла, есть интернет. В общем я бы остановилась здесь еще раз.

Sehr gut gelegene Wohnung

Pliezhausen Germany, 08. October 2018

October, 2018日後に3日間滞在

Sehr gute Verkehrsanbindung (Strassenbahnhaltestelle fast direkt vor der Tür; man hört den Strassenlärm wegen der doppelten Fenster kaum, das hintere Zimmer überhaupt nicht; die WOhnung ist sauber, **** und groß, eingerichtet im IKEA-Stil (abgesehen von der Küche; toll: kostenfreies WiFi auch unterwegs in der Stadt. Fazit: wir würden die Wohnung wieder buchen.

Great location/spacious

Sarah M. から Calgary Canada, 26. September 2018

September, 2018日後に13日間滞在

Very quick response to any concerns.

Good

Enschede Netherlands, 03. September 2018

August, 2018日後に5日間滞在

It was a good appartement, unfortenately there were no special park for guests

Polecam

Ryszard Kulik b. から United States, 22. August 2018

August, 2018日後に2日間滞在

Dobra lokalizacja, przestrzennie i bez problemów.

1 semaine de vacances en famille à Prague

Marielle F. から Courcelles sur seine France, 15. August 2018

August, 2018日後に7日間滞在

Très bel appartement spacieux (nous étions 4)tres bien situé dans un quartier calme, seul inconvénient le bruit car nous dormions fenêtre ouverte car il c'est l'été !

Prague

West Palm Beach United States, 23. July 2018

July, 2018日後に3日間滞在

Excelent location.

Birthday in Prague

Lisa M. から ---- United States, 13. November 2017

November, 2017日後に3日間滞在

The apartment was amazing! Roomy, comfortable, perfectly located. All we had to do was walk outside and we were able to enjoy the full beauty of Prague. I would come back in a heartbeat!
The rent was unproblematic, I was always able to ask questions and the communication went perfectly smooth. Thank you so much!!

Great starting point for exploring Prague

Berlin Germany, 28. October 2017

October, 2017日後に3日間滞在

We stayed in Kinsky with two adults and three kids for three nights. The appartment offered everything we needed and is very conveniently located. The landlord description is absolutely adequate. The only negative aspect was that one of the bed rooms is overseeing the street with the tram. Hence, it was impossible to sleep in this room with open windows due to the noise coming from the outside.

In Prag with family

Roquetas de Mar Spain, 14. August 2017

August, 2017日後に4日間滞在

We stayed in the Kinsky appartment with our four kids. The apperatment was largem sunny, clean, close to the city and well equiped.

Un buen apartamento

Boiro Spain, 11. August 2017

July, 2017日後に7日間滞在

El apartamento estaba en muy buen estado y en una buena localización. Había supermercados, tiendas y paradas de tanvía cerca del apartamento, y se puede ir andando al centro de la ciudad sin ningún problema. El apartamento estaba limpio y con todas las comodidades. Repetiría sin dudarlo.

My review

Bedum Netherlands, 01. August 2017

July, 2017日後に5日間滞在

The apartment was very good but a few notions have to be made about the structural integrity of some of the furniture. The sofa which could be transformed into a bed was very easily broken. We only had to sit on it for a few times and a metal piece already broke off. Also, the rope of the sunscreen in the main living room broke off when pulled on very lightly. Another thing that was not doing its job appropriately was the fridge. It was barely getting cold. But despite all of this the stay was pleasant and we hope it will be fixed so the next guests don't suffer the same liabilities.

Perfect!

James C. から ?? United States, 21. June 2017

June, 2017日後に8日間滞在

Really nice sized apartment and the wifi hotspot included is awesome. Perfect for our family of 4.

Beautiful weekend in Prague.

Layner S. から St.Leon-Rot Germany, 14. June 2017

June, 2017日後に2日間滞在

Wonderfull apartment. Good located. Very good service. Highly recommended.

perfect

denis c. から brescia Italy, 21. August 2016

August, 2016日後に2日間滞在

very nice apartment, located a few minutes walk from the main monuments of the city.
This convenient parking nearby.
Apartment very clean and very good communication with RENTeGO

Response from RENTeGO

23. 8月 2016

Thank you Denis!

Buena ubicación

Susana Del río G. から United States, 10. August 2016

August, 2016日後に3日間滞在

Relación calidad precio, buena experiencia
Inconvenientes, un 4piso sin ascensor, baños, puertas y suelos bastante estropeados. Le falta un arreglo.

An excellent location for touring Prague

Robert B. から United States, 06. August 2016

July, 2016日後に4日間滞在

We were very happy with our stay in Kinsky. The apartment was roomy, clean and well-equipped. The keyed-entry system liberated the four of us from a shared key. The location is a pivot point allowing a 10 minute walk north to the tourist center of Mala Strana or a walk due east across the Legii bridge bringing you to Old Town Square or Wenceslaus Square easily in less than 20 minutes. And the RenteGo staff could not have been more helpful. We had two issues arise at the apartment (neither any fault of the facility), and the Staff attended to each promptly. If we return to Prague, our first inquiry about housing will be with RenteGo.

Response from RENTeGO

24. 8月 2016

Thank you very much Robert for your kind comment! We are glad you were satisfied with our services and we will happily host you next time :)

Quiet location close to main attractions

Michal N. から Warszawa Poland, 02. August 2016

July, 2016日後に5日間滞在

Stunningly smooth rental. Spacious appt. Close to city center, stores, restaurants ...
Ideal for runners - at the verge of Petrin hill.
Mobile wifi available and really useful.

Just keep in mind - high fourth floor means a lot of stairs.

Response from RENTeGO

03. 8月 2016

We are happy you enjoyed your stay in the apartment Kinsky, thank you for your review Michal and see you next time!

Freunde in Prag

Simon d. から United States, 19. July 2016

July, 2016日後に2日間滞在

Einige Türklinken waren defekt und es war sehr sehr warm in den Räumen. Ansonsten sind wir zu Frieden mit der Unterkunft gewesen. Der Kontakt zu Rentego war ausgezeichnet - daher werde ich wieder über Rentego buchen.

Response from RENTeGO

27. 7月 2016

Guten Tag, vielen Dank fur Ihre Rückmeldung. Es freut mich sehr, dass Sie zufrieden haben und die Fehler versuchen wir aufzuheben. Mit freundlichen Grußen Rentego

Good flat

Romain C. から Évreux France, 09. July 2015

June, 2015日後に2日間滞在

Well equiped

Nice apartment in a good location

Regina R. から United States, 06. January 2015

December, 2014日後に4日間滞在

We had a really good time in Prag and the size of the apartment was also good for 8 people, of course a second bathroom would be always better. The location was perfekt. 10 minutes walk into the center.

Perfect party weekend in Prague!

United States, 10. June 2014

June, 2014日後に2日間滞在

I rented two apartments on the same floor (Kampa2 and Kinsky) and we were a group of 10. The Accomondation was just perfect for this weekend!

Basic and clean with a great location

Stuart S. から Peterhead United Kingdom, 19. January 2014

December, 2013日後に4日間滞在

We stayed here for four night during the new year. The appartment was in a good location only a 10 min walk from the old town square. The apparment was basic but clean and had every thing that we needed for our stay. The bed were comfortable. It was nice and quiet aprt from the final night when someone must have been having a party next to us.

Wonderful travel

Valerie C. から Lunel France, 18. July 2013

July, 2013日後に5日間滞在

It was a very good travel with e very good rent

un séjour trés confortable

Gilles P. から VILLENEUVE France, 01. May 2013

April, 2013日後に5日間滞在

la formule nous a conquis : confort de l'appartement, quartier trés bien placé, toutes commodités à portée de main, simplicité des procédures de check in/out!! 3 remarques : une lampe défectueuse a fait sauter le disjoncteur dans l'escalier (il a fallu le trouver..)un store dans la piece à vivre ne descends pas jusqu'au bout, quelques taies d'oreillers non changées donc pas de gros reproches!!! on reviendra

.

United States, 26. April 2013

April, 2013日後に2日間滞在

..

perfect

SYLVIE P. から LE PONT DE CLAIX France, 20. April 2013

April, 2013日後に5日間滞在

it was perfect, the location, comfort, service by internet. PERFECT, thanks very much

Stay in PRAGUE

Nouveaux M. から United States, 12. April 2013

February, 2013日後に5日間滞在

Very good location and very clean

Stay in March 2013

LYON France, 06. March 2013

March, 2013日後に3日間滞在

PERFECT !!!

It's very good~

Hao W. から United States, 16. January 2013

December, 2012日後に1日間滞在

omitted

Very nice flat, comfortable location.

Gudkin E. から Moscow Russian Federation, 08. January 2013

December, 2012日後に6日間滞在

It was the first our experience to rental a flat in the capital, usially we use hotels or whole houses. We had very nice jorney.

??

VIKTOR R. から ---- Russian Federation, 14. December 2012

November, 2012日後に6日間滞在

??

Very spacius flat near the old town

Michael B. から Basel Switzerland, 13. June 2012

May, 2012日後に3日間滞在

We had a grat weekend in Praque

Super

Paul L. から ---- Canada, 03. June 2012

May, 2012日後に4日間滞在

Lots of Space. The best rental we ever had for documentation and professionnalism. Get ready for a bit of exercise: 110 steps to the apartment.

nice

Marseille France, 24. May 2012

May, 2012日後に4日間滞在

nice place, in a very nice town

Changement d'appartement!!!

Alain S. から Pontcharra sur Turdine France, 21. May 2012

May, 2012日後に7日間滞在

All was very good and the appartment was clean, clear and not far from the center. The only black point has been the change of our choice at the last time. Fourth step instead of second! We were lucky to be not too old! They have explained they had had some technics problems.We do not think it's true because the flat we chose first was occupated.

Our stay in Prague

Saint Remy les Chevreuse France, 24. April 2012

April, 2012日後に5日間滞在

Nice flat with big rooms, on the fourth floor, and very sunny in a quiet neighborhood. Plenty of practical informations and advice about Prague in the flat.

An unforgettable four days in Prague

Peter L. から London United Kingdom, 03. April 2012

March, 2012日後に4日間滞在

If I were to describe my vacation rental experience with just one word, it would be 'unforgettable'. The central location on Ujedz - close to all the main sights -, the fine decor and relaxing ambiance, as well as the excellent Chinese restaurant downstairs all contributed to four days of exquisite bliss. Thank you RenteGo!

Better than any expections!

Kiev Ukraine, 20. March 2012

February, 2012日後に24日間滞在

To be honest, during over the twenty years of contacts with private agencies, I never saw such a heart and responsive people like at Rentego! This is the place where you will get more than expected and the trip will leave the best memories - guaranteed. The same about their service: the ratio of apartments level and service quality to the price is maybe the best in the Prague.

prague en janvier

toulouse France, 09. February 2012

January, 2012日後に6日間滞在

séjour confortable, appartement bien situé, accueil très cordial et professionnel. Dommage la pluie!

Juste idéal!

Alexis B. から Saint Remy les Chevreuse France, 01. February 2012

January, 2012日後に3日間滞在

Parfait comme d'habitude, merci beaucoup pour nous avoir permis de conserver les appartements jusqu'en fin de journée. Merci encore et à l'année prochaine!

Très bon séjour, pas de mauvaise surprise.

maxime B. から INGRE France, 03. January 2012

December, 2011日後に3日間滞在

Très bonne initiative d'envoyer les codes qui permettent de laisser les baggages plus tôt ou plus tard.



très bon séjour

ROMAIN L. から LANDIVISIAU France, 24. August 2011

August, 2011日後に5日間滞在

l'appartement est très bien situé. On peut tout faire à pied de l'appartement. Il est aussi très bien équipé.


Jerome Y. から NIMES France, 28. July 2011

July, 2011日後に6日間滞在

A very pleasant stay in Prague

---- United States, 23. May 2011

May, 2011日後に7日間滞在

I was very happy with the apartment Kinsky. It's in a very good location - right by the Legion and Charles Bridges, the Prague Castle and many others. The apartment was clean, spacious and quiet.
There were many cafe's, restaurants, groceries and bottle shops in the vicinity. The only quibble I had was one bathroom - which gets a little difficult with five people.

Very nice stay in a great city. Excellent documents and advices provided by the Rentego team. We will definitely chose Rentego for our next stay in Prague.

Jean-Pierre T. から Morieres France, 12. May 2011

May, 2011日後に4日間滞在

We don't regret to rent the appartement!!!! Great week!

Julien T. から Valenciennes France, 03. May 2011

April, 2011日後に8日間滞在

Celine L. から portet sur garonne France, 20. April 2011

March, 2011日後に4日間滞在

N/A

Czech Republic, 22. February 2011

February, 2011日後に7日間滞在

N/A

Pierre T. から MIRAMAS France, 12. January 2011

January, 2011日後に3日間滞在
アパートの正確な住所
Ujezd 5
Prague
10 分 から徒歩 カレル橋
チェックイン/アウト
チェックイン時刻
以降のチェックイン 4:30 PM (から荷物を置いておける可能性 1:00 PM)
チェックアウト時刻
までにチェックアウト 11:00 AM (まで荷物を置いておける可能性 11:00 AM)
簡単なチェックイン
コードロックまたは個人的なお迎えにより、お客様は直接 ...に行くことができます
チェックイン/アウトに関するさらなる情報
アメニティ
アメニティ
アメニティ
このアパートのアメニティのリスト
このアパートのアメニティのリスト
Attractions

churches, cinemas, festivals, live theater, museums, playground, restaurants, synagogues, zoo

Leisure activities

sight seeing

Local services and businesses

ATM/bank, groceries

Location

Downtown

Safety

Smoke detectors

Suitability

children welcome, non smoking only, pets considered, wheelchair inaccessible

アメニティ

shower, toilet

アメニティ

Internet, Iron & Board, Linens Provided, Towels Provided, Washing Machine, baby cot and baby chair (option), balcony, dryer in the building, hair dryer, heating, iron and ironing board, linens and towels provided, non-smoking, totally keyless access, washing, washing in the building
エンターテイメント

radio and CD player, satellite, television

カルチャー

Museums

キッチン

Dishes & Utensils, Kitchen, Pantry Items, coffee maker, dishes and utensils, dishwasher, microwave, oven, refrigerator, stove, toaster

ビジネス

ATM nearby, Free Mobile Hotspot, free Internet (WIFI), writing desk

ファミリー

Playground

利便性

grocery nearby, medical services nearby, parking nearby, restaurants and bars nearby, shopping center nearby

地理的な

Near River
間取図
間取図 この物件の大まかな間取図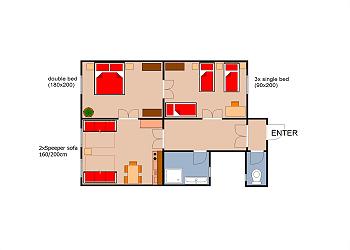 | | |
| --- | --- |
| Room | 部屋 |
| Hall | ホール |
| Kitchen | キッチン |
| Living-room | リビングルーム |
| Bathroom | バスルーム |
| Shower room | シャワールーム |
| Balcony | バルコニー |
| Terrace | テラス |
| Cloakroom | クロークルーム |
| Single Bed | シングルベッド |
| Double bed | ダブルベッド |
| Twin bed(s) | シングルベッド |
| Sleeper Sofa | スリーパーソファー |
| Mezzanine bed (usually a mattress on a wooden parquet) | 中二階のベッド(通常は木製の寄せ木細工上のマットレス) |
滞在期日に利用可能なアパートを見つける
-お客様が興味をお持ちかもしれない近くのアパート
Exact match:

MINKA matches Bedrooms (3.0), Neighborhood (Center - Mala Strana), Service by (Service 100% Rentego) :-)

3 ベッドルーム - for 5 宿泊者 (最大 8)

1泊*あたりの料金* from 83€ to 166€

Very nice and spacious apartment with a great floorplan. Situated across the river from National Theatre and 10 min walk from Charles Bridge, close to the Vltava river bank. Great location in Mala Strana, near the biggest park in central Prague.
ダウンロード
お客様が興味をお持ちかもしれない追加情報