検索
アパートの詳細& 料金の提案
予約する
ありがとうございます
KAPROVA
2 ベッドルーム for 4 宿泊者 (最大 5)
Kaprova 14, Prague
説明
バスルーム

1

表面

57 m2

寝場所の手配

1 Double/Full Bed, 3 Sleeper
レビュー
管理者は に推薦されて
ミシェラン・ツアーガイド2010
ミシェラン: すべてのアパートはプラハ1区にあり...ハイクオリティサービス...非常に魅力的な料金
プラハガイド
プラハガイドのテキスト
このアパートのレビュー者
Kaprova apartment is great

Dag K. から Oslo Norway, 17. September 2019

September, 2019日後に4日間滞在

Nice, clean apartment as close to any and all action as one could want. Everything, from the City Square, to shops, to restaurants, to transportation etc, is right outside the door.
A special feature: the personal, fast, and friendly communication was great.

Great stay in Prague

Muscoline Italy, 12. August 2019

July, 2019日後に3日間滞在

The apartment is exactly as described: functional, cleaned and fully supplied.
Just in the center of the city, close to the main square.
Managed with precision and kindness.

BUEBA UBICACION Y COMODIDAD

MAR S. から . Spain, 12. August 2019

August, 2019日後に7日間滞在

Muy cerca del centro.
Nos mandaron la llave dias.antes a caaa muy cómodo.


Prague Visit

Melissa C. から San Antonio US, 05. August 2019

July, 2019日後に5日間滞在

Our vacation rental experience was good. The pictures on the site accurately show the apartment. The location was very central and easy to get to. The building was very tranquil, quiet and secure. During out stay the weather was very warm, so we appreciated the fans since the apartment does not have AC. The property management team was very responsive and the driver was punctual and professional as well.

Great location reasonably priced and close to everything

Omar H. から Amman JO, 22. July 2019

July, 2019日後に4日間滞在

Very comfortable clean and spacious. Get the airport pickup for convenience and ask for Vojta. Very helpful guy. Breakfast and coffee just across thd street. The mobile Wifi device is very useful, it made our life easier while wondering around streets for the first time.

Great Place in the best location

Hayat S. から Madaba Jordan, 01. July 2019

June, 2019日後に7日間滞在

we were a family of five, we all enjoyed our comfy beds, the apart had everything we need except for AC :).. the fans were ok :). the idea of having a wireless router that u can take out with u is great. Plus the location s perfect in the center..surrounded by many cafes and rest. for check-in we choose to pick up the key from the airport and it was so easy and quick.

Few days in Prague

Torino Italy, 24. June 2019

June, 2019日後に3日間滞在

Very very clean. Very very close to the center of the old Town.
It is a very usefull apartement.

The Best Location!

Barbara B. から Dorval CA, 21. May 2019

May, 2019日後に3日間滞在

This comfortable apartment is only steps away from the historic centre of Prague. It was clean, well-equipped for self-catering, comfortable, and convenient to public transport, restaurants, pubs, and shopping.

Holidays in Praha

Jensine Elisabeth L. から Paris France, 10. December 2018

December, 2018日後に7日間滞在

It's a very nice and spacious apartment, equipped with everything you need. There is not two bedrooms, but one bedroom and a big living room with a convertible sofa.

Everything was perfect.

Vörös Zsolt b. から United States, 13. November 2018

November, 2018日後に3日間滞在

Except the shower head...:D

Kaprova Central Prague

Michael B. から Ventura United States, 05. November 2018

October, 2018日後に4日間滞在

We had a wonderful stay in Prague. Kaprova is spacious, clean, quiet and fully equipped. Only one block from Old Town Square, Kaprova is a great home base.
Can't wait to go back!

Perfection in Prague

Janna M. から Tempe United States, 13. October 2018

September, 2018日後に7日間滞在

I can't quit praising this apartment to my friends and family. The location alone was unbelievable. So close to Old Town Square and Jewish Auarter and the river. We walked everywhere from our apartment.
The apartment was clean and had everything we needed. The mobile WiFi was a nice surprise. The building is very safe. The management company made this vacation so easy for us. Do not think twice about renting this apartment! Grab it now!!

Appartement confortable et agréable

Marie-Agnes S. から Talence France, 04. October 2018

September, 2018日後に3日間滞在

Une équipe sympathique et toujours disponible

Praga

Paolo Zani b. から ??? Italy, 12. September 2018

September, 2018日後に3日間滞在

Posizione ottima.
Biancheria da letto e da bagno non pulita.


Great flat, very well located

Marie-Agnes S. から Talence France, 01. August 2018

July, 2018日後に7日間滞在

Retengo has a great and welcoming team. The flat is cozy and fully furnished.

Au calme en plein centre historique

Jean Louis F. から Isle France, 06. May 2018

April, 2018日後に4日間滞在

Bel appartement, confortable, calme, très bien situé en plein Centre historique de Prague.

spacious flat, very well located, quiet, well equiped

Francoise G. から CAEN France, 22. April 2018

April, 2018日後に6日間滞在

Flat with one spacious bedroom (two beds), living room with sofa clic clac (this one not confortable), kitchen with everything needed ...

Great Places to Stay in Prague

Franklin H. から New York United States, 02. April 2018

January, 2018日後に3日間滞在

I am writing this note to let everyone know out there that this company Rentego has the best places to stay in Prague. I stayed in three different apts. at three different location and each and everyone of them was great.
The apts. were clean, great location and affordable. I dealt with representative Miss Martina who was totally professional and helpful. In a few words I highly recommend these apts. Absolutely fantastic apts. to stay in Prague.

Parfait

Hélène Aymard b. から United States, 25. March 2018

March, 2018日後に7日間滞在

Accès facile autonomie totale
Par contre j ai besoin d une facture et on me l à refusée

Praha Old Town Flat

Driftwood United States, 18. March 2018

March, 2018日後に4日間滞在

The management company provided exemplary service. The location of the flat was superb. We recommend this flat!

Nice flat great location

michel L. から Simiane- collongue France, 10. March 2018

March, 2018日後に5日間滞在

we really liked the flat spacious and well heated . too bad there was no french channel so we had to improve our English !

Review of Kaprova 14

United States, 24. January 2018

January, 2018日後に3日間滞在

The apartment was huge, even it could be available for six people. It is well equiped, clean, and the location couldn't be better. The price is affordable but it was a little unconvinience that the extra cleaning fee wasn't included in the price we could see on 's webpage.

Prague 2017

Tom C. から San Mateo United States, 11. January 2018

December, 2017日後に4日間滞在

Great place, central location, responsive management. The only odd thing was having to get the building entry door fob in the mail to the USA, which didn't show up before we left. However, management made sure we got in.

Super appartement

MARSEILLE France, 01. January 2018

December, 2017日後に4日間滞在

Nous avons passé 4 nuits géniales en famille dans cet appartement très bien placé. Tout y est, même la machine à laver, un vrai plus avec des enfants ! Nous reviendrons !

Apartment located perfectly

Drongen Belgium, 12. December 2017

December, 2017日後に2日間滞在

The apartment we rented was very nice and perfectly located. Close to everything.
plus it was so easy to communicate with the owners! they reply very fast and are very kind.
if I go back to Prague, I will try to get the same apart.
i recommend it

KAPROVA 14

Gemma G. から Zaragoza Spain, 11. December 2017

December, 2017日後に4日間滞在

EXCELENTE, UBICACION PERFECTA

Apartment kaprova

Gabriela C. から Allensbach Germany, 23. November 2017

November, 2017日後に3日間滞在

It was beautiful, the apartment ist clean and the location and service couldn't be better

Great Stay in Praha

Anne B. から Stouffville Canada, 15. November 2017

November, 2017日後に4日間滞在

The apartment was very spacious and well equipped. It is listed as a 2 bedroom but there is only one bedroom with a futon in the living room. Kitchen was well equipped and the shower water pressure was good. There is a washer as well. There is a small elevator so no lugging suitcases up 5 flights of stairs. The location is fantastic, right around the corner from the Old Town Square. Perfect if you don't have a car. If you do have a car, the parking lot is about a 10 minute walk away. Reserve in advance for the length of your stay. I highly recommend this unit. The management was very helpful and responded quickly to questions. Very pleasant to deal with. 5 star rating.

vacation

United States, 25. October 2017

October, 2017日後に3日間滞在

clean, great location, needs an upgrade

Perfect location, outstanding apartment

Anna S. から Little Rock United States, 17. October 2017

October, 2017日後に5日間滞在

My husband and I spent five nights in the Kaprova apartment. The location was ideal, a short walk to most of the city's sights—astronomical clock, Old Town Square, Jewish Quarter—and an easy Metro ride to others. The amenities were excellent and the apartment was clean. The mobile WiFi hot spot was extremely helpful! We had an outstanding meal at the nearby Kolonial restaurant. We highly recommend this property.

Great stay in Prague, great location

Irving United States, 03. October 2017

September, 2017日後に3日間滞在

Super cool apartment, close to everything you need

Prague

catherine. S. から METZ France, 01. October 2017

September, 2017日後に3日間滞在

Very good place in Prague good situation Very quiet

Wonderful home in the heart of Prague

Shaker Heights United States, 17. September 2017

August, 2017日後に4日間滞在

This was a warm and inviting home in the heart of Prague -- just steps away from Old Town Square and all the best of the city. Everything was a stroll away. And the apartment was just as described and pictured. Large, sunny windows, high ceilings and fresh furnishings, plus everything we needed for cooking and a little laundry, great wireless, and super easy check-in and check-out. You'll love it here.

Good location and clean.

Fernando M. から Madrid Spain, 21. August 2017

August, 2017日後に3日間滞在

El apartamento esta en el centro turístico de Praga lo que te permite desplazarte a pie por toda la ciudad. Las dimensiones son adecuadas para 4 personas y estaba limpio. Me hubiera gustado que tuviera vistas a la calle, aunque por otro lado, es muy silencioso si viajas con niños.

Good Location

Terrence W. から North York Canada, 20. August 2017

August, 2017日後に4日間滞在

This apartment is in a great location.

optimo

salvatore b. から CERDA Italy, 18. July 2017

July, 2017日後に3日間滞在

Casa spaziosa, luminosa, pulita e dotata di tutti i comfort necessari. Si trova in posizione centralissima, a qualche decina di metri dalla piazza della città vecchia e dal famoso orologio astronomico, quindi vicina a tutti gli altri siti di interesse. Nelle adiacenze si trovano minimarket, ristoranti, uff. cambio, uff. postale, bar, ecc.. Riassumendo, un soggiorno ottimo da tutti i punti di vista.

Response from RENTeGO

18. 7月 2017

Grazie mille, Salvatore!

Great location steps from old square

Jorge S. から Managua Nicaragua, 04. July 2017

June, 2017日後に3日間滞在

Wonderful location next to the Old City main square

Response from RENTeGO

09. 8月 2017

Thank you Jorge!

Très satisfait

Philippe P. から NIMES France, 25. June 2017

June, 2017日後に3日間滞在

Appartement grand et clair, bien équipé et très propre. Tout est fait pour faciliter le séjour des locataires. Les heures de check-in et check-out sont adaptées aux horaires des avions, dans la mesure du possible.
L'appartement est idéalement situé dans le centre historique, près du métros (ligne venant de l'aéroport après avoir pris le bus 119).
Supérettes à proximité. Tout est parfait

Homely little flat right in the center of town

Vijai C. から Abu Dhabi United Arab Emirates, 18. June 2017

May, 2017日後に4日間滞在

This one bedroom apartment is right next to the Old Square, which makes it the ideal location for exploring this beautiful city on foot. Everything is remarkably close by. Location is key to enjoying your holiday! Other than which, the apartment itself is quite comfortable and airy, with more than adequate linen and kitchen utensils to deal with regular use. The availability of the WiFi HotSpot was also an excellent idea, and helped in many ways. It wasn't air conditioned, and Prague was unseasonably warm when we went there, but other than that it was perfect.
In addition, whenever we had any queries or concerns, the management was more than prompt, responding very positively almost instantly.

Week in Prague

Catherine H. から Brick United States, 27. May 2017

May, 2017日後に5日間滞在

Outstanding !

Great location at the heart of Prague

Lucas H. から Corbeil-Essonnes France, 04. May 2017

April, 2017日後に3日間滞在

A very good location in a beautiful city

Velikonoce :-)

Jirina P. から Paskov Czech Republic, 22. April 2017

April, 2017日後に2日間滞在

Vše bylo v porádku. OK.

Great location with memorable elevator

Rick F. から Asheville United States, 17. April 2017

April, 2017日後に3日間滞在

We had a good stay at Kaprova 14. The location was wonderful, just a block away from the biggest square in Prague and one block in the other direction from the Metro. It proved to be very easy to take the Metro and the 119 bus to the airport as we left.

Everything was clean and organized in the apartment. Our only complaints were that the chairs in the main room, which are pull-out beds, were not very comfortable. And though this is described as a two-bedroom place, one of the "bedrooms" is the main sitting area. Those staying in the bedroom have to pass through that room to reach the bathroom. That was no problem for the two of us staying there but might have been awkward had we had others staying with us.

vacanze piacevoli

francesco m. から montecorvino rovella Italy, 09. March 2017

March, 2017日後に3日間滞在

siamo stati a Praga e soggiornare a due passi dall'orologio astronomico è stato fantastico poi la posizione dell'appartamento è davvero ideale poiché si raggiunge a piedi tutto quello che c'è da visitare e da vedere, inoltre la pulizia è soddisfacente. Unica pecca la mancanza di risposta su alcuni quesiti e sulle telerie visto che eravamo in cinque e non in quattro.

Great Location

Theresa C. から Savage United States, 01. January 2017

December, 2016日後に7日間滞在

This apartment is in a great location - one block from Old Town Square. There are plenty of restaurants, markets, and ATMs in the area. The apartment was clean and well maintained. No shortage of places to plug-in electronics. You can play videos or Netflix on the TV, if you bring an HDMI cable with you. There are clearly written instructions for everything in the apartment. I used the car service arranged by the property owners and had smooth airport transfers. The elevator worked, the kitchen appliances worked, the radiators worked, hot water worked, washing machine worked, freezer made ice fast – overall everything worked and made for an enjoyable stay.

Fantastic stay in Kaprova

fabrizia s. から ---- Italy, 14. December 2016

December, 2016日後に5日間滞在

Super location, clean, quite close to all the attractions in Prague!

Can't beat location and price!

Cathy B. から Greenfield Park Canada, 01. December 2016

November, 2016日後に13日間滞在

Excellent stay...right around the corner from Old Town Square...minutes to walk to all the sights. Apartment was clean and very well equipped although basic. Great stay...great lodgings...great city!

Formidablement bien

Valerie M. から ANTIBES France, 17. November 2016

November, 2016日後に6日間滞在

Très satisfaite de cette seconde expérience avec RenteGo. Toujours aussi professionnel et attentif à ses clients.
Félicitations

Response from RENTeGO

30. 11月 2016

Merci beaucoup!

Perfect place to stay for a short visit in Pragune

Charlotte C. から Villeneuve-Loubet France, 13. November 2016

October, 2016日後に4日間滞在

The location just at the corner of Theo ld Town square was just perfect. Nice and confortable flat with all the necessary équipement.
Also good airport pick pu und retire service.
We recommand the Rentego service.

Response from RENTeGO

30. 11月 2016

thank you so much!

parfait

marseille France, 24. October 2016

October, 2016日後に3日間滞在

Appartement idéal , agréable et bien situé

tres satisfaite

SANTA MARIA DI LOTA France, 11. October 2016

October, 2016日後に4日間滞在

appartement très bien placé, personnel rentego très professionnel. A recommander.

Our Stay T Kaprova

Marcella R. から Las Vegas United States, 16. September 2016

September, 2016日後に13日間滞在

Stayed in Czech for 2 weeks and had the Kaprova location as our home base where we lodged. We were 4 adults. The best part was the location is by all important historic points of interest and transportation. Unfortunately it was very hot and on the fourth floor . It wouldn't even cool down in the evening. We stayed in first two weeks of September. The shower/bathtub combo was very difficult to use. My elderly mother of 86 fell and slipped between the tub and washing machine flipping her toe back and it turned all blue. I was afraid of that since it was not a modern walk in shower. We are Czech and American. We couldn't watch but 4 TV channels in English . We would have liked some Czech TV but not one was offered ! Most where German, Arab or Russian! A representative never came to see how we were doing. The maid did bring more towels and sheets upon my request . It wasn't very comfortable but we had to make it work . We are familiar with European travel and have been traveling for over 30 years. This was probably my mothers last trip to her home land and my nephews first.


Overall positive experience at the very heart of Prague

anna c. から praga Czech Republic, 02. September 2016

August, 2016日後に4日間滞在

Location is perfect. Apartment is large and well equipped. Air conditioning would have helped in hot summer nights. Cleaning should be improved

Response from RENTeGO

14. 9月 2016

Thank you very much Anna for your review, we are glad you were satisfied with the location of KAPROVA! We would appreciate if you could specify what exactly should be improved on cleaning, don't hesitate to contact us on with more details. For hot summer days we provide fans in each of our apartments, which are usually sufficient. Otherwise we hope you had a pleasant stay and we will be happy to host you next time you're in Prague!

nice vacations on a nice appartment

STYLIANOS Paschalis b. から THESSALONIKI Greece, 25. August 2016

August, 2016日後に5日間滞在

We were very lucky. The apartment was in perfect location. Near everything (old town square - karlovy mest - supermarket-restaurants-metro etc). It was spacious - clean-fully equipped - with good quality of furniture - wifi - portable internet. Only bathroom needs renovation. We had a professional management service. We would highly recommend it to our friends.
Also we would recommend the following :
a) restaurants as we had special meals in LOCAL/NASE-MASO/SISTERS/SAVOY/PASTAFRESCA etc.

b) visiting parks -na kampe island -rent river bike.



Response from RENTeGO

29. 8月 2016

Thank you for your nice comment, it has been our pleasure to host you! We are happy that you were satisfied with the unique location of Kaprova, it is truly close to everything and you can enjoy Prague without even using the public transport :)

Prague trip

Grant F. から Winnipeg Canada, 29. June 2016

June, 2016日後に4日間滞在

The location was fantastic!! The building was not very good. The shower, if it could be called that (the shower head was only about 3 feet above the tub) did not work at all. No amount of effort could route the water from the tap through to the shower , no showers for 4 days. As well, the elevator was very sporadic in operation.. to the point where my wife was stuck unit for about 20 minutes on our way to the airport. Our poor driver (Damen?) probably didn't make it back in rush hour for his next pickup. Although we loved the location we could not recommend it to anyone unless these issues were addressed..

Response from RENTeGO

03. 8月 2016

Thank you for your remarks Grant. If you had informed us about the problem with the shower during your stay, we would certainly haven taken care of it. The elevator is quite old, you mustn't touch the door, otherwise it gets stuck (an old safety lock), it's also written on the elevator door. Our technician will certainly have a look at these issues you pointed out. Otherwise we are glad you enjoyed your stay in Prague and we hope you will come back soon :)

best

Anton M. から United States, 01. June 2016

May, 2016日後に4日間滞在

happy

Response from RENTeGO

29. 6月 2016

Thanks a lot Anton!

Next time in Praha, we'll choose Kaprova again !

Gilbert C. から United States, 20. May 2016

May, 2016日後に4日間滞在

Perfectly located : 5mn to Praha Astronomical Clock, 10 mn to Charles bridge, ... Kaprova is a safe, comfortable, well equipped appart. Quality of service delivered by Rentego is close to perfect. For sure ... we w'll come again to Praha !

Response from RENTeGO

23. 5月 2016

Thank you so much, Gilbert! We're glad you enjoyed your stay in Kaprova, see you next time :)

Prague's Pretty Perfect Apartment

Judy C. から Stella Canada, 17. May 2016

May, 2016日後に8日間滞在

Apt was in a great location for our 9-day Prague holiday: steps from Metro; easy walk to all Old Town, Lesser Town, Jewish Quarter, New Town attractions. Rent-e-Go staff were FANTASTIC from query, booking to check-in & out.

Response from RENTeGO

18. 5月 2016

Happy to hear that Judy! Feel free to contact us for your next visit, Prague is definitely worth it :)

Séjour très agréable

Muriel C. から TOULOUSE France, 14. May 2016

April, 2016日後に4日間滞在

L'appartement était très bien situé, propre et le système d'envoi des clés à domicile est très pratique!

Response from RENTeGO

18. 5月 2016

Merci beaucoup, nous sommes heureux que vous étiez satisfait de nos services. À la prochaine!

Appartement agréable et bien situé

sylvain c. から blere France, 14. April 2016

April, 2016日後に4日間滞在

L'appartement que nous avons loué via le site rentego était conforme à nos attentes, idéalement situé, nous pouvions nous rendre aux principaux sites de visites à pied. Malgré la rue passante, l'appartement est très calme. Rien à redire sur la propreté des lieux. Nous avons reçu les clés par la poste avec une notice pour l'arrivée, très facile du coup. L'appartement est bien équipé et possède le wifi. L'accueil et la prestation sont de qualité. Ils ont organisé le transfert de l'aéroport à l'appartement, pratique quand on voyage avec des enfants en bas âge. Nous avons loué une voiture pour visiter les alentours de Prague ( châteaux, kutna hora...). Prague vaut vraiment qu'on y vienne et revienne, le pays est très accueillant. À recommander

Response from RENTeGO

18. 5月 2016

Merci beaucoup. Nous sommes heureux d'entendre que vous avez passé un agréable séjour à Prague. À la prochaine!

une location sans défaut

aulny sous bois France, 26. March 2016

March, 2016日後に7日間滞在

la location correspond bien à la description. Très bien située, très calme, le fastfood n'apporte pas de nuisance. Confortable, simple bien chauffé et propre. Le personnel de rentego est très efficace
Vraiment je recommande cette location

Response from RENTeGO

08. 4月 2016

Merci Agnes, nous sommes hereux que vous avez bien profité de votre séjour :)

Very Nice Early Easter holiday in Praha.

Morten Bauer J. から Copenhagen Denmark, 26. March 2016

March, 2016日後に4日間滞在

We give our best recommendation to Rentego.
The appartment is just as expected, and they give a good service and helpfull adwise if any problem should occur. Just call them.

Response from RENTeGO

08. 4月 2016

Thank you very much Morten! We would be happy to host you during your next visit.

prague trip

imen ben jerad j. から Tunisia, 04. March 2016

February, 2016日後に3日間滞在

excellent

Response from RENTeGO

08. 4月 2016

Thank you.

thank you for the great stay at Prague

Kira N. から Brighton United States, 26. February 2016

February, 2016日後に3日間滞在

This apartment on Kaprova street could not be located any more convenient for someone visiting Prague as tourist, everything is steps away. The apartment is big, clean and comfortable.

Response from RENTeGO

08. 4月 2016

Thanks a lot Kira.

Kaprova & Lili

Laurent B. から Ostwald France, 24. February 2016

February, 2016日後に4日間滞在

Tout s'est passer comme prévue je recommande rentego ????

Kaprova

United States, 18. January 2016

January, 2016日後に7日間滞在

????? ??????? ????????????, ? ??????????? ????? ??????? ??????, ? ???????????????? ???????? ?? ???????? ???????????? ???? ? ?????. ??? ? ??????? ???????????, ? ????? ?????? ? ?????. ???????? ????? ???????? ?????? ??????? ??????? ??????.

Praha

Germany, 15. January 2016

December, 2015日後に3日間滞在

Great location

New year 2016 in Krapova

Tony A. から Lyon France, 05. January 2016

December, 2015日後に3日間滞在

We haved booked the Krapova appartement for discover Prague during the new year period. We was 5 from Lyon.
The indication from rentego was very helpfull. I received the key as it was indicated.
We have checked in at 13h without problem. The appartment is cery well placed in the center.

great location, excellent reception

Lucie A. から United States, 19. December 2015

November, 2015日後に5日間滞在

fully satisfied with the services offered by this agency, french outstanding service

Response from RENTeGO

08. 4月 2016

Thank you so much Lucie :)

SOGGIORNO IN CENTRO DI PRAGA

Milena D. から ---- Italy, 14. December 2015

December, 2015日後に4日間滞在

L'APPARTAMENTO MOLTO COMODO, CON TUTTO NECESSARIO; POSIZIONE PERFETTA,IN CENTRO DI PRAGA.

Response from RENTeGO

02. 1月 2016

Grazie mille, Milena!

poco professionali

Vito C. から Roma Italy, 28. November 2015

November, 2015日後に3日間滞在

l'appartamento è carinissimo e vicinissimo a tutte le principali attrazioni della città. ero rimasto d'accordo che lo avrei lasciato alle 16.00 ma mi son ritrovato la porta sbarrata ed ho avuto difficoltà a poter riappropriarmi delle valigie. nel contesto comunque molto buono

Very best situation in Prague

Bruno M. から Langon France, 08. November 2015

October, 2015日後に3日間滞在

Very nice trip, and this flat was perfect
The organisation was without fault
Thanks a lot

Response from RENTeGO

13. 11月 2015

Thanks a lot, Bruno! We are really pleased to hear that :) Feel free to contact us for any of your next journeys to Prague.

appartement propre et bien situé

jean-yves r. から piriac sur mer France, 01. November 2015

October, 2015日後に5日間滞在

clefs en notre possesion avant l'arrivée et contact apprécié avec le loueur

Response from RENTeGO

13. 11月 2015

Merci beaucoup, n'hésitez pas à nous contacter pour votre séjour prochain à Prague :)

Pratique et confortable

Catherine M. から Lyon France, 11. October 2015

October, 2015日後に5日間滞在

Appartement très bien situé à quelques minutes de la vieille place et du métro.
Calme et sobre

Lovley apartment very close to the centre

Ludenscheid Germany, 06. October 2015

September, 2015日後に3日間滞在

We were five adults (our familiy) and stayed for three days in the flat. It was perfect for us because very close to the centre and we were able to cook something in the well equipped kitchen and had breakfast. In the close proximity were a little supermarket and all the famous locations were accessible on foot.

Best position, but...

Piersteffano B. から Milano Italy, 02. October 2015

September, 2015日後に7日間滞在

The house is too simple for being in the center of Prague. Anyway the position is the best because I you can reach everything by walking a few minutes

Hollidays in praha

Mont de Marsan France, 08. September 2015

September, 2015日後に3日間滞在

Nice trip in praha

Response from RENTeGO

26. 9月 2015

Merci, Francoise!

Great apartment in Prague

Martha F. から United States, 04. September 2015

August, 2015日後に3日間滞在

The location is perfect! The apartment was clean and the elevator (though small) was very helpful with luggage. It was spacious and had everything we needed

Response from RENTeGO

26. 9月 2015

Thank you, Martha. It has been a pleasure to host you.

Très bien placé

Yvan L. から United States, 01. September 2015

August, 2015日後に4日間滞在

Approximité de tout

Response from RENTeGO

02. 9月 2015

Merci Yvan!

Great location!

Michelle C. から United States, 31. August 2015

August, 2015日後に3日間滞在

Great location for seeing all the sights. There were 4 of us, 2 adults, 2 college kids. We were all able to be close to the things we wanted to do. The whole process was very convenient. Rent to go sent us our key to the states with easy instructions on how to get there. Would give them 5 stars except the shower is a poor set up.

Response from RENTeGO

02. 9月 2015

Thanks a lot Michelle! Our technician will have a look at the shower, thank you for this comment. Do not hesitate to contact us for your next trip to Prague :)

Very nice

Sainte Genevieve des Bois France, 23. August 2015

July, 2015日後に6日間滞在

we enjoied our journey

Response from RENTeGO

31. 8月 2015

Thank you Sylvie!

Good location

Li Zhang b. から United States, 10. July 2015

June, 2015日後に2日間滞在

Good location~

Great apartment in the heart of the city

Anita R. から United States, 30. June 2015

June, 2015日後に3日間滞在

The apartment was great. The rooms are good size, the bed was comfortable and the location was AMAZING! We were right in the middle of everything.

Great stay in Prag

Gernsbach Germany, 20. June 2015

June, 2015日後に3日間滞在

We had wonderful days in this beautiful flat, best location to visit several sights in the old city, clean and well equipped, organization from rental team perfect with many helpful information, highly recommendable

May in Prague

Pamela d. から Ottawa Canada, 26. May 2015

May, 2015日後に3日間滞在

Our vacation rental was quire accommodating for four people. It was spacious, clean and extremely close to the Old Town Square. Although close to the centre of Prague it was very quiet given its location on the inner court. Furnishings and supplies available met our needs. We only had one mishap with the toilet for which we were able to reach Rentego quickly and it was addressed in a couple of days with an alternate solution in the interim. The Rentego team were very professional, prompt in responding and easy to deal with. I would recommend this vacation rental to friends and colleagues.

Visit Prague

Albert P. から Abbaretz France, 10. May 2015

April, 2015日後に7日間滞在

Vacation to visit Prague

Agradable y cómoda visita a una bonita ciudad

JUAN ANTONIO DEL PUEYO R. から LOGRONO Spain, 11. April 2015

April, 2015日後に6日間滞在

Desde el primer trámite de alquiler del apartamento hasta el último todo ha sido muy fácil y con posibilidad de un diálogo fluido. El apartamento muty bien, sobre todo su localización. Sin duda para recomendar a los amigos.

Un cordial saludo al equipo Rentego

Prague

San Diego United States, 17. March 2015

March, 2015日後に4日間滞在

Nice large apartment within walking distance of major sights. Fully equipped with everything you would need. Elevator was a little dicey. Very small. Only one person at a time but better than nothing since apartment on forth floor! Overall, very nice place

prague vacation

M. G. から United States, 07. February 2015

February, 2015日後に4日間滞在

it was a great /the apartmaent was clean 'well prepared,the staff was professional werry helpful.thanks for everyting

I am recommending it!

Inna T. から Natick United States, 31. January 2015

January, 2015日後に4日間滞在

Awesome location, good quality, totally worth it! We will be back and we will rent a place through Rentego.

description parfaite

SOTTEVILLE LES ROUEN France, 27. September 2014

September, 2014日後に3日間滞在

appartement bien situé, propre, rien a dire

Prague

Columbus United States, 22. September 2014

September, 2014日後に7日間滞在

Very positive experience. Most notably was the responsiveness of the Rentego management team to inquiries and anything else related to our stay, both prioir to and during our visit.

Séjour de 6 jours à Prague au logement Kaprova

jacques r. から Le Mans France, 20. July 2014

July, 2014日後に6日間滞在

logement correspondant parfaitement au descrpitif avec un emplacement idéal pour visiter Prague à pied . Cuisine avec de la vaisselle en quantité suffisante ,salle de bain assez grande,beau coin salon et chambre des parents grande .
Service Rentego parfait avec réception de la clé au domocile comme prévue et visite trés rapide du technicien pour débloquer le rideau de la chambre .
Par contre ,il faudrait revoir ce rideau car difficile à fermer ou ouvrir .

Why stay anywhere else?

Linda E. から Sydney Australia, 04. July 2014

June, 2014日後に9日間滞在

This apartment is in a brilliant location, just 3 minutes walk from the main square. It is huge, light, and airy, with lift access. As it faces an inner courtyard, it's also very quiet. It was fitted with everything we needed, including a well-appointed kitchen. There's no TV, but why watch television with so much of Prague right on your doorstep? I will definitely stay here again in the future.

Kaprova juin 2014

Didier G. から SANTENAY France, 24. June 2014

June, 2014日後に4日間滞在

Nous avons passé 5 jours/4 nuits à Pragues.
Aucun soucis avec le logement KAPROVA conforme au descriptif et idéalement placé à quelques centaines de mètres de la vielle ville .
Location à recommander.

très satisfait

limoges France, 29. April 2014

April, 2014日後に4日間滞在

très bien situé,service chauffeur très pratique à l'aéroport

excellent

pierre h. から Leves France, 28. April 2014

April, 2014日後に7日間滞在

excellent

Au coeur de Prague...

Berlin Germany, 15. April 2014

April, 2014日後に2日間滞在

Parfaitement situé! Bien aménagé pour 4 personnes. Tous commerces dans la rue, la station de mètro aussi...
Je ne le conseillerai pas pour 5; le dernier lit n'étant pas vraiment un lit de tout confort...

Appartement très bien situé pour visiter Prague

Stephane R. から Rochefort -Samson France, 25. March 2014

March, 2014日後に7日間滞在

Nous avons passé un séjour inoubliable à Prague qui est une ville merveilleuse
L'emplacement de l'appartement est idéal pour visiter Prague à pied , il est situé à 1000m de la place de la vieille ville
Je recommande fortement cet appartement et cet organisme de location
stéphane

Nice trip !

Celine R. から Joinville France, 31. January 2014

December, 2013日後に4日間滞在

It was our first holiday in Czech Republic.
People are sweetie, Prague is one of the best place we have ever visited.

excellent situation in heart of prague

patrick m. から st romain la motte France, 18. January 2014

January, 2014日後に7日間滞在

excellent stay

A recommander

United States, 03. December 2013

November, 2013日後に2日間滞在

Appartement idéalement situé dans le centre historique de Prague. Très calme et bonnes prestations.Y avons séjourné 3 jours fin novembre,bon rapport qualité/prix. Réservation très facile grâce à l'accueil et la réactivité de l'agence. A choisir sans hésiter.

PRAHA

Frederic L. から wimereux France, 14. November 2013

November, 2013日後に4日間滞在

Nice to feel like Home !

a ne pas manquer

Lacour M. から Lagny sur Marne France, 07. October 2013

October, 2013日後に4日間滞在

Nous avons été très satisfait de cette location , situation géographique exceptionnelle, confort satisfaisant. Lors d'u prochain voyage, nous essaierons de retrouver cet organisme.
Tout pour l'accueil, le service chauffeur à l'aéroport impeccable.
Que du positif
M. Hamel-Lacour

amping in Prague

Bob C. から Unionville Canada, 29. September 2013

September, 2013日後に10日間滞在

A serviceable apartment in a great location. Appliances were old and dated and the furniture tired.Flashlight had dead batteries and stove lighter did not work.Beds need to be replaced. Sheets threadbare. I don't usually stay in places like this hence the camping observation

Response from RENTeGO

01. 11月 2013

Dear Bob, we are sorry for the impression you got from Kaprova apartment, which is one of our best sellers. We agree it´s not a luxurious place, but RENTEGO does not sell luxury:-) (we offer a 3 star standard in the best location of a European capital). However we do take all your points in consideration and will try to fix and improve all we can inside the apartment. I find a bit unfair, though, your low "Service from rental manager" evaluation. As far as I can check and remember, our team always answered fully and promptly all your questions regarding the reservation, restaurants, laundromats etc.. and as usual tried to provide the best client service skills :-).

Kaprova

Regis C. から Nice France, 20. August 2013

August, 2013日後に5日間滞在

only one downside, the wifi did not work. Otherwise everything was perfect. The apartment is ideally placed to visit Prague and is very quiet. I suggest you get transfer from airport (50 euros), less expensive than taking a taxi.

visit in prague in june

Jerusalem Israel, 15. July 2013

June, 2013日後に8日間滞在

The location af the appartment is great. The management company was professional.
The kitchen was alittle bit too small, but OK.
I recommend the appartment.

The best location to visit Prague

PHILIPPE D. から Montlucon France, 17. May 2013

April, 2013日後に3日間滞在

Kaprova is a perfect central location to visit old city, Charles bridge, Mala Strana ...The appartement was very quiet to rest after a full day visit (back side of the building, no noise). All the service from Rentego is perfect (booking, information).

Kaprova in Prague : a good adress !

jean\u002Dmichel F. から COGNAC France, 15. May 2013

May, 2013日後に4日間滞在

Very good organisation ! All was simple and efficient. No stress with the reservation, check in/out, a lot of informations about town, transports, etc ... We fully enjoyed our stay in Prague ! (maybe except the rain ...)

Second Stay Prague

Kevin C. から United States, 31. March 2013

March, 2013日後に1日間滞在

Great Location. Small grocery was on the corner nearby. Basic items. Loved our visit and stay. Everything was perfect.

Great stay

Amritta R. から La Roche sur yon France, 08. March 2013

March, 2013日後に4日間滞在

Absolutely great location, couldn't be better! In the middle of everything and everywhere, really no need to take the tram or metro to visit main sites. Quite spacious. No noisy neighbors since most of the other tenants were offices (lawyers etc- so no one during the evening). Ideal for us, a couple with a 3 year old child.

Un appartement parfait pour visiter Prague

virginie b. から asnieres sur seine France, 27. February 2013

February, 2013日後に4日間滞在

Bon emplacement pour visiter et sortir le soir. On a tout fait à pied
Appartement spacieux et propre.
Check-in et chek-out très bien, on a même laisser nos bagages après le check-out sans soucis.
Je le recommanderais à mes amis pour visiter Prague.

Everything very good

Dmitry P. から United States, 22. January 2013

December, 2012日後に8日間滞在

Everything very good

enjoy your stay in Prague

GAUTHIER J. から ARNAGE France, 04. December 2012

November, 2012日後に3日間滞在

bonne organisation, appartement très propre et bien situé dans le centre de Prague

Kaprova 14

Lysiane M. から Montreuil sur mer France, 14. November 2012

November, 2012日後に5日間滞在

En français, cela aurait été mieux. J'ai déjà laissé mes commentaires dans l'appartement...

Only for the best

Francoise L. から United States, 03. November 2012

October, 2012日後に4日間滞在

A wonderfully located flat within walking distance of every site of interest. Really roomy and pleasant. Rentego proved really diligent and professional and provided all the information needed in due time. We also used their airport pickup which added even more comfort to this stay.And Prague has a lot to offer day after day...

krapova ne pas louer

michel t. から Fontaine La Mallet France, 23. September 2012

September, 2012日後に3日間滞在

pouvez-vous me l'envoyer en français mais sinon l'appartement était propre et bien situé mais les travaux de rénovation de l'immeuble à 15 mètres face aux fenêtres, nous a découragé au bout de deux nuits réveillées à 6h45 par des marteaux piqueur ou autres

Response from RENTeGO

26. 9月 2012

Bonjour, comme nous vous l'avons expliqué par mail, vous auriez du nous contacter! Bien entendu nous n'étions ni au courant ni responsables des travaux hors de l'immeuble. Quand cela arrive, il suffit d'un coup de fil, en francais, et dans 99% des cas nous surclassons nos clients dans un appartement libre ailleurs. Alors franchement, c'est frustrant de voir que vous n'avez meme pas appelé, ce qui aurait tout résolu... Eric

Kaprova Apartment

United States, 19. September 2012

September, 2012日後に1日間滞在

Excellent location seconds away from Old Town Square. Rentego were very helpful & efficient, attending to our numerous enquiries with great patience. We also used their airport pickup which was equally prompt & helpful. Would not hesitate to go with them again if I ever make it back to Prague.

Très bien situé - Very well located

Pechabou France, 07. August 2012

July, 2012日後に5日間滞在

Comfortable et très bien situé

Great location and customer-friendly staff!

Guy L. から Coral Springs United States, 30. June 2012

June, 2012日後に3日間滞在

Communication with Rentego was great, the apartment was in a fantastic location allowing us to walk everywhere, and the price was right!

Great location, generally great apartment

Alisa B. から Alexandria United States, 29. June 2012

June, 2012日後に7日間滞在

The location could not have been better--you rolled out of the apartment and into Old Town Square. Although there were a couple of technical snags, the management dealt with them efficiently. They were very flexible and responsive to our needs.

Amazing!

Catherine S. から TOURLAVILLE France, 13. June 2012

June, 2012日後に4日間滞在

A spacious flat close to everything with a very good management of services.


Very Happy

Charles M. から Anthon France, 18. May 2012

April, 2012日後に5日間滞在

Very easy to book via Internet. No surprise with Rentego. Appartment very well located near with all Pragues spots.

An excellent stay in family !

acigne France, 24. April 2012

April, 2012日後に5日間滞在

We spent an excellent stay in this beautiful apartment, spacious, clean, peace and ideally situated in Prague. 4 floors are high, but all the conveniences are near. Thank you RENTeGO and his Team.

A break

DUNkERQUE France, 14. February 2012

January, 2012日後に5日間滞在

Nous sommes partis a Pragues avec 4 étudiants pour pouvoir visiter cette très belle ville et y decouvrir la vie nocturne.
La situation de l'appartement nous a permis de tout faire à pieds ce qui est pratique la nuit quand il n'y a plus de metro/tram/bus.

Excellent séjour

hugo v. から paris France, 29. January 2012

January, 2012日後に5日間滞在

Appartement spacieux, propre et bien situé. Les clés ont été envoyées à l'avance, l'accès à été aménagé en fonction de l'horaire de nos avions. Très pros, à conseiller sans réserve.

Week-end à Prague en décembre

Bruno M. から NANTERRE France, 30. December 2011

December, 2011日後に3日間滞在

L'emplacement de l'appartement est vraiment central et idéal pour découvrir Prague à pied.
Il faisait beau mais très froid et l'appartement était bien chauffé.
Bon équipement. Nous recommandons cette location.
Nota : tout a bien fonctionné : la clé extérieure, le code et l'ascenseur (attention à la cellule photoélectrique).

Bonne adresse

ASNIERES SUR SEINE France, 28. October 2011

October, 2011日後に4日間滞在

Appartement calme, propre et bien situé, bien agencé. Equipement correct et ameublement de bonne qualité (bonne literie). Agence réactive. Défaut : mieux vaut ne pas prendre l'ascenseur (tombé en panne alors que nous étions dedans...)
Globalement on recommande (bon rapport qualité/prix).


satisfaction

jean pierre g. から bruges France, 14. September 2011

August, 2011日後に3日間滞在

perfect sejour

emilie T. から Vandoeuvre Les Nancy France, 04. September 2011

August, 2011日後に5日間滞在

our stay was very nice and we really appreciated rentego. Thank you

Great service and good location in Prague

Wing Hang H. から Montreal Canada, 29. June 2011

June, 2011日後に8日間滞在

paris France, 15. June 2011

June, 2011日後に3日間滞在

LILLE France, 07. June 2011

May, 2011日後に4日間滞在

Thanks to RenteDO

VILLARD\\x2DBONNOT France, 16. May 2011

April, 2011日後に7日間滞在

As already mentionned in the local questionnary, we enjoy our stay thank to your professionnalism, and will recommend you to relations (already done in fact!) Thank again.

Very nice apartment, very well located just at the center of (one of) the most beautiful town in the universe.

MOUANS-SARTOUX France, 24. April 2011

April, 2011日後に5日間滞在

Excellent.


I recommend your company to all your friends priposeschenii Prague. I regret that I can not use your service in other countries and cities of Europe. Many thanks and a bow for the quality of service!

svetlana b. から Balashiha Russia, 12. April 2011

April, 2011日後に2日間滞在

Excellent location, some ugly furnitures to renew.

Gerard J. から SOFIA Bulgaria, 05. April 2011

March, 2011日後に3日間滞在

Cleaning, beds, bathroom and kitchen are OK. Suggestions :
Bookshelves, chairs and 1 pouffe have to be changed or removed.
Repair the bathroom door.

Response from RENTeGO

19. 8月 2011

Dear Gerard, thank you for your suggestions. At the moment we are working on some home-feeling refurnishings around all our apartments and we hope these will contribute to better comfort of our clients. Bathroom door has been repaired, thanks:-). New note in October 2011: as you can see, we completely renovated the apartment, changing all furniture. ;-)

Adeline B. から Clermont\\x2DFerrand France, 21. March 2011

March, 2011日後に4日間滞在

Perfect

Nicolas D. から Bordeaux France, 11. March 2011

March, 2011日後に3日間滞在

Just problem during the first morning with one people who try to enter inside appartment...

Micheline R. から Canton de Hatley Canada, 31. December 2010

December, 2010日後に10日間滞在
アパートの正確な住所
Kaprova 14
Prague
1 分 から徒歩 オールド タウン スクエア(旧市街広場)
チェックイン/アウト
チェックイン時刻
以降のチェックイン 4:30 PM (から荷物を置いておける可能性 1:00 PM)
チェックアウト時刻
までにチェックアウト 11:00 AM (まで荷物を置いておける可能性 11:00 AM)
簡単なチェックイン
コードロックまたは個人的なお迎えにより、お客様は直接 ...に行くことができます
チェックイン/アウトに関するさらなる情報
アメニティ
アメニティ
アメニティ
このアパートのアメニティのリスト
このアパートのアメニティのリスト
Attractions

churches, cinemas, festivals, live theater, museums, restaurants, synagogues, zoo

Leisure activities

sight seeing

Local services and businesses

ATM/bank, groceries

Location

Downtown

Safety

Smoke detectors

Suitability

children welcome, non smoking only, pets considered, wheelchair inaccessible

Theme

Historic, Tourist Attractions

アメニティ

toilet, tub

アメニティ

Elevator, Internet, Iron & Board, Linens Provided, Towels Provided, baby cot and baby chair (option), balcony, elevator in the building, hair dryer, heating, iron and ironing board, linens and towels provided, non-smoking, washing
エンターテイメント

Satellite / Cable, Stereo, radio and CD player, television

キッチン

Dishes & Utensils, Kitchen, Pantry Items, coffee maker, dishes and utensils, microwave, oven, refrigerator, stove, toaster

ビジネス

ATM nearby, Free Mobile Hotspot, free Internet (WIFI)

利便性

grocery nearby, medical services nearby, parking nearby, restaurants and bars nearby, shopping center nearby
間取図
間取図 この物件の大まかな間取図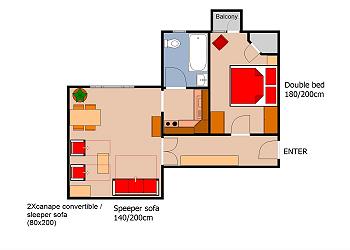 | | |
| --- | --- |
| Room | 部屋 |
| Hall | ホール |
| Kitchen | キッチン |
| Living-room | リビングルーム |
| Bathroom | バスルーム |
| Shower room | シャワールーム |
| Balcony | バルコニー |
| Terrace | テラス |
| Cloakroom | クロークルーム |
| Single Bed | シングルベッド |
| Double bed | ダブルベッド |
| Twin bed(s) | シングルベッド |
| Sleeper Sofa | スリーパーソファー |
| Mezzanine bed (usually a mattress on a wooden parquet) | 中二階のベッド(通常は木製の寄せ木細工上のマットレス) |
滞在期日に利用可能なアパートを見つける
-お客様が興味をお持ちかもしれない近くのアパート
Exact match:

LILI matches Bedrooms (2.0), Neighborhood (Center - Old Town), Service by (Service 100% Rentego) :-)

2 ベッドルーム - for 4 宿泊者 (最大 7)

1泊*あたりの料金* from 79€ to 158€

Cosy apartment, only 2 minutes walk from Charles Bridge and even less from Old Town Square. Located in Prague 1 – Stare Mesto. You will be in the heart of Prague and have to best location to be able to walk to the best places for culture or parties!
ダウンロード
お客様が興味をお持ちかもしれない追加情報