検索
アパートの詳細& 料金の提案
予約する
ありがとうございます
KAMPA2
3.5 ベッドルーム for 6 宿泊者 (最大 9)
Ujezd 5, Prague
説明
バスルーム

1.5

表面

99 m2

寝場所の手配

4 Twin, 2 Sleeper, 1 Double/Full Bed
レビュー
管理者は に推薦されて
ミシェラン・ツアーガイド2010
ミシェラン: すべてのアパートはプラハ1区にあり...ハイクオリティサービス...非常に魅力的な料金
プラハガイド
プラハガイドのテキスト
このアパートのレビュー者
3 days in Prague

Mireille D. から Champigny-sur-Marne France, 29. December 2018

December, 2018日後に3日間滞在

Very well

Great location for vacation

kingston United States, 15. August 2018

August, 2018日後に6日間滞在

Great customer service and convenient location

Luxury Cali for money

John S., 26. January 2018

January, 2018日後に5日間滞在

A group of us travelled to Prague for a birthday celebration. We wanted good comfort within walking distance of the action for an affordable price.

New Year 2018

---- Russian Federation, 20. January 2018

December, 2017日後に8日間滞在

Vacations was great

OK

Poland, 17. August 2017

August, 2017日後に3日間滞在

SUPER

Highly recommendable

Hojbjerg Denmark, 04. August 2017

July, 2017日後に7日間滞在

Great apartment - great location!

Beautiful weekend in Prague

Layner S. から St.Leon-Rot Germany, 14. June 2017

June, 2017日後に2日間滞在

Wonderfull apartment. Good located. Very good service. Highly recommended.

geräumige Wohnung im Herzen Prags

Klaus R. から Rangsdorf Germany, 05. February 2017

January, 2017日後に5日間滞在

es war ganz problemlos die Wohnung zu mieten. die Angestellten bei Rentago waren super freundlich und hilfdbereit und auch sehr kompetent. Die Wohnung liegt sehr zentral, alles ist mit öffentlichen Verkehrsmitteln sehr gut zu erreichen.
Dadurch, dass die Räume in der Wohnung sehr hoch sind, ist es im Winter nicht einfach, sie warm zu bekommen. Man sollte vermeiden, mit dem eigenen Auto anzureisen, da die Parkgebühren erheblich sind. Eine besondere Herausforderung waren die Treppen zum Appartment, aber Bewegung schadet ja nicht und man gewöhnt sich sehr schnell daran. Alles war sehr ordentlich und sauber, bis auf den Herd in der Küche, der ist irgendwie durch die Maschen des Putzplanes gefallen. Alles in Allem fanden wir der Wohnung sehr schön und absolut preiswert.

Sejour parfait

sens-beaujeu France, 03. February 2017

January, 2017日後に3日間滞在

Notre séjour a été parfait. L'appartement est spacieux, très bien équipé et très bien situé.

Séjour KAMPA2

Albi France, 07. September 2016

August, 2016日後に7日間滞在

Appartement très bien situé et très spacieux tout près du pont St Charles.
Très calme

Response from RENTeGO

14. 9月 2016

Merci!

Great vacation

Manuel F. から Denkingen Germany, 13. August 2016

August, 2016日後に3日間滞在

Really good appartement.

Response from RENTeGO

24. 8月 2016

Thank you!

Great stay

United States, 09. August 2016

July, 2016日後に2日間滞在

We had a great stay here. Close to cuty centre. spacious and clean. Recommended!

Response from RENTeGO

24. 8月 2016

Thanks a lot!

Nice stay in Prag

Chur Switzerland, 05. August 2016

July, 2016日後に4日間滞在

We had a nice stay at the appartment. It was in walking distance to most of the sightseeing spots.
The apartment is well suited for larger groups and was very nice and clean.

Response from RENTeGO

24. 8月 2016

Thanks a lot Samantha.

Great weekend

Andre Martins b. から Vagos Portugal, 14. June 2016

June, 2016日後に3日間滞在

It was a nice 4days weekend in Prague win a great apartment.

Response from RENTeGO

06. 7月 2016

Thank you :)

merveilleux voyage

Henri C. から United States, 04. January 2016

December, 2015日後に6日間滞在

L'expérience a été une réussite totale. Appartement très spacieux, tout confort, proche du centre. Aucune mauvaise surprise! à conseiller vivement

A very good appartment

Laura G. から Balenya Spain, 25. August 2015

August, 2015日後に4日間滞在

It is a very nice appartment, well located, big rooms, comfortable beds, with all the facilities, a lot of light and ideal for families. we would come back there if we visit Prague again.
The rentego team is very kind, eventhough we didn't see nobody, we had a problem with a window and they came and solved it at the moment.
The only thing is the lack of elevator.

Response from RENTeGO

31. 8月 2015

Thank you Laura for this nice comment, do not hesitate to contact us again for your next stay in Prague. :)

Perfect Apartment

Fake city United States, 11. August 2015

July, 2015日後に2日間滞在

Nice apartment for 9 People for 3 Days.
There are two seperated toilets and one bathroom with a shower.
There a two sofa beds for 4 personen. They are comfortable for our short trip. The 3 sleeping rooms a very ample.
You are in the middle of the city in 10 minutes by foot.
Thank You!

Response from RENTeGO

18. 8月 2015

Thank you, Tim! We would be happy to host you again :)

appartement très bien situé .

France, 22. May 2013

May, 2013日後に2日間滞在

appartement très bien situé , calme, et vraiment c'est un très bon rapport qualité prix, je le conseille vivement.

Great location

Paris France, 16. May 2013

April, 2013日後に3日間滞在

A nice flat and a great location in a quiet block, closed to the Old town. The perfect place to explore the city

?????????

Stanislav D. から Ekaterinburg Russia, 06. May 2013

April, 2013日後に4日間滞在

????? ?????? ????????????? ???????????. ?????????? ???? ??? ???????????: ????????? ?????????? ? ????, ??????? ??????????? ???????, ????????? ??????? ? ??????????, ?????????? ??? ??? ????????. ????????? ?????? ???? ?? ??????? ? ?????????? ??????? ??????? ????????? ????????. ????????? ???????????? ???????? ??? ?????, ???? ????????? ???? ???????? ??????. ??? ????? ? ????????, ??????? ????????? ????? ? ?????????, ? ????? ??????, ???, ????. ?? ? ?????? ???????????? ??? ?????????? ???????, ???????? ????????. ????? ???????? ?????? ??????. ??????????!

Prague made easy

henri B. から crans-pres-celigny Switzerland, 22. February 2013

February, 2013日後に7日間滞在

I'm used to rent an apartment at RenteGo each time I visit Prague.
I'm using their services since five-six years already and it's always as good as it was!
Clean, quiet, centered, comfortable and so easy to use!
Really professional service !

Tip top apartment and agency

NOISY\\x2DLE\\x2DSEC France, 02. November 2011

October, 2011日後に4日間滞在

Very good location, large apartment, very good amenities.
Perfect reservation and check in/out process.
High quality services from the agency.

So nice to stay in Prag

PIERROT J. から AUXERRE France, 31. December 2010

December, 2010日後に3日間滞在

The simple reservation process and the ideal location are perhaps the greatest assets of this property.
We can also add that we let our car in the street. This was perhaps risky but the cold weather was to drive any thief back...
アパートの正確な住所
Ujezd 5
Prague
10 分 から徒歩 カレル橋
チェックイン/アウト
チェックイン時刻
以降のチェックイン 4:30 PM (から荷物を置いておける可能性 1:00 PM)
チェックアウト時刻
までにチェックアウト 11:00 AM (まで荷物を置いておける可能性 11:00 AM)
簡単なチェックイン
コードロックまたは個人的なお迎えにより、お客様は直接 ...に行くことができます
チェックイン/アウトに関するさらなる情報
アメニティ
アメニティ
アメニティ
このアパートのアメニティのリスト
このアパートのアメニティのリスト
Attractions

churches, cinemas, festivals, live theater, museums, playground, restaurants, synagogues, zoo

Leisure activities

sight seeing

Local services and businesses

ATM/bank, groceries

Location

Downtown

Suitability

children welcome, non smoking only, pets considered, wheelchair inaccessible

Theme

Tourist Attractions

アメニティ

Internet, Iron & Board, Linens Provided, Towels Provided, Washing Machine, baby cot and baby chair (option), dryer in the building, hair dryer, heating, iron and ironing board, linens and towels provided, non-smoking, totally keyless access, washing, washing in the building
アメニティ

shower, toilet

エンターテイメント

radio and CD player, satellite, television

キッチン

Dishes & Utensils, Kitchen, coffee maker, dishes and utensils, dishwasher, microwave, oven, refrigerator, stove, toaster

ビジネス

ATM nearby, Free Mobile Hotspot, free Internet (WIFI), writing desk

利便性

grocery nearby, medical services nearby, parking nearby, restaurants and bars nearby, shopping center nearby
間取図
間取図 この物件の大まかな間取図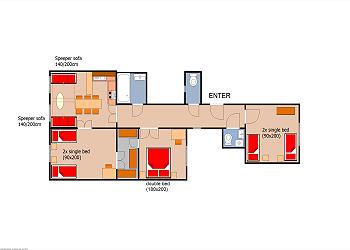 | | |
| --- | --- |
| Room | 部屋 |
| Hall | ホール |
| Kitchen | キッチン |
| Living-room | リビングルーム |
| Bathroom | バスルーム |
| Shower room | シャワールーム |
| Balcony | バルコニー |
| Terrace | テラス |
| Cloakroom | クロークルーム |
| Single Bed | シングルベッド |
| Double bed | ダブルベッド |
| Twin bed(s) | シングルベッド |
| Sleeper Sofa | スリーパーソファー |
| Mezzanine bed (usually a mattress on a wooden parquet) | 中二階のベッド(通常は木製の寄せ木細工上のマットレス) |
滞在期日に利用可能なアパートを見つける
-お客様が興味をお持ちかもしれない近くのアパート
ダウンロード
お客様が興味をお持ちかもしれない追加情報