検索
アパートの詳細& 料金の提案
予約する
ありがとうございます
Dalia
3 ベッドルーム for 6 宿泊者 (最大 8)
Klimentska 40, Prague
説明
バスルーム

2

表面

102 m2

寝場所の手配

6 Twin, 1 Sleeper
レビュー
管理者は に推薦されて
ミシェラン・ツアーガイド2010
ミシェラン: すべてのアパートはプラハ1区にあり...ハイクオリティサービス...非常に魅力的な料金
プラハガイド
プラハガイドのテキスト
このアパートのレビュー者
A really good time in Prague

Cabanillas Del Campo Spain, 23. August 2019

August, 2019日後に5日間滞在

The experience was amazing, the apartment is really good located. The only bad thing we can talk about is the cleaning, it was ok nonetheless there were spider webs and spiders that were huge. Also we move a bed and we found a sock. In despite of all i would recommend the apartment it is very nice.

très bien

René B. から France, 17. August 2019

August, 2019日後に8日間滞在

propre, bien situé

My stay at Dalia

Vera H. から Birmingham US, 04. July 2019

June, 2019日後に14日間滞在

great experience; the apartment was very thoughtfully furnished and equipped.
One suggestion to myself more than to anyone else. When you arrive from the US in the morning after a day and half on airplanes , it will be fantastic to be able to drop off the luggage and take a shower/nap. Since previous guest depart at 11, there is no way to clean the apartment for that to happen. So the next time I will rent the apartment for a day earlier . It was a great experience. thanks

Everything was fine!

Jakob Wüst b. から United States, 31. October 2018

October, 2018日後に3日間滞在

Perfect location,
nice and clean apartment
I recommend it!

Great apartment

Mark Wyer b. から United States, 12. June 2018

June, 2018日後に2日間滞在

Very good apartment, as described

magnifique appartement

Christine C. から Chivy France, 17. April 2018

April, 2018日後に3日間滞在

très grand appartement fonctionnel et calme

Beautiful apartment in Prague - highly recommended

Huddersfield United Kingdom, 09. February 2018

February, 2018日後に3日間滞在

Dalia is an ideal apartment for your Prague vacation. Very spacious and spotlessly clean. We also booked RenteGo's driver to pick us up from the airport, which we would also highly recommend. RenteGo staff could not have been more helpful and accommodating from start to finish. We would highly recommend this apartment.

3 Tage Trip mit Freunden

Raik Käbermann b. から Flensburg Germany, 29. January 2018

January, 2018日後に3日間滞在

Es war sehr außergewöhnlich für mich, dass der Schlüssel vorher zugeschickt wird, aber es war so bei der Anreise dann eine sehr bequeme Sache.
Wir hatten eine angenehmen Aufenthalt in der Unterkunft und es war alles sauber und ordentlich. Es gab ein "Bad", wo ausschließlich eine Toilette drin war, welches ziemlich eng war und für Leute größer als 1,85m kaum benutzbar, aber es gab ja zum Glück noch ein Zweites Bad mit Toilette, wo alles super war. Außerdem war eine Schranktür in der Küche defekt, was beim ersten aufmachen einen Schreck gab, da man dachte, der Schrank kommt einen entgegen, wenn man es wusste, war aber alles ok u d der Rest hat auch wie gewünscht funktioniert.
Danke, gerne wieder.

Très agréable séjour

Denis H. から COLMAR France, 31. December 2017

December, 2017日後に5日間滞在

Agréable séjour en famille à Prague. L'appartement est confortable et bien équipé. Sa situation est parfaite pour visiter la ville à pied.

Worth staying

Radoslaw Flasza b. から ??? Poland, 01. August 2017

July, 2017日後に2日間滞在

Came for a weekend to Prague. We had a nice time. Staff were professional and friendly. No hidden costs.

Dalia apartment

Linkoping Sweden, 12. July 2017

July, 2017日後に4日間滞在

We (2 families) were in Prague at the beginning of July 2017. The apartment was big enough and clean. It is located in a calm district and quite close to the old center of the town (5-10min walk).

Response from RENTeGO

09. 8月 2017

Thank you David, we were happy to host you, you're always welcome!

Prague stay

Jindrich M. から ---- Czech Republic, 28. January 2017

January, 2017日後に3日間滞在

Absolutely satisfied with all the series

Good

It was a good location. However, the place could be much more clean.
アパートの正確な住所
Klimentska 40
Prague
10 分 から徒歩 オールド タウン スクエア(旧市街広場)
チェックイン/アウト
チェックイン時刻
以降のチェックイン 4:30 PM (から荷物を置いておける可能性 1:15 PM)
チェックアウト時刻
までにチェックアウト 11:00 AM (まで荷物を置いておける可能性 11:00 AM)
簡単なチェックイン
コードロックまたは個人的なお迎えにより、お客様は直接 ...に行くことができます
チェックイン/アウトに関するさらなる情報
アメニティ
アメニティ
アメニティ
このアパートのアメニティのリスト
このアパートのアメニティのリスト
Attractions

churches, cinemas, festivals, live theater, museums, playground, restaurants, synagogues, zoo

Leisure activities

sight seeing

Local services and businesses

groceries

Location

Downtown

Outside

Balcony

Safety

Smoke detectors

Suitability

children welcome, non smoking only, wheelchair inaccessible

Theme

Tourist Attractions

アメニティ

Elevator, Internet, Iron & Board, Linens Provided, Living Room, Towels Provided, Washing Machine, baby cot and baby chair (option), balcony, dishwasher, elevator in the building, hair dryer, heating, iron and ironing board, linens and towels provided, non-smoking, parking nearby, washing with dryer
アメニティ

baby crib, child bed, shower, sleep sofa /futon, toilet, tub, twin/ single

エンターテイメント

Satellite / Cable, radio and CD player, satellite, television

キッチン

Dishes & Utensils, Kitchen, coffee maker, dishes and utensils, dishwasher, microwave, oven, refrigerator, stove, toaster

ビジネス

ATM nearby, Free Mobile Hotspot, free Internet (WIFI), writing desk

利便性

grocery nearby, parking nearby, restaurants and bars nearby, shopping center nearby

地理的な

Near River
間取図
間取図 この物件の大まかな間取図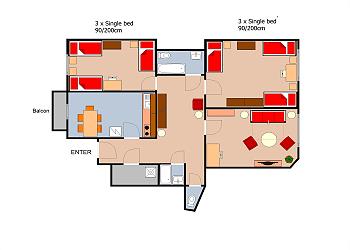 | | |
| --- | --- |
| Room | 部屋 |
| Hall | ホール |
| Kitchen | キッチン |
| Living-room | リビングルーム |
| Bathroom | バスルーム |
| Shower room | シャワールーム |
| Balcony | バルコニー |
| Terrace | テラス |
| Cloakroom | クロークルーム |
| Single Bed | シングルベッド |
| Double bed | ダブルベッド |
| Twin bed(s) | シングルベッド |
| Sleeper Sofa | スリーパーソファー |
| Mezzanine bed (usually a mattress on a wooden parquet) | 中二階のベッド(通常は木製の寄せ木細工上のマットレス) |
滞在期日に利用可能なアパートを見つける
-お客様が興味をお持ちかもしれない近くのアパート
Exact match:

KUNDERA matches Bedrooms (3.0), Neighborhood (Center - New Town), Service by (Service 100% Rentego) :-)

Exact match:

VINCENT matches Bedrooms (3.0), Neighborhood (Center - New Town), Service by (Service 100% Rentego) :-)

3 ベッドルーム - for 6 宿泊者 (最大 8)

1泊*あたりの料金* from 101€ to 202€

This bright and spacious apartment is situated in a calm district of Prague 1 Nove Mesto, 10 min walk from Old Town Square, with a view on the Vltava river and a small park close by.
ダウンロード
お客様が興味をお持ちかもしれない追加情報